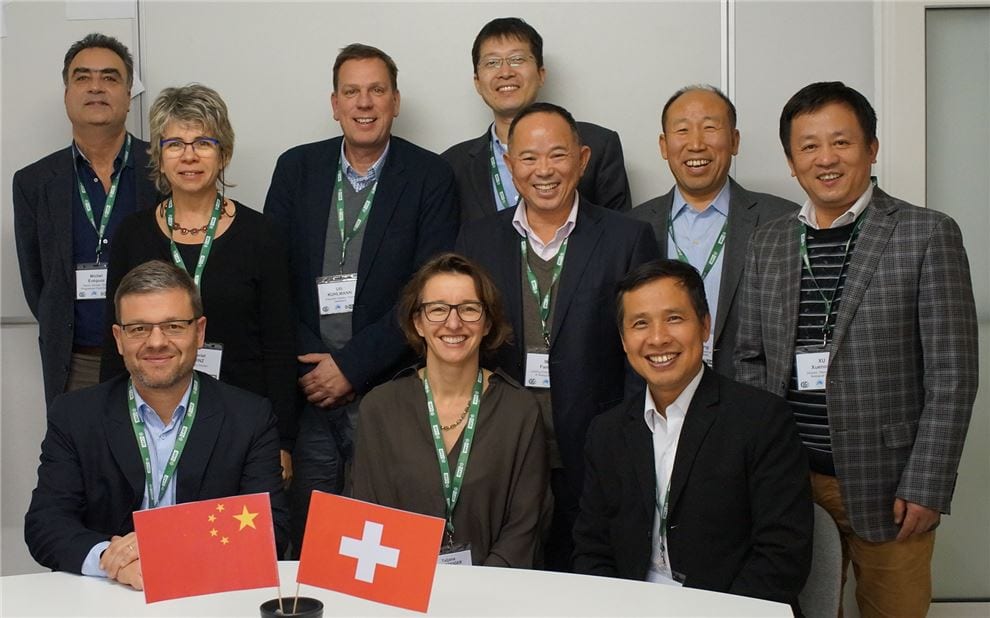 A future pathway for agricultural research to take place at a new joint European laboratory based at CABI's centre in Switzerland was agreed during a visit by a delegation of senior scientists from China last week (6-9 December 2017).
In July 2016, CABI and the Chinese Ministry of Agriculture signed a Letter of Intent to establish a joint European laboratory which will focus on cooperative research in agricultural science and technology.
Through collaborative research, scientists from the Chinese Academy of Agricultural Sciences and CABI will identify and develop new methods to control major plant pests, including crop pests detected in China that originate from Europe, and vice versa. Researchers will explore the use of natural enemies and microbes to help create biological pest control technologies. The laboratory will also focus on scientific and technological training, helping to organise exchange programmes for experts, researchers and students.
The delegation from the Institute of Plant Protection (IPP) at the Chinese Academy of Agricultural Sciences (CAAS) met with CABI experts in Delémont last week to map out the future pathway for three priority research areas: invasive species prevention and management; biological control based integrated pest management (IPM); and knowledge transfer of IPM practices from China and Europe to developing countries.
CABI Country Director Hariet Hinz said: 'We made very good progress during the delegation's visit and developed several concrete projects within the three priority research areas. Some of these projects could start next year, provided funding is available. We will continue to work closely with our Chinese colleagues to follow up on the developed work planandlook forward to the opening of the new lab.'
The relationship between the Chinese Ministry of Agriculture and CABI stretches back more than thirty years and includes the creation of a Joint Laboratory for Biosafety in Beijing, China in 2008. The new joint European laboratory would be directly linked to and supported by the existing Joint Laboratory.
The European Laboratory will be governed by the existing Joint Steering Committee for the Joint Laboratory, which is currently codirected by Dr Ulrich Kuhlmann from CABI and Dr Zhou Xueping from IPP-CAAS.
A delegation from the Swiss Agency for Development and Cooperation (SDC) also met the Chinese scientists to learn about the outcomes of their visit to CABI and the progress made on developing a work plan for 2018/19.
As pictured above:
Standing from left to right – Michel Evéquoz, Senior Advisor, Global Programme Food Security,  SDC; Hariet Hinz, Country Director, CABI; Ulli Kuhlmann, Executive Director, Global Operations, CABI; Zhang Feng, Country Director, PR China, CABI; Wan Fanghao, Leading Scientist, Dept. of Biological Invasions, IPP-CAAS; Wang Zhenying, Director, Dept. of Agricultural Insects, IPP-CAAS; Xu Xuenong, Director, Dept. of Biological Control, IPP-CAAS.
Sitting from left to right – Simon Zbinden, Head of Division, Global Programme Food Security, SDC; Tatjana von Steiger, Deputy Assistant Director General, SDC; Qiu Dewen, Deputy Director General, IPP-CAAS.