CABI has a history of over a century of scientific endeavour. Since its beginnings as an entomological committee in 1910, CABI has developed into a truly international development-led organization, supported by both a first-class publishing division and a solid scientific research base. We've produced a 100 year book to celebrate our centenary which provides a history of the organization throughout the ages.
1910-1930
1910
CABI starts with a small grant to fight "one of the enemies of mankind", the devastating impact of pests and diseases on man, animals and crops. The story begins with the formation of the Entomological Research Committee (Tropical Africa). One field entomologist is posted to East Africa and one to West Africa to collect and study insects injurious to humans, crops and animals. Collected specimens are sent to the British Museum, known today as the Natural History Museum, in London for identification.
Bulletin of Entomological Research launched.
1913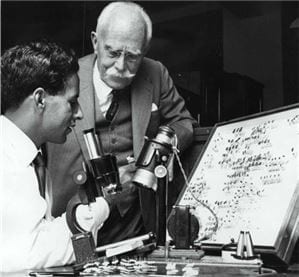 Sir Guy Marshall, founder of CABI, with Mr Nazir Ahmad Aslam, a student from Pakistan who later joined the staff of the Commonwealth Institute of Entomology
Formation of the Imperial Bureau of Entomology, under Sir Guy Marshall (1871-1959). Its chief functions are the identification of insect pests and the issue of a monthly periodical giving summaries of all current entomological literature (the first abstract journal was Review of Applied Entomology in two parts Series A – Agricultural, Series B – Medical and Veterinary).
1920
Imperial Bureau of Mycology at Kew established for the identification of fungal diseases of plants, animals and humans and the abstracting of the mycological literature.
1922
First issue of the Imperial Bureau of Mycology's abstract journal, Review of Applied Mycology.
1927
Imperial Agricultural Research Conference (IARC) held in London. The IARC agreed to the formation of a number of new bureaux and that they should each produce an abstract journal on their own subject.
1930-1948
1930
The Imperial Agricultural Bureaux is officially formed as a Commonwealth organization.
1933
The administration of the Bureaux of Entomology and Mycology are transferred to the Imperial Agricultural Bureaux.
1938
Bureaux of Dairy Science and Forestry merge with the Imperial Agricultural Bureaux
1947
500 cultures are transferred from The Lister Institute to the Imperial Mycological Institute (IMI) after a British Commonwealth Scientific Official Conference recommends that the IMI should be responsible for living cultures of fungi other than medical fungi and yeasts.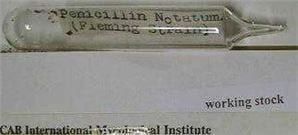 A phial of Fleming's strain of Penicillin Notatum held in CABI's culture collection
1947
Imperial Agricultural Bureaux becomes the Commonwealth Agricultural Bureaux (CAB).
1947
Imperial Institute of Entomology becomes the Commonwealth Institute of Entomology.
1948
Imperial Mycological Institute becomes Commonwealth Mycological Institute.
1948-1980
1948
The genesis of our successful centre in Switzerland when a sub-station opened near Zurich, moving to Delemont in 1958.
1950's-1970's
A series of successful biological control projects in North America led by CABI scientists based in Switzerland: Cyzenis albicans and Agrypons flaveolatum against the winter moth Operophtera brumata; Agathis pumila and other parasitoids against the larch casebearer, Coleophora laricella; Mesoleius tenthredinis and Olesicampe benefactor against the larch sawfly, Pristiphora erichsonii; and Lathrolestes nigricollis against the birch leaf miner, Fenusa pumila.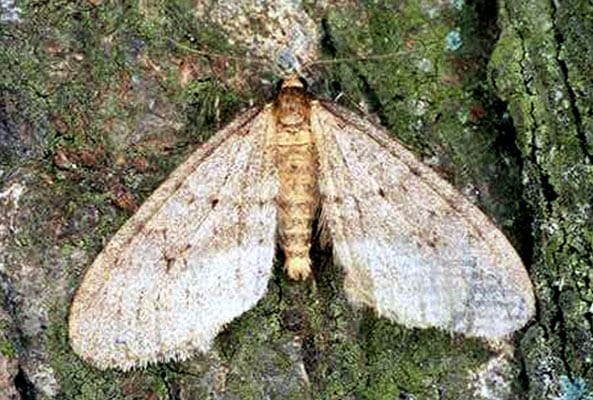 Operophtera brumata
1957
"Stations" open in India and Pakistan.
1962
Our East African Station was set up in Uganda. One of its first projects concerned the Antestiopsis spp. complex, the main pests of Arabica coffee – bringing the problem under control within 18 months of release.
1973
Contents from all the abstract journals, now computerized, are unified to produce the CAB database (CAB Abstracts).
David J Greathead packed all the equipment from the research station in Uganda into a landrover and drove across the border into Kenya when Idi Amin's regime made scientific research there impossible.
1975
Drive for self-sufficiency (self-funding) put into operation following the 1975 Review Conference.
1978
Training courses on Information in Agriculture started for information scientists and librarians.
1980
The number of abstract journals increases from 19 to 45.
1980
News and Information journals developed. These contain news items from all over the world, short digests and review articles, as well as abstracts from world literature.
CAB Abstracts is accessible on SDC Search Service, California, and on ESA and DIMDI in Europe.
1980-today
1986
Commonwealth Agricultural Bureaux becomes CAB International.
1987
Head Office, database and journal production are centralised to Wallingford, Oxfordshire, UK.
1993
CAB Abstracts available on SilverPlatter software as CABCD.
1993
The CABI roundel is introduced and replaces the world logo.
1998
International Institute of Entomology, International Institute of Biocontrol, International Mycological Institute and International Institute of Parasitology merge to form CABI Bioscience.
CABI Publishing comes into existence.
1999
Crop Protection Compendium produced; other Compendia follow.
Internet Resources Nutritiongate and AnimalScience.com launches.
2003
CAB Direct, CABI's own platform for CAB Abstracts, launches.
2004
CABI digitises the print abstract journals going back to 1910 to produce Global Health and CAB Abstracts Archive.
2006
CABI Bioscience and CABI Publishing are united under one single CABI brand.
2010
Biocontrol agent to control Japanese Knotweed tested in the field.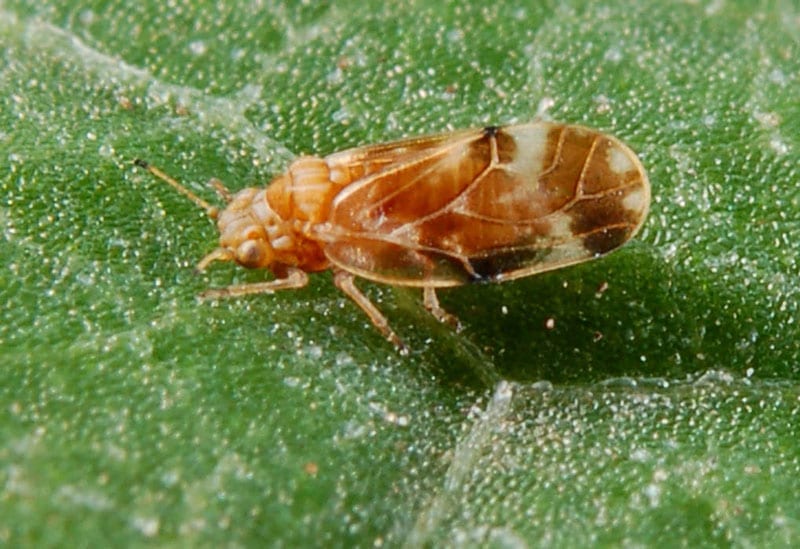 Psyllid used to counter Japanese Knotweed
2011
CABI launches Plantwise, an initiative to improve food security and the lives of the rural poor by reducing crop losses.
2012
CAB Direct now holds 10 million records!
Plantwise Knowledge Bank, a global resource to help combat plant health problems, launched.
2013
Tourism, CABI's first major textbook with additional teaching resources, launched.
Plantwise, a plant health programme led by CABI, wins the National Engineering Foundation Award for Innovation in Policy.
2014
CABI is selected to host and support the Global Open Data for Agriculture and Nutrition initiative.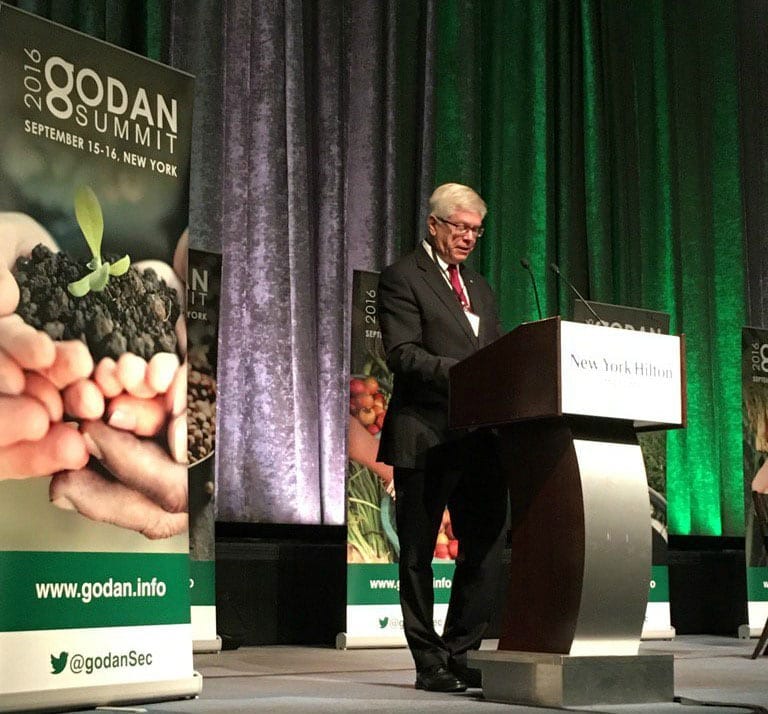 GODAN Summit in New York
Plantwise Knowledge Bank wins the Open Data Award for Social Impact.
2015
CABI launches its first agricultural master's degree in Integrated Crop Management in Switzerland.

Plantwise at the Milan Expo
Swiss Agency for Development and Cooperation invites the CABI-led Plantwise programme to join the Swiss Pavilion at the Milan World Expo on 'Feeding the World'.
2016
New Horticultural Science internet reseource launched.
First open access book: Global Health Research in an Unequal World published.
The Scientific Secretariat for the International Research Consortium (IRC) on Animal Health run by a partnership of organisations including Defra (UK Department for Environment, Food and Rural Affairs), World Organisation for Animal Health (OIE), CABI, BBSRC (Biotechnology and Biological Sciences Research Council), and IFAH-Europe (International Federation of Animal Health – Europe) will focus on animnal diseases such as foot and mouth disease and brucellosis, and aspects related to animal health and welfare such as antimicrobial resistance.
CABI held its first animal behaviour symposium in the United States – Animals Behaving Badly – on 26 September 2016. This one-day event focused on problem behaviour in cats, dogs and horses, and the science that helps prevention and treatment of that behaviour.
2017
CABI identified Fall Army Worm in Ghana through its Plantwise Plant Clinics and published an 'evidence note' report on the invasive Fall Armyworm pest devastating Maize in Africa.
In July 2017 CABI and SciDev.Net merged, creating a stronger and more diverse combined organisation to help boost their shared mission to improve lives around the world. SciDev.Net is the world's leading source of reliable and authoritative news, views and analysis about science and technology for global development.
CABI reported that removing the flowers of an invasive shrub from mosquito-prone areas might be a simple way to help reduce malaria transmission, in a study published in the open access Malaria Journal.
CABI won a gold medal for its first ever solo exhibit at the Royal Horticultural Society (RHS) Chelsea Flower Show – an educational display entitled Nature vs Invader that looked at natural solutions to invasive plant problems, and displayed some of the UK's most invasive alien weeds including Japanese knotweed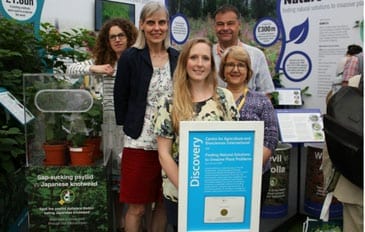 Gold Award at Chelsea
Plantwise, a global programme led by CABI won 2017 St Andrews Prize for the Environment, worth $100,000 USD.
CABI led a consortium, funded by the UK Space Agency's International Partnership Programme (IPP), which developed a Pest Risk Information Service (PRISE), which used state-of-the-art technology to help inform farmers in sub-Saharan Africa of pest outbreaks that could devastate their crops and livelihoods.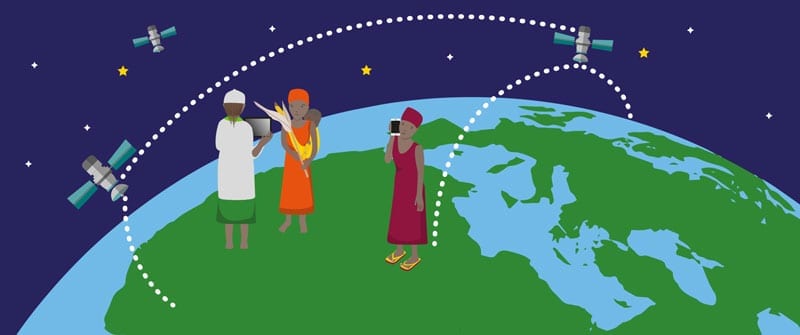 Image for PRISE materials
CAB Direct wins CHOICE magazine 'Outstanding Academic Title' award 2017
2018
CABI's work in partnership to improve Ghana's phytosanitary systems means vegetable exports worth $15 million a year started again after the lifting of a Directorate-General for Health and Food Safety of the European Commission ban imposed in 2015.
In a briefing to the UK Houses of Parliament All-Party Parliamentary Group on Agriculture and Food for Development in January 2018. CABI highlighted the threat Fall Armyworm and other global invasive species pose towards achieving the UN's Sustainable Development Goals (SDGs).
SciDev.Net picked up a prestigious award from the International Society for Neglected Tropical Diseases (ISNTD) for numerous articles raising the awareness of a range of global health issues including malaria and elephantiasis.
CABI launched a project to strengthen the value chains of four vegetables in Pakistan – thereby helping to boost the household incomes and livelihoods of thousands of smallholder farmers and their families.
CABI launched a consortium, funded by the UK Space Agency's International Partnership Programme (IPP), developing a Pest Risk Information Service (PRISE), which uses state-of-the-art technology to help inform farmers in sub-Saharan Africa of pest outbreaks that could devastate their crops and livelihoods. The service was launched yesterday in July 2018 – at the British High Commission in Accra, Ghana.
The Joint Laboratory for Bio-safety (Joint Lab), established by CABI and the Chinese Ministry of Agriculture and Rural Affairs (MARA), celebrated 10 years of collaborative research and development to address Chinese and global needs for food and nutritional security.
2019
Dr Roger Day, Dr Hariet Hinz, Dr Emma Jenner and Dr Urs Schaffner were among the 11,000 scientists urging governments around the globe to adopt policies to help mitigate against climate change and work together to create an environmentally friendly future for everyone on earth. The CABI scientists signed a petition in an effort to bring much-needed attention to climate change, on the heels of the publication of "World Scientists' Warning of a Climate Emergency".
The CASA programme, a five-year project that has been funded by Foreign, Commonwealth and Development Office (FCDO), aims to drive global investment in climate-resilient agri-food systems that increases smallholder incomes. The programme makes the case for increased agribusiness investment by demonstrating the commercial and development potential of sourcing models involving empowered smallholder producers and by tackling the information and evidence gaps holding back investment.
2020
Ethiopia joins as CABI's as its 50th member country. Ethiopia will benefit from having access to the wide range of products, services, and project deliveries CABI has to offer. The UN-level treaty was led by Ethiopia's Ministry of Agriculture.
Dr Daniel Elger joins the team at CABI as the new Chief Executive Officer, bringing with him over 25 years of experience in the science sector.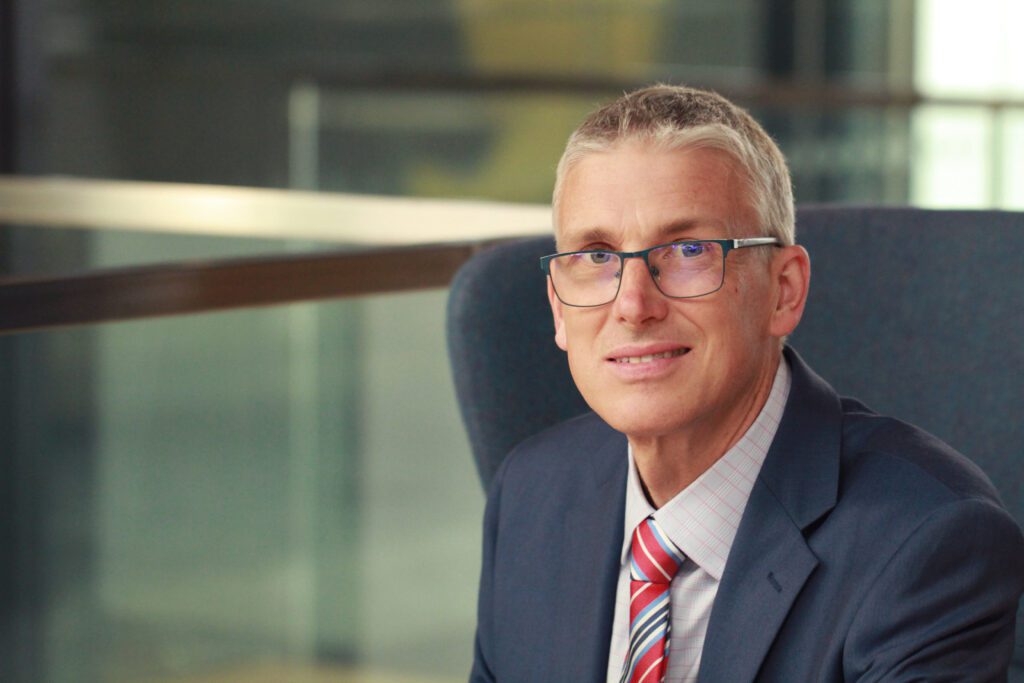 Dr Daniel Elger, Chief Executive Officer
2021
Plantwise, a programme that has helped over 44 million farmers worldwide deal with plant loss and health, is awarded the International Award of Excellence, recognizing the exceptional work of the Plantwise programme and its impact on improving farming practices around the globe. Plantwise has been recognized for its work helping farmers around the world lose less and feed more.
In order to support the fight against COVID-19, CABI made over 37,000 records from across Global Health and CAB Abstract available to public health professionals, researchers, academics, and policymakers. And throughout the height of the pandemic CABI continued to offer assistance where needed to rural farmers, our member countries, partners, and researchers, making use of innovative digital platforms, and digital learning programmes.
2022
CABI highlights steps that will be taken in response to the impact climate change is imposing on the agriculture sector during COP27, including offering smallholders support for climate smart adaptation and the use of biological controls as an alternative to hazardous chemical pesticides. 
The Human-Animal Interactions Journal is now part of CABI's publishing portfolio. The journal provides an in-depth contribution to the field of human-animal interaction, by providing access to new research and evidence.