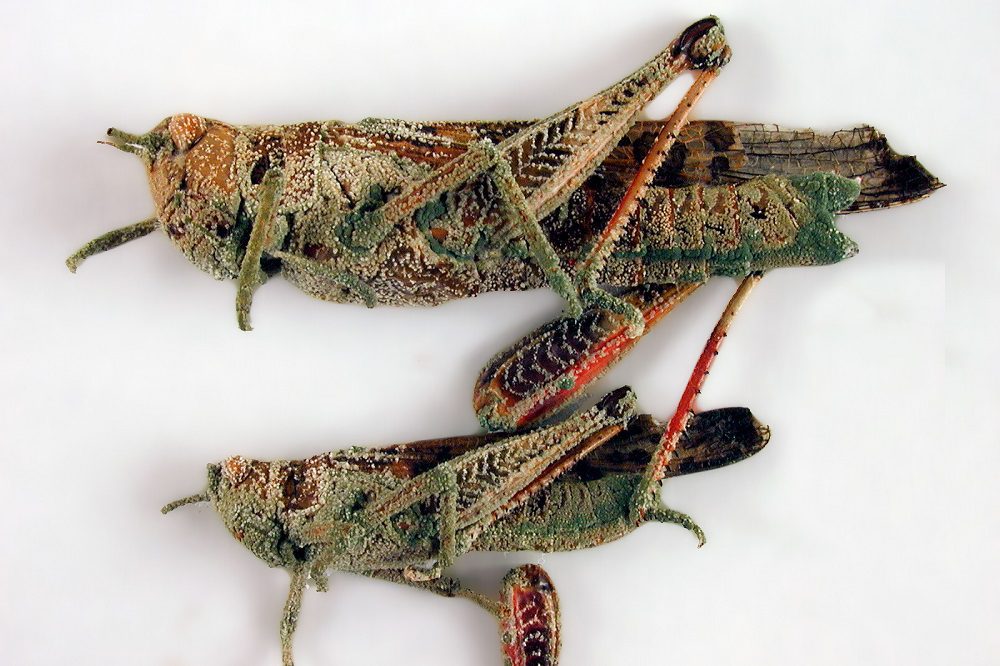 CABI scientists have led new research which has tested an updated and validated model to predict the performance of a biological control agent to tackle the Oriental migratory locust (Locusta migratoria manilensis) in China.
The scientists found that the fungus Metarhizium anisopliae tended to work better on insects with lower body temperatures and the model can be used to predict the performance of the agent with a reasonable level of accuracy.
They teamed up with colleagues from the Chinese Ministry of Agriculture and Rural Affairs (MARA)-CABI Joint Laboratory for Biosafety for the study which was conducted in six provinces in China and published in Pest Management Science.
The six provinces are situated across three agro-ecological zones (AEZs): temperate-moderate in Dongying and Hancheng, temperate-cool in Mengzhou, Dagang, and Pingshan, and tropical semi humid in Dongfang.
They represent the three agro-ecological zones largely representative of the Oriental migratory locust problem areas in China, Thailand, Cambodia, and Vietnam.
Locusts are among the most destructive pests in the world and cause significant financial loss and ecological damage. They are a particular threat to China's food security – targeting crops including maize, rice, and peanut.
The fungus Metarhizium anisopliae, previously known as Metarhizium anisopliae var. acridum, in the early 2000s was identified as a promising biocontrol agent for locust control. The fungus penetrates the locust's cuticle and grows insides it until the locust dies.
However, the performance of fungal biopesticides, such as M. anisopliae, is dependent upon more external factors, including variations in temperature, than chemical pesticides which are more harmful to human health and the environment.
The fungus has an optimum temperature range for growth, and temperatures outside of this range will stall the fungus's growth and increase the time it takes to kill the Oriental migratory locust, which also threatens other parts of the world including Africa and south Asia.
The scientists say that predicting such variability in the performance of fungal biopesticides should increase confidence in their use and, therefore, encourage their adoption over chemical pesticides, which have a more immediate and obvious effect.
Dr Elizabeth Finch, lead author on the study and CABI scientist, said, "To predict biopesticide performance for the control of the oriental migratory locust, we adapted a previous temperature-dependent model and validated it using field trial data.
"To increase the applicability of this model, we explored the use of readily available temperature variables, as well as our own satellite-derived canopy temperature variable, to run the model.
"Compared to collected in situ temperature data, our canopy temperature variable most accurately represented the ambient temperature experienced by the locust.
"When the biopesticide performance model was run using this canopy temperature and compared to field trials results, the model predictions were more accurate than when the model was run with the other temperature variables."
Dr Hongmei Li, co-author of the study and Senior Scientist at CABI, said the accuracy of the biopesticide performance model was impacted by vegetation cover. But across the areas most associated with locust oviposition, growth and migration, the model predictions were satisfactorily accurate to guide biopesticide operational use.
"Whilst further validation work is needed, this model could be used in in China to assess at a fine spatial scale, the appropriateness of M. anisopliae for controlling the oriental migratory locust," she added.
Dr Li said the model can be used to identify areas where biopesticides may work slowly and, therefore, might be a less appropriate management technique.
With a better understanding of this, decision-makers, she stresses, can make more informed decisions surrounding their management choices for the Oriental migratory locust.
Dr Li said, "An increased confidence in the use of biopesticides might help promote their use over chemical pesticides."
Earlier this year, a study led by scientists from the Chinese MARA-CABI Joint Laboratory for Biosafety suggested greater awareness of biopesticide market availability, efficacy and field application processes could help tackle locust outbreaks in China.
The researchers, who outlined their findings in the journal Sustainability, argued that future studies should also focus on modelling the expected impact and cost effectiveness of chemicals versus biopesticides – therefore increasing the evidence base for promoting more environmentally friendly biopesticide use.
The MARA-CABI Joint Laboratory for Biosafety is a collaborative partnership between the Chinese Ministry of Agriculture and Rural Affairs and CABI. It also includes the Institute of Plant Protection, Chinese Academy of Agricultural Science.
Additional information
Main image: Locusts attacked by the fungus Metarhizium sp. (Photo courtesy of CSIRO/via scienceimage.csiro.au (CC BY 3.0).
Full paper reference
Finch, E.A., Li, H., Cornelius, A., Styles, J., Beeken, J., Cheng, Y., Wang, G., Qiu, G. and Luke, B. (2023), An updated and validated model for predicting the performance of a biological control agent for the oriental migratory locust. Pest Manag Sci. https://doi.org/10.1002/ps.7775
The paper can be read in full open access here.
Funding acknowledgement
This research was funded by a grant (Grant number: ST/V000306/1) from the UK's Science and Technology Facilities Council. CABI is an international intergovernmental organization, and we gratefully acknowledge the core financial support from our member countries (and lead agencies) including the United Kingdom (Foreign, Commonwealth & Development Office), China (Chinese Ministry of Agriculture and Rural Affairs), Australia (Australian Centre for International Agricultural Research), Canada (Agriculture and Agri-Food Canada), Netherlands (Directorate-General for International Cooperation), and Switzerland (Swiss Agency for Development and Cooperation). See https://www.cabi.org/about-cabi/who-we-work-with/key-donors/ for full details.
Relevant stories
'Study reveals optimum time to apply eco-friendly biopesticides to tackle Oriental migratory locust pest.'
'Study recommends greater awareness of biopesticides to help fight locust outbreaks in China.'
'CABI-led £1.6 million collaboration helps reduce China's reliance on harmful pesticides.'
Related News & Blogs
CABI News
25 September 2023