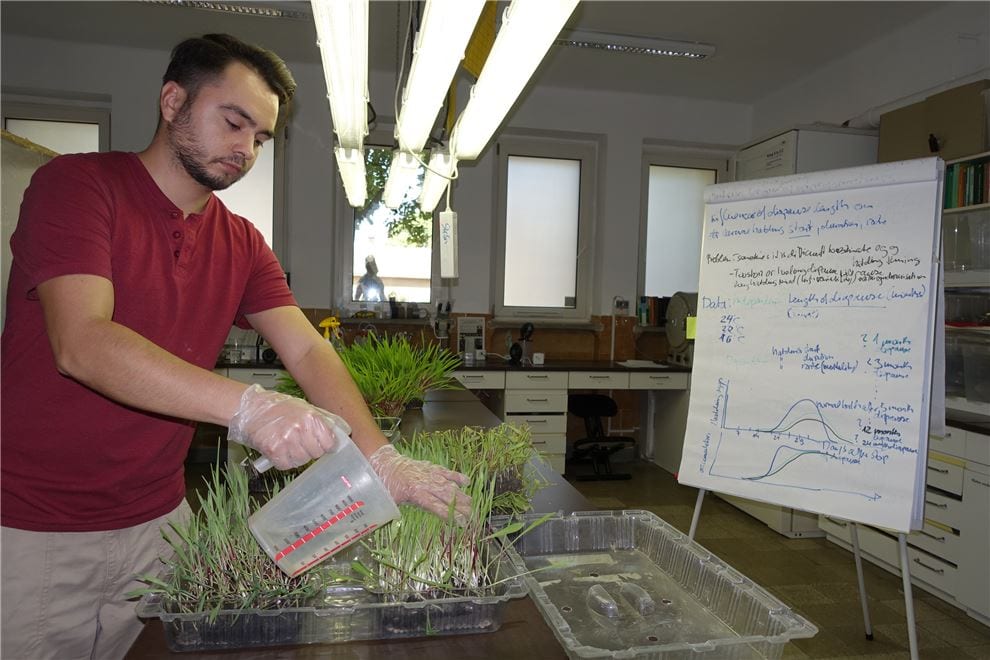 A PhD student, supervised by CABI's invasive species and maize production expert Dr Stefan Toepfer, is stepping up the fight against one of the most destructive pests of maize in North America and Europe – the western corn rootworm.
Szabolcs Toth is conducting his research at the Plant Science Doctoral School of the Szent Istvan University of Gödöllö in Hungary together with CABI Switzerland, aiming to improve integrated control methods for the invasive alien pest.
His investigation includes ways to enhance existing control methods – such as pesticides, entomopathogenic nematodes, as well as pre-requisite research to test new control measures incorporating enzymes.
In the long-term it is hoped Szabolcs' research will lead to improved management options of soil pests for Hungary's farmers as well as those from around the world, including a reduction in the reliance on less environmentally-sustainable pesticides.
The western corn rootworm – a leaf beetle, called Diabrotica virgifera virgifera, likely arrived in central Europe in the mid to late 1980s. It soon started to impact upon the way maize is cultivated. Its larvae feed on maize roots and the adults on the silk and pollen of the crop and other plants. Despite decades of effort to manage the pest, it remains an important pest of concern – meriting further investigation.
Prior to his PhD, Szabolcs, who is being co-supervised by integrated pest management experts from the Plant Protection Institute of the University of Gödöllö Dr Jozsef Kiss and Dr Mark Szalai, worked as a junior scientist at the biocontrol company PlasmoProtect Ltd in Hungary.
Dr Toepfer said, 'While the western corn rootworm has been managed through crop rotation, granular soil insecticides, insecticide seed coatings and/or by planting transgenic maize expressing Bacillus thuringiensis toxins – which act as insecticides – the insect appeared capable to develop resistance to nearly all control measures.
'Due to its concealed life cycle below ground, our understanding of the pest remains still somewhat limited. It is hoped Szabolcs' research will not only further our knowledge of the western corn rootworm but will also lead to new and effective ways to manage it.'
The PhD project is financed by the Hungarian state scholarship (magyar állami ösztöndíj) (2018-2022).
Additional information
Project
Dr Stefan Toepfer is currently supporting research investigating the use of beneficial maize-rhizosphere microbials against western corn rootworm. Find out more here.
Dr Stefan Toepfer has also helped to develop a beneficial-nematode based biocontrol product against western corn rootworm larvae, the first ever of such products for soil pests in field crops.  Find out more here.
Blog
Read, on the CABI Blog, how CABI is working with the University of Gödöllö and University of Neuchâtel to help 'sow the seeds' for the agricultural scientists of tomorrow here.
Relevant book
Western Corn Rootworm: Ecology and Management, Edited by S Vidal, Georg-August University, Goettingen, Germany, U Kuhlmann, CABI Bioscience, Switzerland, C Edwards, Purdue University, W Lafayette, Indiana, USA – CABI, 2004.