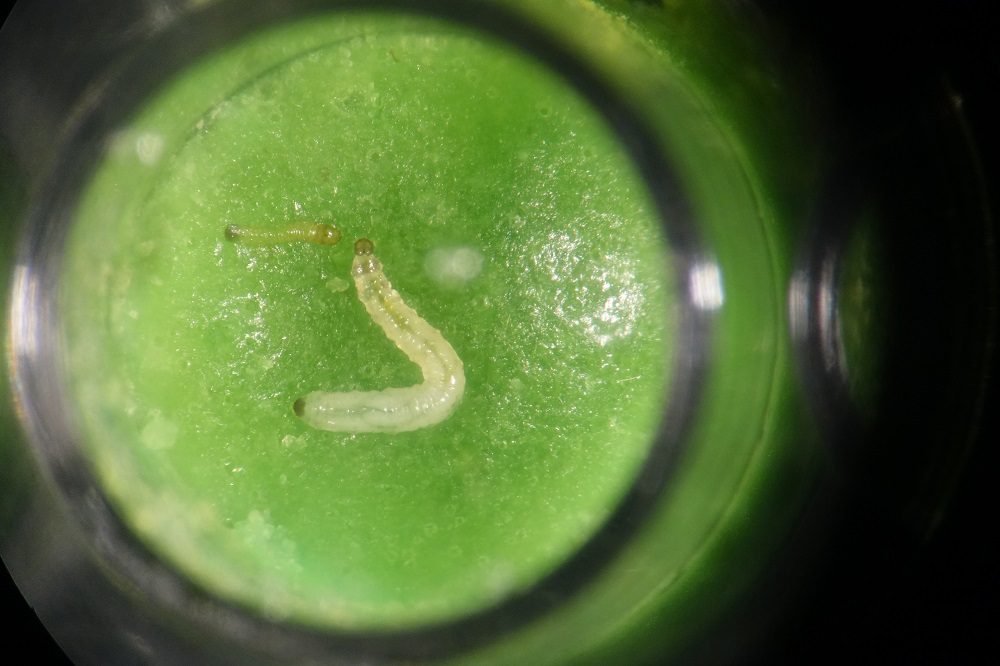 After having 340 novel proteins from over 2,600 bacterial strains screened for insecticidal properties, scientists believe they have finally found a new effective toxin against the devastating western corn rootworm (Diabrotica virgifera virgifera) pest. Dr Stefan Toepfer and Wayne Coles reports.
A consortium of seven French science institutions and companies, and Dr Stefan Toepfer from CABI, have discovered a novel binary protein – isolated from several Chryseobacterium species – they believe will be effective against one of the most destructive pests of maize in North America and Europe.
After research, the results of which have been published in the journal PlosOne, it is suggested that the discovered binary proteins GDI0005A and GDI0006A, may not share the same binding sites as commercially deployed proteins (which have not always been successful against beetle pests) and as such possess a new mode of action.
Dr Toepfer has been supporting this four-year project – officially called 'Utilisation de la DiversitE microbienne pour idenTifier des activités insEcTICides contre la larve de la chrysomèle du maïs (Diabrotica virgifera virgifera) (DIETETIC)' – which aimed to identify new technologies to protect maize from corn rootworm larvae.
The project partners adopted a bioinformatics-based candidate gene search approach – followed by high-throughput screening – to investigate a large diversity of bacteria that may produce proteins with insecticidal effects on maize pests.
Dr Toepfer said, "Many insecticidal biopesticides and transgenic crops are based on toxins from different stains of the beneficial bacterium Bacillus thuringiensis.
"In fact, B. thuringiensis products are the most used biocontrol agents globally, primarily helping in controlling Dipteran pests such as mosquitoes, or lepidopteran pests.
"However, while the bacteria-based control of beetles (Coleoptera) has had some success, it has also remained a challenge.
"This may be partly because of the pest's ability to develop resistance to some of the commercial pesticidal proteins originating from different strains of B. thuringiensis."
The western corn rootworm has one generation a year with eggs that overwinter in the soil. These hatch after the maize has germinated in spring and the larvae feed on maize roots – often causing entire plants to lodge.
Adult beetles can reduce yields through intensive silk feeding, which interferes with maize pollination.
Despite efforts to manage this insect pest, Dr Toepfer says it remains one of the economically most important pests of maize due to its adaptive capabilities to pest management options.
Dr Toepfer said, "These new proteins that we have found are very promising. In fact, they may pave the way towards the development of novel biological or biotechnological management solutions urgently needed against this major invader of maize in North America and Europe.
"They may also play a role in replacing insecticides that are phased out owing to their high toxicity, and others, such as the neonicotinoids, due to their toxicity of bees."
Part of the team that has been researching natural enemies for the western corn rootworm have included two PhD students – Rania Jabeur (University Montpellier, LIMAGRAIN, France) and Szabolcs Toth (University MATE, CABI, Hungary) – who both successfully defended their thesis in 2022.
The project has been financed by the French Groupement National Interproffessionel des Semences et plants (GNIS), a service provider for farmers.
The scientists sought novel control measures which focus on the western corn rootworm while also being environmentally friendly.
Research was conducted using bacterial strains from microbial collections and from a rhizosphere survey carried out in maize fields in southern Hungary.
This included collecting more than 22,000 live specimens of the western corn rootworm for further research into its biological control.
CABI has been investigating corn rootworms for over 15 years and has contributed to over 50 scientific papers and a book on the pest – Western Corn Rootworm: Ecology and Management.
Additional information
Main image: Living and dead larvae of the western corn rootworm in artificial diet bioassays used to screen bacterial proteins for their insecticidal activity (Credit: S. Toepfer).
Project page
The western corn rootworm is one of the most destructive pests of maize in North America and Europe.
Read more about how CABI has been working in partnership to identify new technologies to protect maize from corn rootworm larvae from the project page 'Using beneficial maize-rhizosphere microbials against western corn rootworm.'
CABI is grateful for collaboration from:
Crop Characteristics Inc., USA
Proteus, France
UMR 7265 CNRS-CEA-AMU CEA/DRF/BIAM/LEMiRE, CEA Cadarache, France
Genoscope, CEA/DRF/IG, France
Biogemma, France and USA
Genective, USA
Limagrain, France
The project donor is Groupement National Interprofessionnel des Semences et plants (GNIS), section maïs et sorgho, gestionnaire du Fonds Diabrotica
Related news stories
See also the news stories:
'Over 340 proteins from 2,600 bacterial strains screened in search of natural enemy for the invasive western corn rootworm.'
'Continuing the biological fight against a hardy foe – the maize-devastating western corn rootworm.'
'PhD student steps up fight against western corn rootworm – a major pest of maize.'
Related News & Blogs
CABI News
20 September 2022