29 July 2019 – CABI is continuing the fight against the maize-devastating western corn rootworm (Diabrotica virgifera virgifera) by collecting more than 22,000 live specimens of this chrysomelid beetle for further research into its biological control.
Dr Stefan Toepfer has been busy in the maize fields of southern Hungary gathering the insects, which, of Mexican origin, have invaded many maize production areas of North America and Europe – adapting to nearly all management options regardless of insecticides, transgenic maize, or crop rotation.
Joined by PhD student Szabolcs Toth from the Szent István University of Gödöllő and CABI, as well as by Matija Milkovic, a summer student from the University of Novi Sad, Dr Toepfer helps CABI maintain a continuous mass rearing of a non-diapause laboratory strain of this pest as well as of a wild population which undergoes an egg-diapause.
Every year Dr Toepfer and his team collect adult beetles from highly-invested maize fields and transfers them to CABI Switzerland's laboratories in Hungary where up to half a million eggs will be produced and put through a period of diapause. This allows further laboratory experiments to take place at any time of the year as part of the search for more effective biological control methods. Meanwhile, the standardised artificial infestation of maize plants in field scale experiments will continue to take place in 2020 as part of the research process.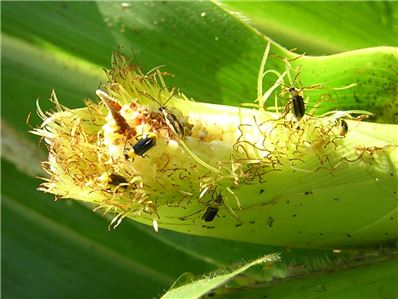 Photo: The invasive alien maize pest, western corn rootworm (Diabrotica v. virigifera) feeding on maize cobs in Hungary (Copyright: Stefan Toepfer/CABI)
CABI has been investigating corn rootworms for over 15 years and has contributed to over 50 scientific papers and a book on the pest – Western Corn Rootworm: Ecology and Management. Western corn rootworms are also shipped to research partners of CABI, such as to Biogemma Ltd in France, the University of Neuchâtel in Switzerland, the Szent István University of Gödöllő, Budapest University of Technology and Economics in Hungary, Bioline Ltd in France, the University of Salzburg in Austria, the University of Ljubljana in Slovenia, and others.
Dr Toepfer said, "The western corn rootworm is a major invasive maize pest whose control options are more and more limited as problematic pesticides are being phased out. Mass-produced beneficial nematodes, such as the Heterorhabditis bacteriophora, are now available as a commercial product and we continue to search for more ways to control this determined pest."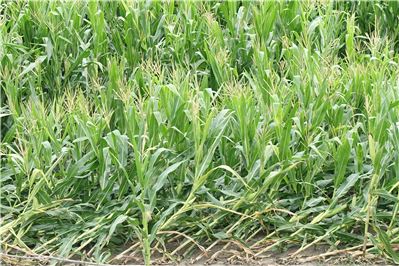 Photo: Lodged maize fields, due to root damage by the larvae of the western corn rootworm (Diabrotica v. virigifera) feeding on maize cobs in Hungary (Copyright: Stefan Toepfer/CABI)
Additional information
Find out more about CABI's work to find biological controls for the western corn rootworm, including list of donors and partners, from the following project pages:
Beneficial nematodes to control rootworms in European maize production
Using beneficial maize-rhizosphere microbials against western corn rootworm
Research, rearing and collection services on corn rootworms
Previous news story
PhD student steps up fight against western corn rootworm – a major pest of maize