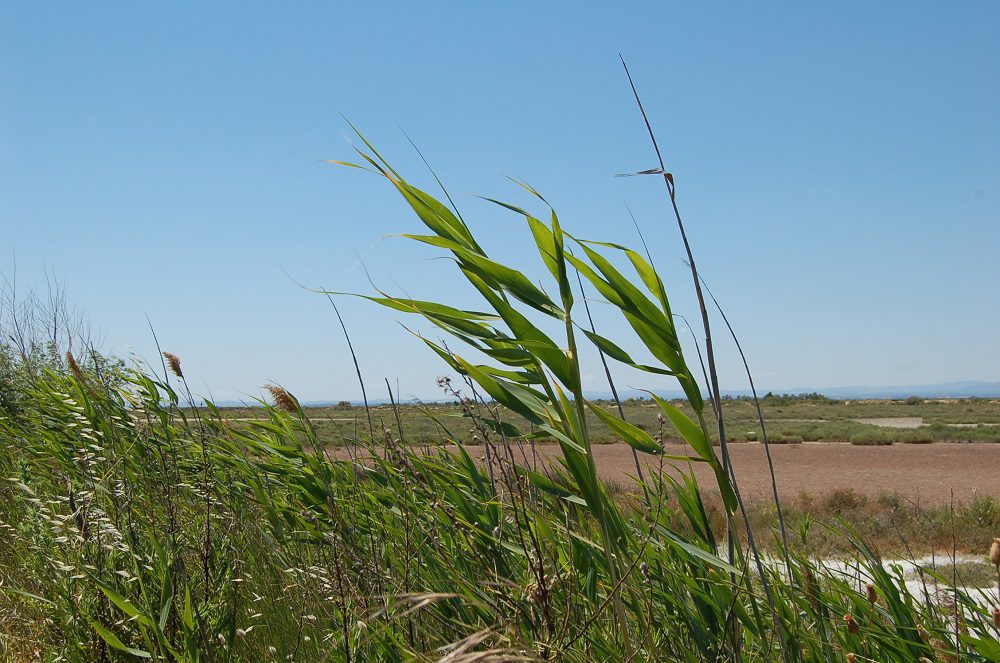 CABI is playing a key role as part of a team of international scientists who have spent nearly 25 years researching effective biological control agents to fight invasive phragmites which are considered to be one of Canada's worst weeds.
Two European moths – Archanara neurica and Lenisa geminipuncta – are starting to establish themselves and attack invasive phragmites following the release of over 17,000 insects at 13 sites across southern Ontario.
The research team, that includes scientists from CABI's centre in Switzerland and colleagues from the USA and Canada, is now focused on an intensive laboratory rearing programme for the caterpillars and on testing release methods using insect eggs, caterpillars, pupae and adult moths.
Invasive phragmites were introduced into North America from Europe in the 1800s. Without any natural predators, the plant gradually spread and has become all too common a sight along highways and waterways.
Invasive phragmites threatens biodiversity by eliminating native species, including a native phragmites; destroys wetland habitats; and adds extensively to the maintenance costs of infrastructure. These dense stands make wildlife movement difficult and provide poor habitat and food supply for wildlife.
Lead by Agriculture and Agri-Food Canada and the University of Toronto, the scientists are more hopeful that a biological control programme will re-establish the ecological balance between the invasive plant and its natural enemies by reuniting them in Canada.
Dr Hariet Hinz, CABI's Global Director Invasives, said, "CABI Switzerland has been working on the biological control of invasive Phragmites since 1998 supported by various entities from Canada and the USA.
"CABI's main contribution to the project was to determine the environmental safety and efficacy of the two moth species. Currently, we are providing about 10'000 eggs and several hundred pupae annually to support releases of the moths in Canada.
"We are excited about the first signs of impact and encouraging initial evidence of establishment."
The Canadian Food Inspection Agency (CFIA) approved the release of the biological control agents in Canada in 2019 after extensive safety testing confirmed that they are highly specific to invasive phragmites – meaning that they can only complete their lifecycle on this plant.
The caterpillars of the two moths feed inside the invasive phragmites stems, causing the weed to wilt or die. The released insect populations have survived over a year at the release points and are causing visible damage to phragmites plants at several release locations.
Honourable Graydon Smith, Minister for the Ontario Ministry of Natural Resources and Forestry, said, "Our government recognizes the importance of taking action against invasive species like phragmites.
"Given phragmites' rapid spread across the province, new innovative management tools are vitally needed to protect Ontario's biodiversity and economy. We are proud to be making investments in this innovative program and are optimistic that this work will help turn the tide against this costly invasive plant."
Dr Michael McTavish, of the University of Toronto, said the programmes ultimate goal is to use the early "nurse" locations for collection and redistribution of insects to land managers and the public with serious patches of phragmites.
"Populations of the insects are still establishing, and initial results are very encouraging. The team anticipates being able to collect insects for redistribution from the "nurse" sites in a few years," he said. "Over time, as the insect populations continue to grow and spread, biological control is expected to become a valuable new component of the integrated management strategy for invasive phragmites."
Financial and infrastructure support for the phragmites biological control research comes from partnerships with Ducks Unlimited Canada, MITACS, the Ontario Ministry of Natural Resources and Forestry, the Nature Conservancy of Canada, NSERC, the rare Charitable Research Reserve and AAFC.
The international research team is led by Agriculture and Agri-Food Canada and the University of Toronto. It includes collaborators from the University of Waterloo, Ducks Unlimited Canada, Nature Conservancy of Canada, Cornell University, the University of Rhode Island and CABI.
Kyle Borrowman, Biologist, Ducks Unlimited Canada, said, "Invasive phragmites is one of the biggest issues threatening wetlands and natural spaces in Ontario, and throughout the Great Lakes Region.
"Since 2018, Ducks Unlimited Canada has been a proud partner and contributor to this ongoing research and is excited to see these promising results to date.
"We envision biological control playing a major role as an effective tool in the fight against Invasive phragmites on a landscape scale throughout the Great Lakes Region on both sides of the border."
Additional information
Main image: Invasive phragmites is one of Canada's worst weeds but a team of international scientists are fighting back with two European moths as natural enemies (Credit: CABI).
Project page
Find out more about how CABI is helping to project North America's wetlands from common read in the project page here.