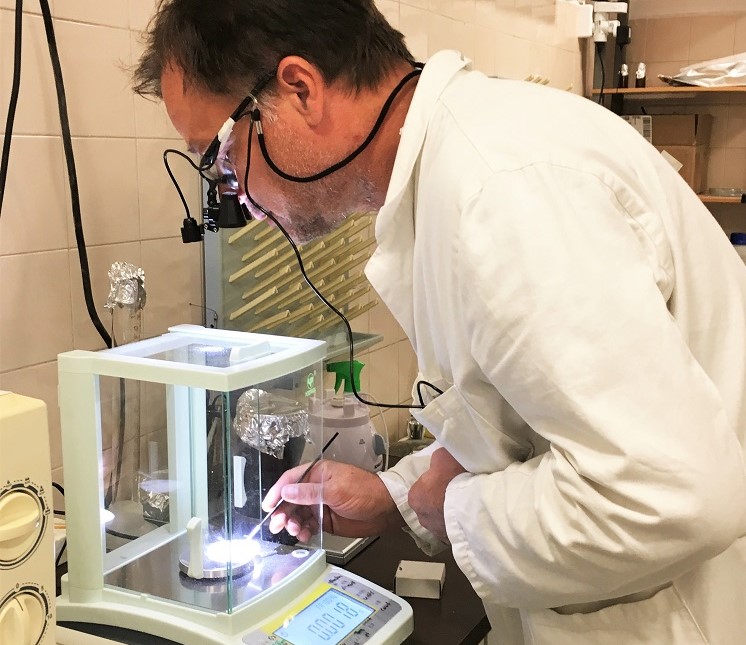 CABI scientists and a consortium of four French partners have stepped up the search to find a natural enemy for the invasive western corn rootworm (Diabrotica virgifera virgifera) having 340 novel proteins from over 2,600 bacterial strains screened for insecticidal properties against the pest.
Dr Stefan Toepfer has been supporting a four-year project – officially called 'Utilisation de la DiversitE microbienne pour idenTifier des activités insEcTICides contre la larve de la chrysomèle du maïs (Diabrotica virgifera virgifera) (DIETETIC)' – which aimed to identify new technologies to protect maize from corn rootworm larvae.
The project partners adopted a bioinformatics-based candidate gene search approach – followed by high-throughput screening – to investigate a large diversity of bacteria that may produce proteins with insecticidal effects on the western corn rootworms.
The long-term goal is to develop biopesticidial or biotechnological control options against this major invader which is one of the most destructive pests of maize in North America and Europe.
This leaf beetle has one generation a year with eggs that overwinter in the soil. These hatch after the maize has germinated in spring and the larvae feed on maize roots – often causing entire plants to bend (lodge). Adult beetles can reduce yields through intensive silk feeding, which interferes with maize pollination.
A number of soil insecticides are being phased out owing to their high toxicity, and others, such as the neonicotinoids, due to their toxicity of bees. Novel control measures are therefore needed – preferably with novel ways of acting on the insect while also being environmentally friendly.
As part of the project, which was financed by the French Groupement National Interproffessionel des Semences et plants (GNIS), a service provider for farmers, genomes from about 2,670 bacterial strains from microbial collections – and from a rhizosphere survey in maize fields in central Europe – were sequenced by project partners.
Around 340 unique proteins were produced as crude lysates and tested on larvae of western corn rootworms. Two entirely novel binary proteins and their homologs have been detected to inhibit the growth of larvae. The genomes of 15 bacteria carrying genes for those proteins have also been fully sequenced.
Moreover, two more candidates have been detected that appear to have comparable mode of actions to some known insecticidal toxins but originate from new bacteria. This lays the base for potential developments of novel microbial biopesticides urgently needed for the management of soil insect pests including the western corn rootworm.
Dr Toepfer said, "There has never been a higher demand for novel and more environmentally friendly solutions to manage soil insect pests. Those insect pests have been problems in agriculture for over a century, but now they become even more problematic due to the phasing out of many soil insecticides or insecticidal seed coatings. We hope that biopesticides could fill this gap in the mid-term."
Additional information
Main image: Dr Toepfer at work in the fights against the western corn rootworm (Credit: CABI).
The project 'using beneficial maize-rhizosphere microbials against western corn rootworm' has benefited from the partnership of the following:
Crop Characteristics Inc., USA
Proteus, France
UMR 7265 CNRS-CEA-AMU CEA/DRF/BIAM/LEMiRE, CEA Cadarache, France
Genoscope, CEA/DRF/IG, France
Biogemma, France and USA
Genective, France and Germany