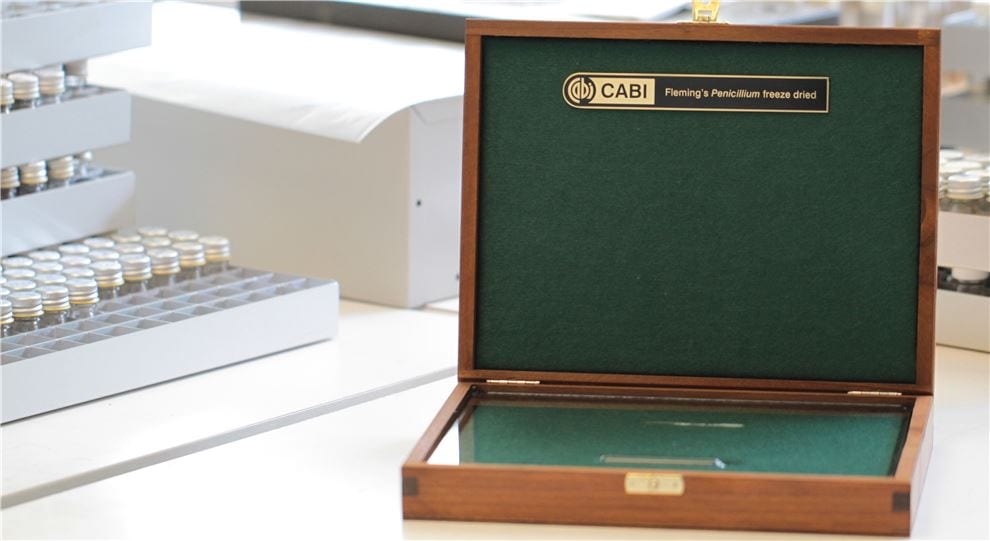 Main photo: A display case containing an original freeze-dried strain of Fleming's Penicillium fungus – used to produce the antibiotic penicillin
9 September 2019 – Penicillium, a fungus which has been grown from a strain of Sir Alexander Fleming's original culture maintained by CABI, is currently on a world tour to China and India as part of a 'Superbugs' exhibition in conjunction with the Science Museum in London.
The fungus, which takes pride of place amongst more than 30,000 other specimens in CABI's Genetic Resource Collection, was previously displayed for 18 months as part of the Science Museum's 'Superbugs: The Fight for Our Lives' exhibition.
Now, CABI scientist Helen Stewart has been busy creating more replicate cultures of the Penicillium that was originally found to produce the antibiotic penicillin, one of the most important scientific discoveries of the 20th century.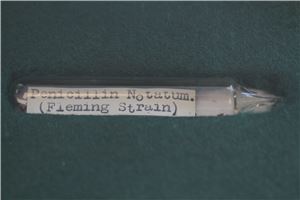 Photo: The Fleming strain from which the Penicillium fungus was grown
As Dr Matthew Ryan, CABI's Curator, Genetic Resource Collection, outlines in a special blog commissioned by the Science Museum called 'Keeping History Alive!', during the 1930s and 40s, research groups in the UK and US evaluated many different Penicillium strains to see if any could be used to mass produce penicillin. From this work, many of the historic strains were deposited in CABI's Genetic Resource Collection. One strain from Fleming's investigations was transferred to the Imperial Mycological Institute, IMI (part of CABI) in 1945.
He adds that the strain Fleming originally sent to Charles Thom was transferred to CABI in 1950 and the first strain to be used to produce pure cultures of penicillin by 'submerged culture production' was from Belgium (NRRL 832), deposited at CABI in 1947.
Currently in China, one of Helen's Penicillium cultures is on display in Guangzhou at the Guangdong Science Center as part of their exhibition entitled 'Superbugs.' The specimen will then go on show at the Chongqing Science Technology Museum from 1 December before moving onto the Wuhan Science and Technology Museum on 20 March 2020 and finally to the Zhejiang Science and Technology Museum from 1 August next year.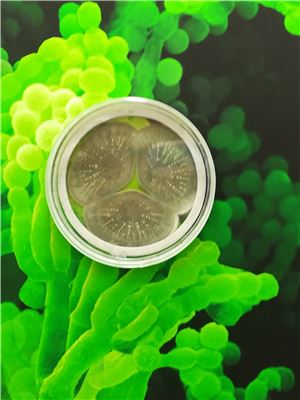 Photo: An image of the Penicillium fungus grown by CABI from Fleming's original strain is currently being exhibited at the Guangdong Science Centre in China. (Credit to Sheldon Paquin, Project Leader – Antibiotics, Science Museum in London and board of Trustees of Science Museum).
Meanwhile in India, the Penicillium will visit the National Science Centre, Delhi, on 6 September before moving onto the Nehru Science Centre, Mumbai, on 9 December, the Vishvesvraya Industrial and Technological Museum, Bangalore, on 13 March 2020. The 'CABI Penicillium' world tour makes its final destination to Science City, Kolkata on 12 June 2020.
The strain will also have a one-day visit to the AMR summit at the UN General Assembly in New York on 23 September 2019.

Lukasz Tymo, Business Manager at CABI Bioscience, said, "CABI is delighted to be working alongside the Science Museum and various museums in China and India to bring this very exciting Penicillium culture to more audiences around the world eager to learn more about its fascinating history.
"While medicine has very much moved on from the discoveries of the 1940s, Fleming's Penicillium undoubtedly had, and continues to have, a major impact as an antibiotic fighting bacterial infections."
CABI is currently working to provide the Science Museum with a permanent copy of the Penicillium culture which can be put on display for future exhibitions as well as looking at innovative new ways of preserving the cultures 'travelling' around China and India – protecting them from the adverse effects of changing humidity and temperature.
Additional information
You can read the blog 'Keeping History Alive!' by Dr Ryan here. It includes the video 'Inside the archive collecting historic moulds' created as part of the museum's Science Today series.
CABI Bioscience
CABI Bioscience is a division of CAB International (CABI), the not-for-profit Intergovernmental organisation which is owned by its 49 Member Countries. As our parent organisation, CABI has been providing information and scientific solutions to problems in agriculture and the environment for over a century and has built up considerable expertise and an excellent reputation along the way. CABI Bioscience has its origins in the International Mycological Institute (IMI) and whilst its commercial service is outside CABI's traditional focus, all profits are reinvested in the organisation for the delivery of its mission.
Related News & Blogs
CABI News
8 November 2022