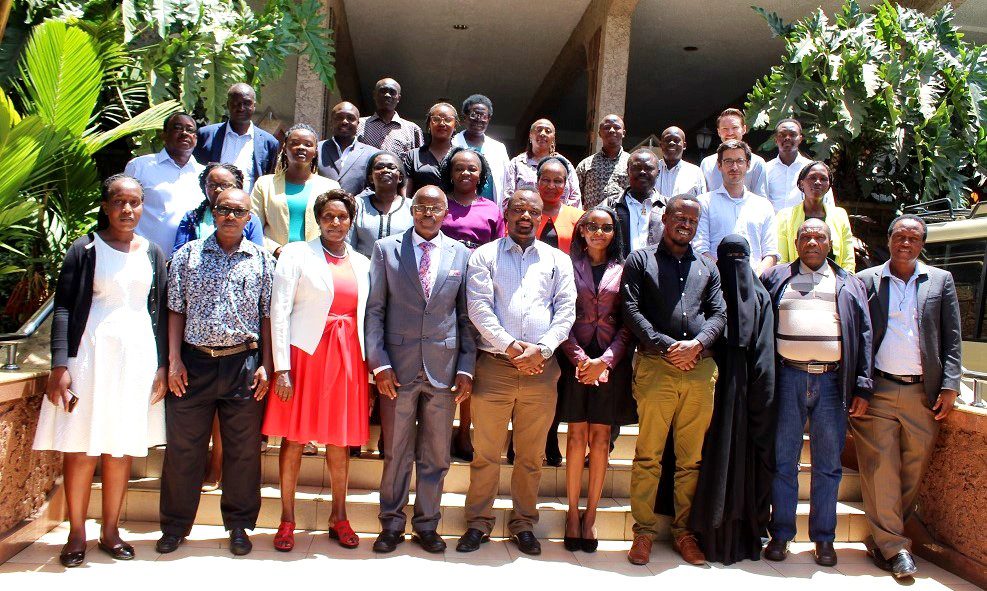 The role of weather and climate services and digital tools for crop pest and disease management in Kenya has come under the spotlight as part of a stakeholder consultation held at CABI's regional centre for Africa in Nairobi.
The workshop was delivered by CABI as part of a collaborative project exploring climate service provision for crop pests and diseases, led by the Community Network for Vector-Borne Plant Viruses (CONNECTED), University of Bristol, UK and the Met Office through the University of Bristol Met Office Academic Partnership. CONNECTED is a multidisciplinary network of over 1,600 members in 92 countries that undertakes research and capacity building to tackle crop diseases spread by insects.
The aim of the workshop was to better understand current needs for weather and climate services, information and tools, to tackle crop pests and diseases in Kenya.
The event brought together representatives from the Kenya Meteorological Department (KMD) and Kenya Plant Health Inspectorate (KEPHIS), along with plant health extension and quarantine officers, to identify gaps in the current provision that new information tools might be able to fill.
This included considering short-term (weather/seasonal) perspectives alongside longer-term (climate change and future climate projections) time scales to understand risks, drivers and needs. Participants also considered how farmers and local communities are managing the impacts of changes to weather and climate patterns on crop diseases. This way information and tools can make best use of local knowledge and support the communities who will use them.
Florence Chege, Project Scientist at CABI based at its Nairobi, Kenya, office, told the workshop participants that weather and climate is influencing the distribution of diseases borne by vectors and outbreak of pests in a vast range of crops.
Up to 40% of the world's food supply is already lost to pests. There is a need to adopt climate-smart pest management approach that considers weather and climate information alongside pest surveillance, detection, management and advice to farmers.
Furthermore, according to the International Livestock Research Institute, many crops foundational to African diets, such as wheat, maize, sorghum and millet, will struggle to survive rising temperatures brought about by climate change.
Under warming of 2℃, crop yields across sub-Saharan Africa will decrease by 10 per cent. Warming beyond the 2℃ mark will cause crops yields to fall by up to 20 per cent. If warming is allowed to hit the 3℃ mark, majority of present-day cropping areas for maize, millet and sorghum in Africa will become unsuitable.
The first session of the workshop focused on identifying the crops, pests, and diseases of concern and how they are impacted by weather and climate hazards, such as drought and heat.
This included a focus on pests such as the fall armyworm (Spodoptera frugiperda) which, CABI scientists revealed in a paper published in CABI Agriculture and Bioscience, causes annual yield losses in Africa of around USD $9.4 billion.
Moreover, research led by CABI and published in the Journal of Economic Entomology, states that the pest could establish itself in the southern parts of Europe including southern Spain, Italy, Portugal or Greece – due to the changing climate.
Other pests highlighted included the whitefly on cassava which spread cassava brown streak disease (CBSD), which can cause the total loss of crops. Previous research led by the University of Bristol School of Biological Sciences developed the first molecular diagnostic tools to support the accurate and rapid identification of diseased cassava material. Ongoing work by CONNECTED and the Met Office is exploring the viability and potential spread of whitefly in a changing climate.
The second session of the day explored the seasonal climate outlook for Kenya, taken from the 63rd Greater Horn of Africa Seasonal Climate Outlook Forum (GHACOF), and accessible services provided by the KMD. The final session sought to learn from local practices and posed the question as to whether or not farming communities are already managing weather and climate impacts on crop health and production.
Henry Mibei, CABI's Manager, Digital Development, said, "The need to map Africa's weather and climate services and digital tools is very acute in need when you consider the growing need to feed a population expected to double by 2050 – eventually climbing to over 4 billion by the end of the century.
"This is particularly so when you consider the impact of crop pests and diseases – which severely impinge upon the continent's ability to grow enough healthy crops amid rising political, society and climatic concerns.
"We need to utilize all the 'weapons' in our arsenal to meet this challenge while working closely in partnership to build the capacity of our diagnostic and monitoring systems and that includes those pertaining to weather and climate."
Recent CABI-led projects where data has helped farmers mitigate crop pests and diseases using weather-related information has included the Pest Risk Information Service (PRISE).
PRISE predicts the timing of the most effective and efficient control against pests using a novel combination of earth observation technology, real-time field observations and plant-pest lifecycle modelling to deliver a science-based service.
The project delivered pest alerts in Kenya, Ghana, Zambia and Malawi to over 1.8 million farmers since it began in 2017. During the 2019/2020 short rains season in Kenya, PRISE model outputs were integrated in the MoA-INFO SMS service.
At the end of this season, 59% of farmers who received the service changed their practices based on PRISE recommendations for fall armyworm, with the most common outcomes being a reduced population of the pest and an increase in maize harvest.
Closing the session, Dr Nina Ockendon-Powell, Co-Manager of the CONNECTED Network, noted the success of the workshop in identifying examples of best practice while also uncovering opportunities for improving current weather and climate services, information and tools for pest and disease management.
Additional information
Main image: Delegates at the workshop which aimed to better understand weather and climate services, information and tools, to tackle crop pests and diseases in Kenya (Credit: CABI).
For more information about the Pest Risk Information Service (PRISE) see the project page here.
Digital Development
Through the creation and application of digital technologies, CABI brings science-based agricultural knowledge to millions of smallholder farmers helping to increase their yields. For more information visit: https://www.cabi.org/what-we-do/digital-development/
Related News & Blogs
CABI News
10 November 2023