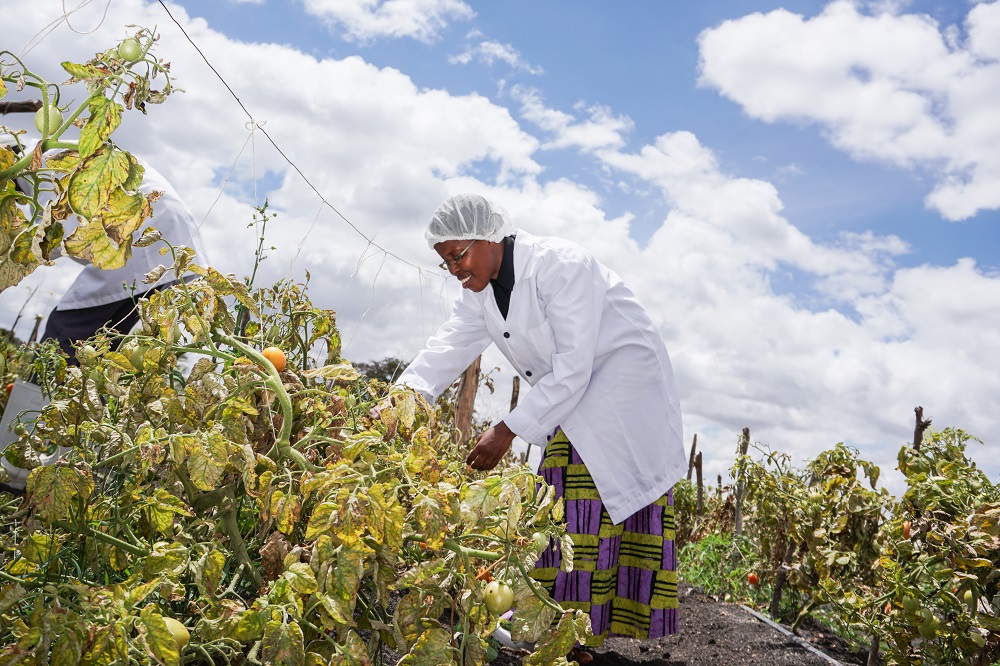 CABI is working in partnership with the Food and Agriculture Organization of the United Nations (FAO) to support the operationalization of the Southern African Development Community (SADC) Regional Agricultural Policy that will help tackle five key crop pests and diseases affecting its 16 Member States.
Dr Ivan Rwomushana and Dr MaryLucy Oronje, who are based at CABI's Africa Centre in Nairobi, Kenya, are leading a team of CABI scientists that are providing expertise on developing strategies to fight Maize Lethal Necrosis Disease (MLND), tomato leaf miner (Tuta (Phthorimaea) absoluta), oriental fruit fly (Bactrocera dorsalis), fall armyworm (Spodoptera frugiperda) and Banana Fusarium Wilt (Fusarium oxysporum f. sp. Cubense Tropical race 4 (Foc TR4)).
The work – being conducted under the three-year-long EUR 9 million project 'Support towards operationalization of the SADC Regional Agricultural Policy' (STOSAR) and financed by the European Union (EU) as part of its 11th Economic Development Fund Programme (EDF 11) – will also involve training on Pest Risk Analysis (PRA) and the implementation of Sanitary and Phytosanitary (SPS) measures.
Throughout the SADC region, agriculture is of great economic and social importance – contributing, in the Member States, between 4% and 27% of GDP and 13% export earnings. Indeed, 70% of the region's population depend on agriculture for food, income and employment.
Dr Rwomushana said, "In order to mitigate the effects of pests and diseases within the region and individual countries, national and regional capacities need to accurately identify the viruses associated with the diseases, analysing the risk of introduction and implementing SPS measures to prevent entry and provide a first line of defence.
"The project aims to provide support to the SADC Secretariat by strengthening national and regional capacities to prevent entry, control spread and manage five priority plant pests and diseases. Additionally, it will strengthen regional cooperation and coordination on SPS issues, focusing on those pests and diseases identified in the region."
He added that the project will seek to develop a regional strategy for MLND and provide technical support to Member States to develop and review their national strategies for MLND. Technical assistance to develop national Integrated Pest Management (IPM) strategies in line with the International Plant Protection Convention (IPPC) and the International Standards for Phytosanitary Measures (ISPMs) will also be given.
Dr Oronje said, "CABI will also provide specialized services to strengthen pest and disease risk analysis capacities in the region, including the development of and, updating of, national commodity pest lists. This will help with the implementation of SPS measures concerning the priority transboundary pests and diseases."
In opening the regional pest risk analysis workshop, Dr Patrice Talla, FAO Sub-regional Coordinator for Southern Africa, said, "Control of movement of plants and plant products across national borders, improved cooperation and coordination among border agencies, improved surveillance and rapid and accurate diagnosis of plant pests and diseases are critical in the fight to manage entry and spread of transboundary pest."
Other key activities within the project will include hosting a series of webinars on selected topics to enhance inspection and diagnostic skills, improve the understanding of SPS issues and provide updated guidelines for inspectors, regulators and other National Plant Protection Organization personnel.
The project will benefit the 16 SADC Member States: Angola, Botswana, Comoros, Democratic Republic of Congo, Eswatini, Lesotho, Madagascar, Malawi, Mauritius, Mozambique, Namibia, Seychelles, South Africa, Tanzania, Zambia and Zimbabwe.
Additional information
Photo: Scouting for tomato leaf miner (Tuta (Phthorimaea) absoluta) (Credit: CABI).
Project page
Find out more about how CABI is supporting the Southern African Development Community (SADC) Member States to tackle five key crop pests and diseases by reading the project page.
Related News & Blogs
CABI News
18 September 2023