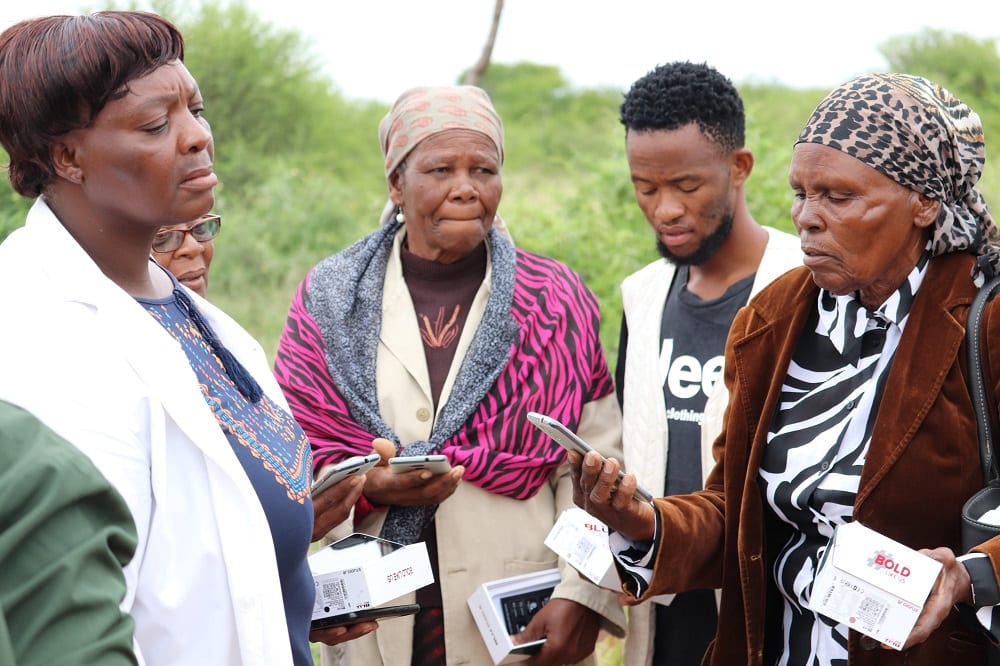 Since 2019, CABI has been working in partnership with the Food and Agriculture Organization of the United Nations (FAO) as part of its Global Action for Fall Armyworm Control to help farmers in Botswana 'close the net' on this devastating crop pest.
FAO has started rolling out a mobile phone app technology in the country under the Fall Armyworm Monitoring and Early Warning System (FAMEWS), which is proving to be a key weapon in the hands of smallholders who are helping to map the current situation.
The fall armyworm (Spodoptera frugiperda) is an insect native to tropical and subtropical regions of the Americas. Its larvae can feed on more than 80 crop species, including maize, rice, sorghum, millet, sugarcane, vegetable crops and cotton – causing up to 100 percent destruction if not properly managed.
FAMEWS data is providing valuable insights on how fall armyworm populations change over time across different regions in order to better understand its behaviour and guide best management practices.
CABI invasive species scientists and development communications specialists are working with FAO to promote the usage of FAMEWS as part of a countrywide campaign to step-up the capacity for Botswana's farmers to manage the fall armyworm which in 2017 affected nearly 27,000 ha of crops.
So far CABI has helped train Ministry of Agriculture (MoA) staff in community fall armyworm management, introduced them to CABI communication platforms such as the Plantwise Factsheet Library and have facilitated farmer training sessions as well as helping them to produce a number of communications products. Further, more than 400 copies of a fall armyworm pocket guide have been given to frontline extension workers and farmers that include quick references to the identification and management of the pest.
Dr Ivan Rwomushana, Senior Scientist, Invasive Species Management based at CABI's regional centre for Africa in Nairobi, said, "Since fall armyworm was detected in Botswana in 2017 it has quickly spread to become a significant crop pest nuisance not only across most of Africa but now other parts of the world including India, China and Japan.
"Our training sessions and workshops form an important element of the overall communications and implementation strategy to help reduce the fall armyworm's impact in areas where it is significantly threatening food security and the livelihoods of farmers and their families. The government has been responding with freely issued pesticides but this poses risks to humans and the environment."
Dr Rwomushana said that widespread use of pesticides is not sustainable in the long run, and should only be used as part of an Integrated Pest Management (IPM) strategy together with safer to use and more environmentally friendly biological controls.
"Farmers have been using Cypermethrin and Bulldock granules as well as Chlorpyrifos and cultural controls using powdered soap mixed with water, weeding, handpicking of larvae and home-made botanical pesticides such as tobacco and chilli," he added.
Under this initiative, CABI is also conducting household surveys to further understand the impacts of fall armyworm to the farmer and the country as well as pesticide use with a view to promoting more sustainable control methods such as the use of biopesticides, intercropping, good field sanitation, 'push-pull' and other agroecological approaches.
CABI's support to fall armyworm management in Botswana is funded by the Government of Japan, and FAO TCP to the country. Yuka Irie, the project coordinator at FAO Botswana said, "We have already received some positive feedback from a farmer at the end of one of the farmer trainings, announcing that she will stop using chemical pesticides, after learning about the health and environmental risks. We hope that more farmers will learn about managing and controlling the pests so achieve a more sustainable agriculture in Botswana."
Additional information
Find out more about the Global Action for Fall Armyworm Control
Learn on the fall armyworm from the CABI Fall Armyworm Portal
Plantwise aims to support the UN Sustainable Development Goals by improving farmers' yields and incomes while reducing the use of toxic pesticides. Discover more at the Plantwise website.
Related News & Blogs
CABI News
20 November 2023