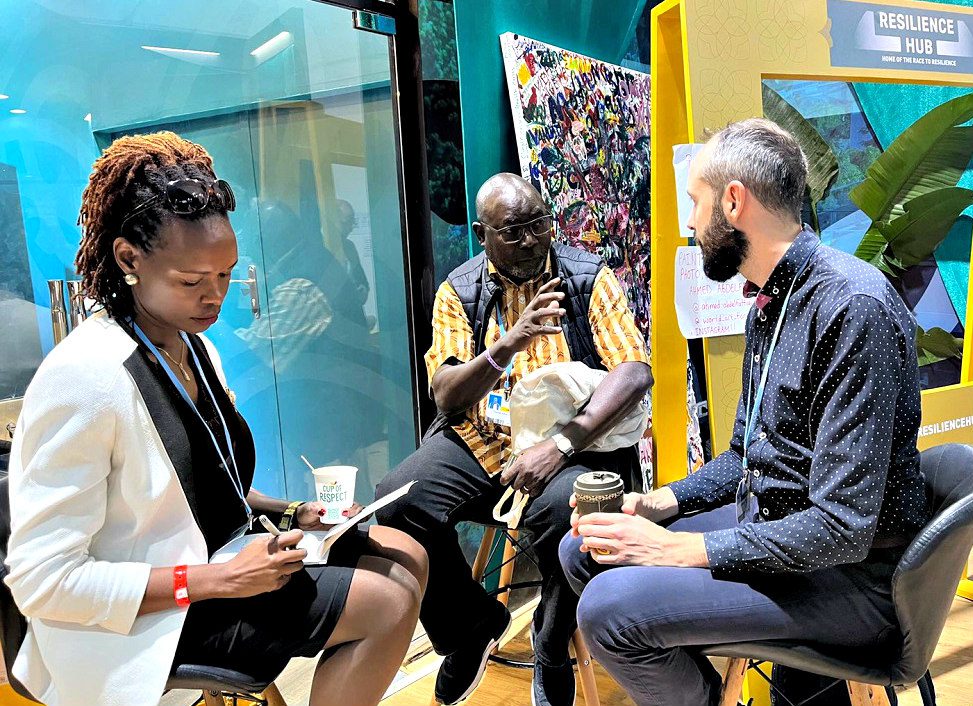 CABI's commitment to helping millions of smallholder farmers around the world adapt to the impacts of climate change has been highlighted at COP27, the global climate change summit held annually by the UN, which this year is being held between 6 and 18 November 2022 in Sharm El-Sheikh, Egypt.
Jonny Casey, CABI's Climate Change Manager, and Phyllis Ombonyo, CABI's Head of Strategic Partnerships, Africa, participated in a number of sessions and side events sharing CABI's scientific expertise and research insights, informing innovative approaches to responding to climate change risks in agriculture.
This includes support smallholder farmers to adopt climate-smart approaches to agriculture, supported by a range of digital information tools. It also includes greater use of biological controls – instead of the most highly hazardous chemical pesticides – and adopting technologies to optimise water use and restore soil health.
Threats posed by our changing climate
Evidence from the Intergovernmental Panel on Climate Change (IPCC) shows that if global temperatures rise beyond 1.5°C, this would lead to a more severe risk to food security, increasing ten-fold from 8 million to 80 million people facing severe hunger between low-emissions and high-emissions scenarios by 2050.
The IPCC evidence highlights that in Africa, agricultural productivity has been reduced by at least 34% since the 1960s directly due to climate change, more than any other region. Should warming be allowed to hit the 3°C mark – the current warming trajectory we are on – all present-day cropping areas for maize, millet and sorghum in Africa will become unsuitable.
Climate change will also weaken soil health and ecosystem services such as pollination, increase pressure from pests and diseases, and reduce marine animal species diversity, undermining food productivity in many regions.
CABI's approaches to climate action
As part of a side event focused on digital development, Jonny joined colleagues from Atos – a French digital data and informatics company – to highlight how CABI's digital tools can help governments and farmers to respond to climate change hazards.
This included early warning systems for increased pest and disease threats exacerbated by climate change, as well as apps and mobile phone services that bring agricultural knowledge to smallholder farmers.
He highlighted the Pest Risk Information Service (PRISE) – which combines historical climate data, satellite earth observation technology, models of pest outbreaks, and field observations – to provide bespoke early warning services and actionable advice to governments and farmers.
Meanwhile, Phyllis took part in a high-level side event hosted by the Government of Kenya, alongside representatives from UNDP Kenya, the African Development Bank Group and Safaricom PLC on 'Accelerating NDC Implementation through Forest and Rangelands Restoration.'
She highlighted CABI's scientific evidence on landscape regeneration for climate adaptation and mitigation, demonstrating that native grasslands can also sequester more carbon than areas covered by invasive plants such as Prosopis juliflora, which is considered one of the world's most invasive and threatening weeds.
Grasslands also offer pastoralists livelihood opportunities and provide ecosystems services vital for building resilience to climate change shocks and stresses, which are both essential to cope with the impacts of climate change.
Inclusive governance approaches are a critical component of resilience-building, which CABI has championed through initiatives such as the Woody Weeds project in East Africa.
This supports communities to collectively tackle land degradation caused by invasive plants such as Prosopis, helping to build local adaptive capacity and restore ecosystem services vital to coping with climate impacts.
Financing climate adaptation in agriculture
High emitting, high income countries committed in 2009 to provide a balance of funding to low-income countries for both climate adaptation and mitigation actions of a minimum of $100 billion per year by 2020, and to mobilise substantial climate finance from private sector sources.
Yet to date, this target has never been met by governments, and the balance of climate finance has been massively weighted towards mitigation actions in the energy transport, and infrastructure sectors – accounting for 95% of all climate finance to date.
Just 0.1% of private climate finance has been targeted towards adaptation in smallholder farming value chains, while the agriculture and land-use sectors account for only 2% of climate-aligned bonds, most of which are targeted towards initiatives in the global North.
CABI is the research and engagement lead for the Commercial Agriculture for Smallholders and Agribusiness (CASA) programme. This aims to drive global investment for inclusive, climate-resilient agri-food systems that increase smallholder incomes. CABI has put climate finance mobilisation for adaptation in smallholder agriculture at the heart of its work in the CASA programme.
At COP27, Jonny launched a new report entitled 'Climate Finance Mobilisation Initiatives: Promoting Climate Adaptation in Agriculture', which examines the landscape of initiatives designed to mobilise climate finance, and provides recommendations for how such initiatives can approach the challenge of mobilising capital for adaptation in agriculture differently.
It addresses the means by which initiatives aim to create change, the types of members engaged, and areas which may be under-served.
Additional information
Main image: Phyllis Ombonyo, CABI's Head of Strategic Partnerships, Africa, and Jonny Casey, Climate Change Manager at CABI, engage with delegates at COP27 (Credit: CABI).
You can see Phyllis speak about the challenge of sustainable food production in this video on the CABI YouTube channel
CABI's commitment to helping millions of smallholder farmers face the hazards driven by climate change was previously highlighted at the 26th UN Climate Change Conference of the Parties (COP26) which took place in Glasgow, Scotland, in 2021.
CABI has committed to supporting farmers face the challenges posed by climate change in its new 2023-2025 strategy.
Find out more about how CABI is helping farmers adapt to climate change here.
You can also view a range of climate change publications from CABI here.
See also the blog 'COP27: helping farmers adapt to climate change.'
Related News & Blogs
CABI News
CABI recently brought together some of the world's leading agricultural scientists and Professor Lindiwe Sibanda, Chair of CGIAR's System Board, to discuss opportunities for greater collaboration between UK scientific institutions and CGIAR
7 August 2023