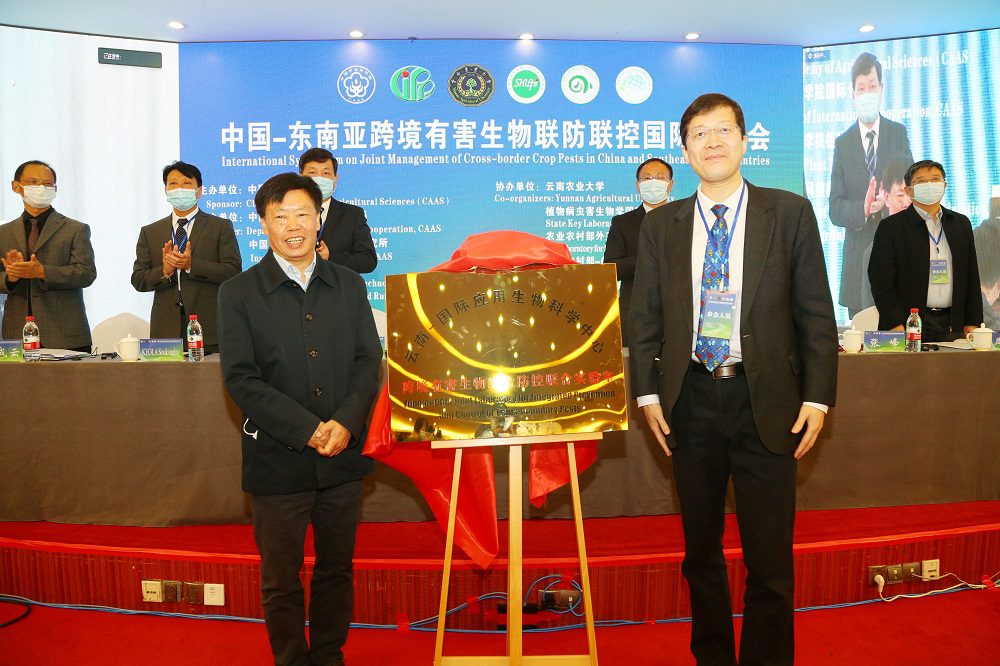 Yunnan Agricultural University (YAU) and CABI have agreed to establish the Yunnan-CABI Joint Laboratory for Integrated Prevention and Control of Trans-boundary Pests to help ensure greater food security in Southwest China.
The new facility, which will also make enhanced contributions to biosecurity and ecological development in the region, has been created under the framework of the China Ministry of Agriculture and Rural Affairs (MARA)-CABI Joint Laboratory for Bio-safety hosted by Institute of Plant Protection (IPP), Chinese Academy of Agricultural Sciences (CAAS).
It will strengthen scientific and technological exchanges and cooperation between CABI and YAU in the field of plant protection and biosafety. It will also promote the existing talents, platforms and technological advantages of both parties for mutual benefit and common development.
Yunnan Province is not only the main producing area of paddy rice, tea and tropical fruit in the world, but also the major pathway for many transboundary pests and diseases such as crofton weed, fall armyworm, yellow-spined bamboo locust, fruit flies, rice planthopper, southern black-streaked dwarf disease of rice and wheat blast to enter mainland China.
Prof Yonghe Li, President of YAU, said, "The purpose of the Yunnan Laboratory is to strengthen international cooperation and establish a trans-boundary pest management laboratory in Yunnan Province. This will radiate to Southeast Asia, South Asia and other regions, so as to ensure food security, biosecurity and ecological security."
A plaque to mark the opening of the Yunnan Laboratory was unveiled by Prof Youyong Zhu, Academician of Chinese Academy of Engineering, YAU, and Dr Feng Zhang, CABI's Regional Director, East & South-East Asia, during the International Symposium on Joint Management of Cross-border Crop Pests in China and Southeast Asian Countries.
The event was organised by CAAS and was held in Kunming, Yunnan Province. It featured presentations from CABI's Dr Hariet Hinz and Dr Hongmei Li.
Dr Hinz, Global Director, Invasive Species, based at CABI in Switzerland, presented on CABI's contribution to the prevention and management of non-native species threats including the fall armyworm which was first detected in Puer City, Yunnan Province, in 2019.
Natural enemies already present to try and control the pest include Telenomus remus and classical biocontrol using parasitoids from Latin America. These include Eiphosoma laphygmae and Chelonus insularis.
Meanwhile, Dr Hongmei Li, Senior Scientist, based at CABI in China, presented on the sustainable prevention and control on yellow-spined bamboo locust.
In July 2020, an infestation of the yellow-spined bamboo locust broke out in Puer City and in neighbouring Laos – affecting almost 6,667 hectares of land.
The pest can devour all bamboo leaves in its path, killing off the commercially valuable stalks. The locust is the main pest of China's bamboo-producing regions, and it often ravages large swathes.
The main functions of the Yunnan Laboratory will be to serve as an open platform for joint research collaboration and a centre for talent training and scientific exchanges.
Previous collaboration, for example, between IPPCAAS to the European arm of the MARA-CABI Joint Laboratory for Biosafety, saw two experts seconded to work on natural enemies for fall armyworm.
Dr Zhang added, "The Yunnan Laboratory will help expand our regional network and access to Chinese expertise and knowledge on management of transboundary insect pests and diseases shared with South East Asian countries.
"Through the sub-labs in Shandong, Anhui, and Yunnan provinces, the MARA-CABI Joint Laboratory for Bio-safety and IPPCAAS will build a strong and comprehensive regional network to tackle the increasing transboundary pests problems and safeguard crop productivity and food security in the East and South-East Asia region."
Earlier this year in August, a Senior Delegation Group from MARA and the Chinese Embassy in London has paid a visit to CABI's corporate office in Wallingford, UK, to further strengthen the partnership between China and CABI.
The visit was the first opportunity in recent years for CABI leadership to meet with senior MARA and diplomatic officials in person and to explore opportunities to deepen collaboration between CABI and MARA.
Future collaboration is being built upon outstanding progress made by the MARA-CABI Joint Laboratory for Bio-safety since its establishment in 2008 by MARA and CABI. It is widely regarded as one of the top platforms of its type within the Chinese agricultural research and development community.
Additional information
Main image: (Credit: YAU).