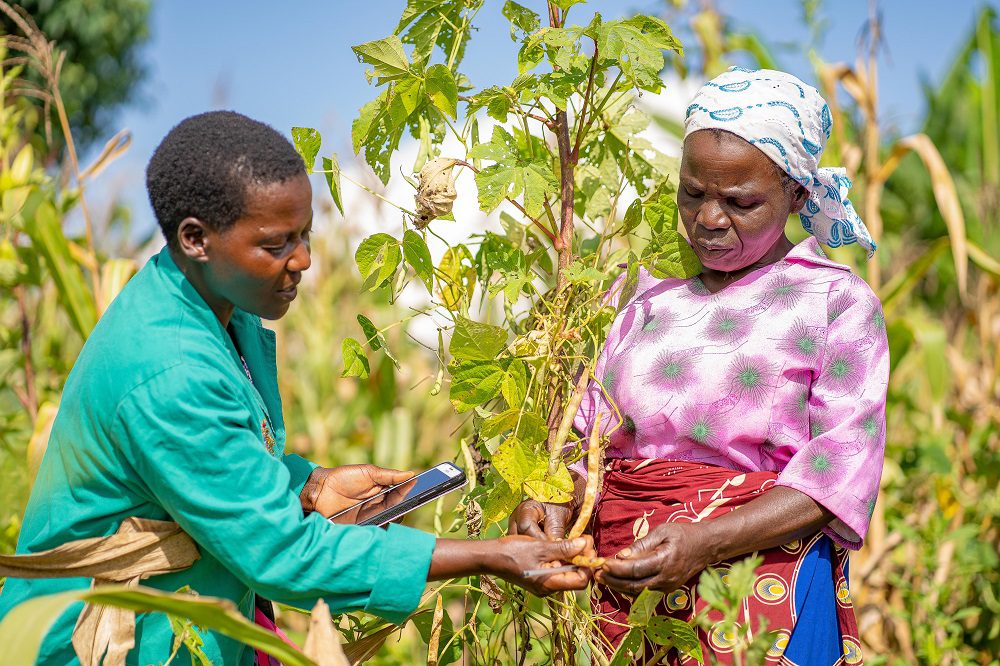 A new CABI-led worldwide programme – PlantwisePlus – has been launched to help support low and lower-middle income countries to predict, prepare themselves for and prevent plant health threats in a changing climate reducing crop losses and empowering farmers to increase income, food security and food safety by producing more and higher quality food.
PlantwisePlus will build on CABI's Plantwise and Action on Invasives programmes, which have already helped millions of farmers in over 30 countries diagnose and treat pest threats and reduce crop losses by strengthening national plant health systems.
PlantwisePlus will help reduce crop losses and empower farmers to increase incomes, food security and food safety by producing more and higher quality food.
For the first 3-years of the programme, PlantwisePlus will test new interventions in 6-7 countries in Africa, Asia and the Americas. These include enhanced digital advisory tools to boost climate resilient agriculture and greater availability of more sustainable biological plant protection products.
Dr Ulrich Kuhlmann, PlantwisePlus Programme Executive, said, "Public extension plays a significant role in agriculture, but the numbers of staff are insufficient to reach all smallholder farmers who often have to turn to agro-input dealers for plant health advice. However, these often lack the capacity to provide accurate diagnoses and sound crop health advice – without an overreliance on chemical pesticide controls, where the hazards are not always realised by farmers, as part of an Integrated Pest Management Plan."
"PlantwisePlus will enhance the on-going elements of Plantwise and Action on Invasives but will also introduce brand-new elements to address gaps and opportunities identified through lessons learnt. This will help smallholder farmers have increased incomes and grow safer and higher quality food through sustainable approaches to crop production."
PlantwisePlus will seek to accelerate the availability of nature-positive and low-risk plant protection products to reduce reliance on high-risk farm inputs. The new programme will also create and transform employment to support economic development and contribute to consumer demand for safer, higher quality and locally produced food to drive the uptake of safer production practices.
Dr Kuhlmann added, "PlantwisePlus will bridge the gap where at the national and regional level there is no consistent or coordinated mechanism for detection of and response to pest outbreaks, or for providing the technical support needed to identify plant health problems and deliver effective solutions."
PlantwisePlus will draw upon a range of existing CABI open access products and projects. These include the CABI BioProtection Portal – a free tool to enhance the awareness and uptake of biocontrol and biopesticide products by growers and advisors – and the Plantwise Knowledge Bank and factsheet app.
Notes to editors
Media enquiries
Wayne Coles, Communications Manager, CABI, email: w.coles@cabi.org Tel: +44 (0)1491 829395
Launch event
A virtual programme launch event for PlantwisePlus will take place on 06 October 2021.
About CABI
CABI is an international not-for-profit organization that improves people's lives by providing information and applying scientific expertise to solve problems in agriculture and the environment.
Through knowledge sharing and science, CABI helps address issues of global concern such as improving global food security and safeguarding the environment. We do this by helping farmers grow more and lose less of what they produce, combating threats to agriculture and the environment from pests and diseases, protecting biodiversity from invasive species, and improving access to agricultural and environmental scientific knowledge. Our 50-member countries guide and influence our core areas of work, which include development and research projects, scientific publishing and microbial services.
About PlantwisePlus
PlantwisePlus is a global programme, led by CABI, to increase incomes and grow safer and higher quality food through sustainable approaches to crop production.
Working in close partnership with relevant actors, PlantwisePlus strengthens national plant health systems from within, enabling countries to provide farmers with the knowledge they need to lose less and feed more.
CABI gratefully acknowledges the financial support of the Directorate General for International Cooperation (DGIS, Netherlands), the European Commission Directorate General for International Partnerships (INTPA,EU), the UK Foreign, Commonwealth & Development Office (FCDO), the Swiss Agency for Development and Cooperation (SDC), for the PlantwisePlus programme.
For more information visit: https://www.plantwise.org
Facebook: https://www.facebook.com/Plantwise
Twitter: https://twitter.com/CABI_Plantwise (@CABI_Plantwise)