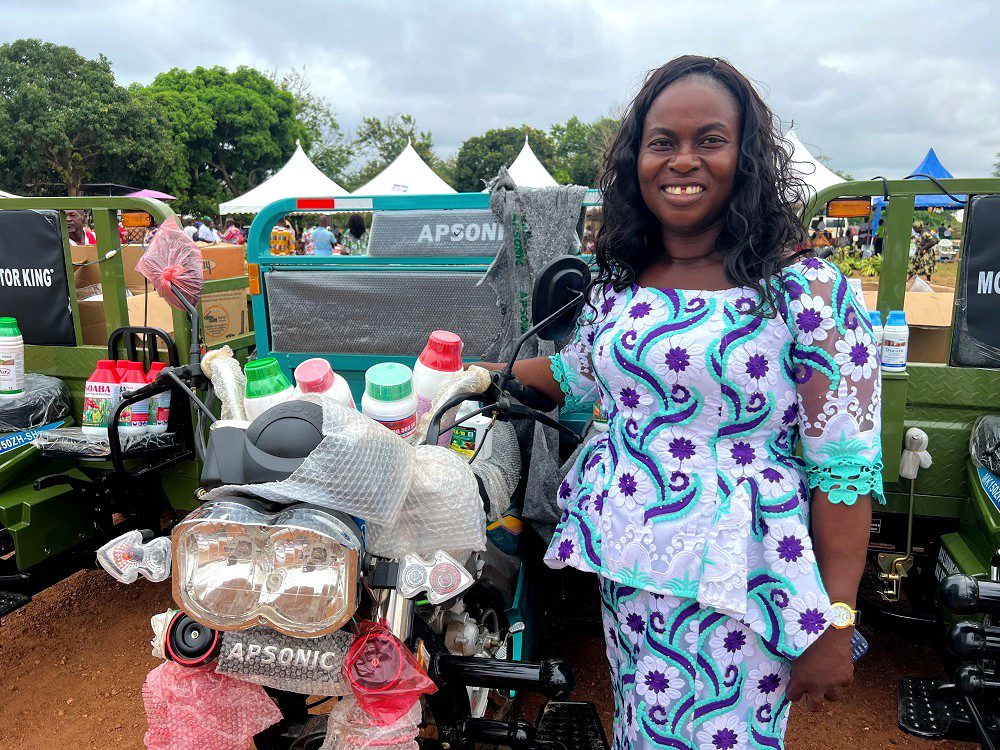 A multi-crop and livestock farmer has won the CABI-sponsored Regional Best Female Farmer Award held as part of Ghana's National Farmers' Day celebrations.
Ama Gyamfua, who is also a mother to five children and has previously won awards for her farming, landed the award which recognises excellence in her profession amongst her peers operating within the Bono Region of the country.
She not only farms crops including cocoa, cassava, maize, cashew and tomato but also cattle, sheep, goat, turkey, guinea fowl and local birds. This is in addition to carrying out other acts of social responsibility to benefit her community.
This includes sponsoring three university students, sending food to Kumasi prison, creating a borehole to supply water to other famers in nearby communities, taking part in communal labour, working to enhance the prospects of other female farmers and facilitating market linkages of tomato farmers.
Mrs Gyamfua employs four permanent staff and 100 casual workers on her farm.
In honour of her achievement, Mrs Gyamfua was presented with a brand-new motorized tricycle, a motorized spraying machine, and protective personal equipment (PPE) including overalls, aspirator and wellington boots.
Mrs Gyamfua's prizes were handed over by Hon. Justina O Banahene, Regional Minister for Bono Region, together with representatives from CABI West Africa based in Accra.
Dennis Abugri Amenga, Regional Director of Agriculture, Bono Region, said, "As a department in charge of agriculture in the Bono Region, we recognize the important contributions that women make to agriculture in an agrarian region such as ours and therefore realize the need to recognize their efforts and encourage them to do more.
"We are very happy CABI agreed to support us along this path. It is our wish and great desire that this partnership will continue into the future so that together, we can bridge productivity and livelihood gaps that are due to persistent gender inequities in agriculture."
Mrs Gyamfua previously won a string of other awards. They include, in 2021, Overall Municipal Best Farmer-Jaman South Municipal, in 2011 Best Non-Traditional Farmer-Berekum Municipal and in 2010 Overall Municipal Best Farmer-Berekum Municipal.
Mrs Gyamfua said, "It became obvious to me that with a little courage, determination and the needed support from people around me, I could do as much or even more than what some of the male farmers were doing and thereby contribute significantly to agricultural production.
"I was also motivated by the fact that my success in the sector would send very positive signals and encouragement to my fellow women to also explore their potentials in farming for their own as well as society's benefit."
CABI has had a presence in Africa for over 100 year and its centre in Ghana officially opened in 2012.
The centre is engaged in science-based work to support agricultural production and trade, and correspondingly increase economic opportunities in the region and beyond. Specific work includes the training and development of extension workers, to enable agricultural information to be disseminated to farmers in the area.
Dr Victor Clottey, Regional Coordinator for CABI West Africa, said, "CABI is delighted to have worked in partnership with the Regional Department of Agriculture in Ghana to help celebrate outstanding female farmers as part of the nation's 38th National Farmers' Day.
"Women farmers like Mrs Gyamfua are a shining example to all women who can contribute significantly to farming and empower themselves, their families and the wider community.
"She not only embodies the importance of diversifying agricultural production through a broad range of crops and livestock but does so while being mindful of the benefits of promoting the role of women in the process."
In September, the CABI-led global programme PlantwisePlus was launched in Ghana to help smallholder farmers produce more high-quality food.
Special emphasis will be placed on improving extension services for the country's female farmers who have limited access to extension advisory services, including plant health services due to various challenges.
Hon. Justina Owusu-Banahene, Regional Minister, Bono Region, said, "Growing up in a farming family, I have always known the immense contributions our mothers, wives and sisters make to agriculture.
"I have therefore been very passionate about recognizing the hard work women put in agriculture and the need to provide them with the necessary support they need in terms of resources, motivation and other enabling conditions to encourage and empower them to fully participate in and benefit equally from agricultural production.
"This is the reason why, as Minister for the Bono Region, I worked with the Department of Agriculture to create the Best Female Farmer award category at the 2022 Farmers' Day celebrations and we thank CABI very much for coming in to sponsor this award."
Additional information
Main image: Mrs Ama Gyamfua with her prizes (Credit: CABI).
Other relevant story
See also the Plantwise blog 'Gender-sensitive rural advisory services in Ghana come under the spotlight in training workshop.'
Related News & Blogs
CABI News
18 September 2023