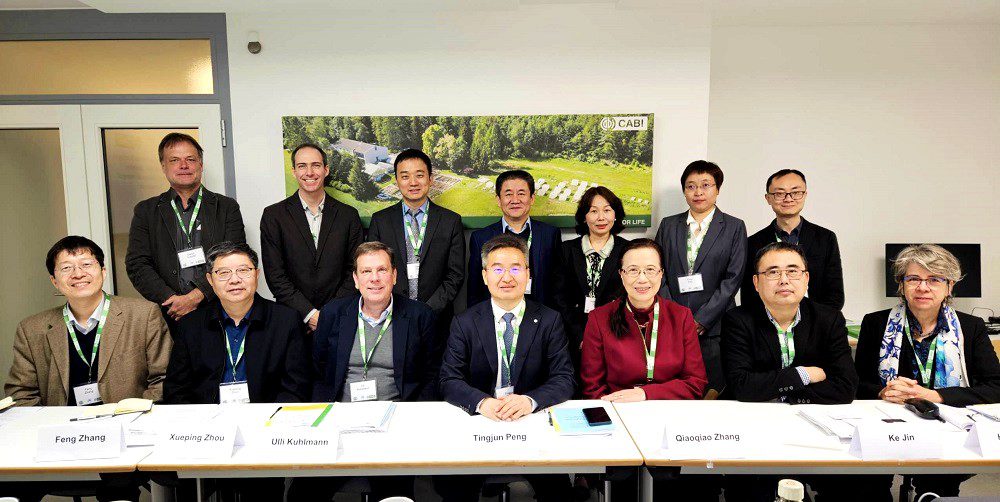 The Chinese Ministry of Agriculture and Rural Affairs (MARA)-CABI Joint Laboratory for Biosafety has made good progress in identifying sustainable management approaches for seven major transboundary, invasive crop pests.
This was revealed in a review of the Joint Lab's 2022 research activities during the 15th meeting of the Joint Lab Steering Committee, which was held at CABI's centre in Delémont, Switzerland on 24 March 2023.
Scientists from the Joint Lab, its affiliated European lab and the Lab`s Chinese subcentres provide new biocontrol solutions for green mirid bugs (Apolygus lucorum), fall armyworm (Spodoptera frugiperda), brown marmorated stink bug (Halyomorpha halys), spotted lanternfly (Lycorma delicatula), yellow-spined bamboo locust (Ceracris kiangsu), maize lethal necrosis disease and wheat aphid (Diuraphis noxia).
In addition to its research output, the Joint Lab, which is based in Beijing, continues to play a bridging role in some major triangular collaboration and South-South co-operation initiatives.
This includes facilitation of agricultural technology transfers from China to other countries under the 'Chinese Technology Going Global' programme, and the consolidation of Plant Protection International Consortium under the framework of the 'Belt and Road Initiative.'
It also includes a Chinese Ministry of Science and Technology-funded project – "Monitoring and sustainable control of trans-border grassland pests in China and Mongolia."
The bridging role of the Joint Lab is supported by a growing number of sub-centres, such as the MARA-CABI European Lab in Delémont, Switzerland, the Yunnan-CABI Sub-centre for Integrated Prevention and Control of Trans-boundary Pests, the Shandong Sub-centre for Biological Control, and the Anhui Sub-centre for Agricultural Pest Control, as well as partner Joint-Labs, such as that of CABI and Malaysian Agricultural Research and Development Institute.
Yunnan Province is not only one of the largest producing areas for paddy rice, tea and tropical fruit in the world, but also a major pathway for transboundary pests and diseases that include the yellow-spined bamboo locust.
A recent Joint Lab research paper published in Frontiers in Physiology sheds new light on factors affecting the emergence and migration of this pest.
Work through the Joint Lab also includes capacity building and training activities in sustainable and integrated pest management. For example, the PlantwisePlus programme continues to work with local governments to build a network of plant clinics.
In 2022, 15 new plant clinics were established (bringing the total to 140 in China) and 75 new plant doctors were trained on how to help farmers diagnose and mitigate plant health problems in order to grow healthier and more profitable crops.
Dr Ulrich Kuhlmann, CABI's Executive Director of Global Operations and Co-Director of the Joint Lab said, "Collaboration on research, talent training, the sharing of data and the utilisation of digital tools is essential if we are to produce more safe and nutritious food for a growing population while being sensitive to the needs of our fragile planet."
The review and planning for the Joint Lab preceded a visit of the Senior Delegation Group from the Chinese Ministry of Agriculture and Rural Affairs (MARA) to CABI's corporate office in Wallingford, UK, to further strengthen collaboration between the two parties.
Dr Peng Tingjun, Deputy Director General, Department of International Cooperation, MARA and also CABI Executive Council member for China, was among the Chinese contingent that also included Dr Guan Dahai, Deputy Director, European and Central Asian Affairs Division, Department of International Cooperation, MARA.
During the visit, CABI staff provided an overview of the organisation's new Medium-Term Strategy 2023-2025 (MTS). This seeks to tackle some of the biggest challenges facing humanity, including hunger, poverty, gender inequality, climate change and the loss of biodiversity.
The MARA Delegation updated CABI on the latest priorities and policies in China for sustainable agricultural development and international co-operation in agriculture.
The Senior Delegation Group and senior CABI officials also discussed a broader framework for the strategic partnership between China and CABI. The aim is to further implement the joint action plan between China and CABI and facilitate collaboration among CABI Member Countries.
Dr Daniel Elger, CABI CEO, said, "We are grateful to China and our other Member Countries for their partnership in shaping and delivering our latest strategic plan. The ongoing successful collaboration between China and CABI reflects our mutual commitment to work together on global agendas aligned with the SDGs."
Dr Peng said, "I am pleased to see that CABI's new Medium-Term Strategy addresses key issues of concern to China. Established almost 15 years ago, the Joint Labs have shown a sustained capacity to contribute to food security and biosecurity, significantly contributing towards agricultural development in China and beyond."
Additional information
Main image: 15th meeting of the Steering Committee of Chinese Ministry of Agriculture and Rural Affairs (MARA)-CABI Joint Laboratory for Biosafety held at CABI's centre in Delémont, Switzerland on 24 March 2023.
Study brief
See also the study brief 'MARA-CABI Joint Laboratory: 12 years of achievement.'
Other relevant news stories
'Partnership with MARA, China strengthened with Senior MARA Delegation Group visit to CABI.'
'MARA-CABI Joint Lab witnessed 'outstanding progress' in 2021 despite COVID-19 pandemic.'
'Partnership with MARA, China strengthened with Senior MARA Delegation Group visit to CABI.'
Recent news on MARA-CABI Joint Laboratory research
'Ovarian development of yellow-spined bamboo locust sheds light on emergence and migratory nature of pest.'
'Study reveals optimum time to apply eco-friendly biopesticides to tackle Oriental migratory locust pest.'