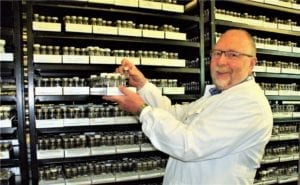 Main photo: Dr David Smith with CABI's National Culture Collection
6 August 2019 – When microbiologist Dr David Smith started work for CABI in 1974 the world was a very different place. Abba had won the Eurovision Song Contest with 'Waterloo' and went on to become a global pop sensation, a Renault 16TX car would have set you back £1,894.75 (£20,682 in today's money) and Richard Nixon became the first US president forced to resign amidst the Watergate Scandal.
Now 45 years later, and with no intentions to retire just yet, Dr Smith, CABI's Director of Biological Resources, has a CV to envy having clocked-up almost 200 publications including 103 peer-reviewed papers, chapters and books and presented at 163 papers at 152 conferences in 30 countries.
Indeed, his book 'Preservation and Maintenance of Living Fungi', co-written with his former boss Agnes H.S. Onions (whom he succeeded when she retired in 1987), is regarded as the 'holy grail' of texts on the preservation of fungi having been cited over 500 times. Meanwhile the PLOS Biology-published paper 'Genomic Encyclopedia of Bacteria and Archaea: Sequencing a Myriad of Type Strains', to which he contributed his expertise to, has been cited on nearly 150 separate occasions.
Dr Smith, a Fellow of the Royal Society of Biology and a member of various bodies including the World Federation for Culture Collections, was also awarded a Japanese Government Fellowship in 1989 and in 2011 was the recipient of the American Society Microbiology and US Federation for Culture Collections Roger Porter Award. This was in recognition of 'outstanding efforts by a scientist who has demonstrated the importance of microbial biodiversity through sustained curatorial or stewardship activities for a major resource used by the scientific community.'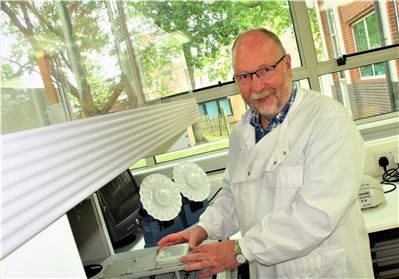 Photo: Dr Smith at CABI's laboratories in Egham, UK
"I set out to become an applied microbiologist and achieved this fairly early in my career. I keep setting myself goals and I would say that I have achieved much more than I could ever have imagined," Dr Smith said. "CABI has given me the opportunity to travel the world with 34 countries visited on their behalf. In my spare time this has also allowed me to see the Great Wall of China, the Taj Mahal and go on seven safaris."
Dr Smith, who currently supports CABI's microbiology staff in project development and leads a team of CABI Access and Benefit Sharing 'Champions' in 11 countries including Kenya, China, Brazil, Pakistan and Switzerland, worked at the cutting-edge of early technology – having developed a format for a culture collection database on microcomputer in 1982.
Under the Microbial Information Network Europe (MINE) EC BAP project, which ran from 1986 to 1994, he also played a lead role in developing the database format and participated in the standardisation of data of the 40 participating collections as a member of the responsible committee. This is in addition to helping 19 countries establish their own culture collections throughout his career.
Dr Smith – who was also a work package leader and member of Executive Board for the European Marine Biological Research Infrastructure Cluster (EMBRIC) with the specific task of identifying and finding solutions to the biodiscovery pipeline – was presented with an award in recognition of his 45 years long service at CABI by CEO Dr Trevor Nicholls.
Before joining CABI, Dr Smith's only other two jobs in science were "sandwich course" placements working on liquid nitrogen storage and the electrophoresis of blood samples at the Metropolitan Police Forensic Science Laboratory for six months in 1972 and the freeze-drying of flu virus at the Microbiological Research Establishment, Porton Down, for 8 months in 1973.
Married to Susan for 40 years on 22 September and father to James and Katharine, Dr Smith is a grandfather to Jackson, son of James and wife Lauren, and in his spare time enjoys woodwork, Hornby train sets and watching films.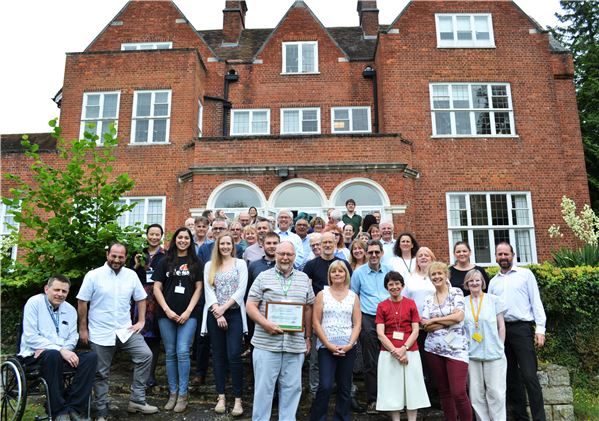 Photo: Dr Smith with colleagues after being presented with his long service award by CABI CEO Dr Trevor Nicholls
Additional information
Dr Smith's career in numbers
198 publications including 103 peer reviewed papers, chapters and books
Presented 163 conference papers at 152 conferences in 30 countries
Edited two editions of 'Preservation and Maintenance of Living Fungi' cited over 500 times
148 citations for PLOS Biology-published paper 'Genomic Encyclopedia of Bacteria and Archaea: Sequencing a Myriad of Type Strains'
Worked under 3 organisational name changes – CMI, IMI and CABI, not including departmental name changes!
Served under 5 Director Generals – the latter whom became CEO
Had 6 line managers
Undergone 9 office changes
Worked on 11 successive EU projects
Involved in teaching in 15 countries
Worked with 36 culture collection technicians
Relevant projects/news stories
Project
The Microbial Resource Research Infrastructure (MIRRI): improving access to microbial resources, services and data
Stories
CABI scientists showcase their expertise in microbiology at European Parliament
Conserving and using genetic resources as part of CABI's commitment to the Nagoya Protocol