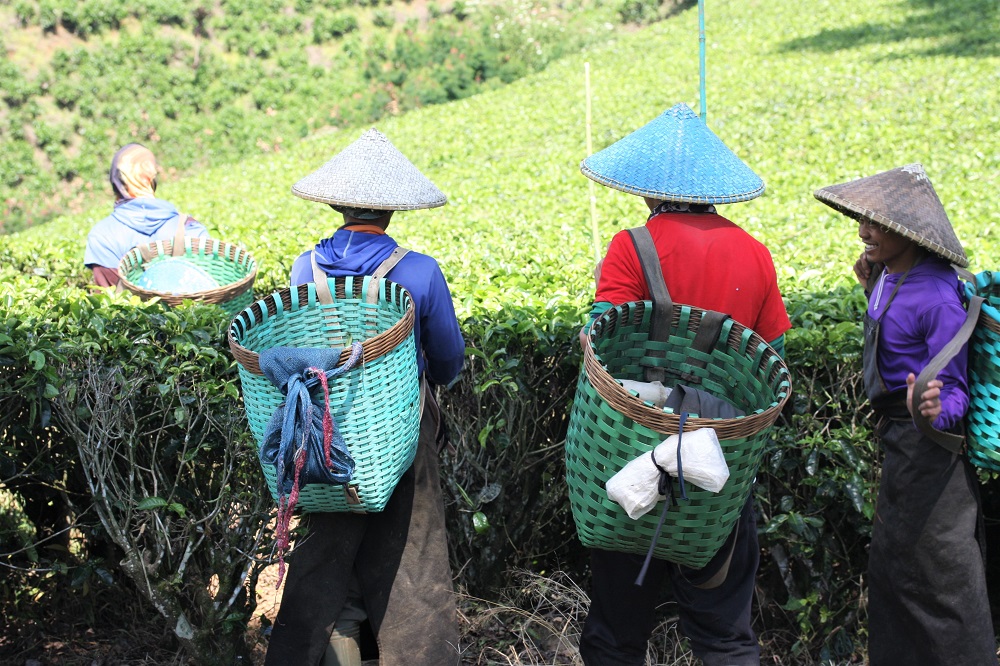 The Cibuni Tea Estate, in the Java region of Indonesia, is benefiting from CABI's expertise in Integrated Crop Management (ICM) as it adopts a more sustainable biological approach to fighting a range of tea pests and diseases such as looper caterpillars (Biston supressaria) and tea blister blight (Exobasidium vexans Massee).
The 2,000-hectare site, which is one of the few remaining tea estates in the world which still hand-plucks the leaves to maintain a high-quality product, reduced its use of pesticide spray treatments by 37% between 2017-2019 – ensuring it keeps its Rainforest Alliance certification. SIPEF, a Belgian agribusiness group that also produces certified sustainable rubber and bananas, called upon CABI to help it find alternative ways to tackle its tea pests and diseases – which also include Helopeltis, Empoasca, mites and root disease – rather than relying solely on pesticides believed to pose more risks to the environment and human health.
For some problems like blister blight, the use of pesticides has been significantly reduced to only those blocks recently pruned. Where pesticides are still in use, they form part of an ICM plan – suggested by CABI – that also includes the use of botanical sprays that were trialled in 2018 before being introduced for use later that year. In addition, natural havens have been introduced in some areas of the plantation to encourage predatory insects as well as a range of other measures such as intercropping and mulching of young tea.
Suzanne Neave, Project Manager at CABI, said, "The Cibuni Tea Estate has made great progress to set the foundations for substantially reducing the reliance on pesticides. A critical look at the need for pesticides has already, for example, resulted in a change of practice in managing blister blight and Empoasca. "The exploration of biological and bio-pesticides that includes the use of botanical sprays and mass-rearing and release of predatory insects to manage outbreaks has also been fruitful. "Through a series of training sessions, the staff are increasing their understanding of their crop's ecosystem and the importance of natural enemies. The preservation of natural enemies, through the reduced use of pesticides and introduction of natural habitats to provide food and shelter, has been possible through the effort and increased interest of the workers."
Ms Neave added that this 'mindset change' will bring about further innovations and changes in practices on the ground. She suggests that staff should be further encouraged to learn more about this subject, and resources should be given to the establishment of insectaries and field labs with associated basic equipment such as field microscopes, pest and natural enemy guides.  
Additional information See also the news story 'CABI research helps 'harvest' the prospect of more sustainable tea production in India'.