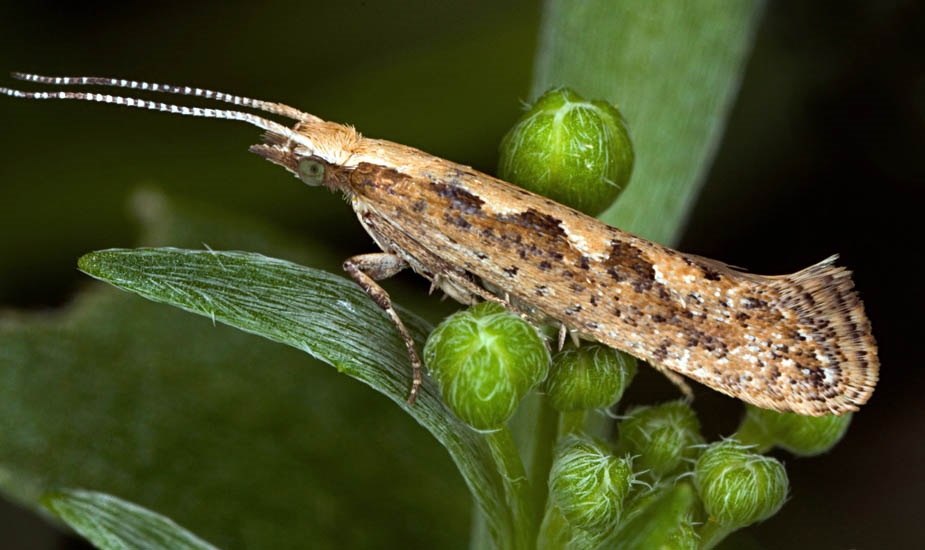 CABI is preparing to conduct efficacy field trials for safer-to-use and more environmentally-friendly biological control products to tackle the devastating crop pests diamondback moth, fall armyworm and beet armyworm in Malaysia.
Scientists at CABI's regional centre in Malaysia have been commissioned by AgBiTech – a global leader in biological solutions to help create healthy food systems – to test the success of the company's Lepigen® against diamondback moth (Plutella xylostella) on cabbage and Fawligen® to fight fall armyworm (Spodoptera frugiperda) on maize and beet armyworm (Spodoptera exigua) on salad vegetables.
Major widespread pest
The diamondback moth is a major widespread pest of crucifers grown in the Cameron Highlands and lowland of Malaysia causing up 90% yield losses. Globally, the pest of estimated to cost up to US $5 billion a year in damaged crops. Meanwhile, the fall armyworm has affected several African and Asian countries with losses on maize ranging from 8.3 to 20.6 million tonnes annually.
After successfully introducing its range of baculovirus-based biological solutions in North and South America, Africa and South Asia, AgBiTech is entering the markets in South East Asia through multiple strategic partnerships in the region.
The company has signed agreements with PT Dewari Agro Sakti (DewAgro) in Indonesia, Leads Agri in the Philippines and HSC Production and Trading Joint Stock Company in Vietnam. In addition to these partnerships, AgBiTech has also signed agreements with CABI in Malaysia as well as SGS Indonesia to carry out evaluations and trials of multiple products targeting the aforementioned pests.
Adriano Vilas-Boas, CEO of AgBiTech said, "AgBiTech started its journey over two decades ago in Australia, and is a world leader today in the biologicals sector with over three million hectares of crops treated with our products. The expansion into South East Asia, starting with Indonesia, the Philippines and Vietnam, will ensure more farmers get access to our range of safe and effective biological solutions for key lepidopteran pests in the region."
Year-long project
The work by CABI will take place over the next 12 months and will be led by Mr Muhammad Faheem, Integrated Crop Management Advisor at CABI, with support from Dr Hongmei Li, Dr Sivapragasam Annamalai and Dr Feng Zhang, Regional Director, East & South-East Asia. Dr Shachi Gurumayum, Head of Business Development, will lead the engagement for AgBiTech.
Dr Zhang said, "This initiative is very timely and will certainly help explore and promote biocontrol solutions for key crop pests in South East Asia. It also addresses the strong needs of the region on green agriculture development and produce of high quality and safer agro-produce for local and internal market, and thereby improving the livelihoods of smallholder farmers in the region."
CABI's regional centre for Africa has already worked with AgBiTech to evaluate Fawligen® which was approved by the Pest Control Products Board (PCPB) and registered to control fall armyworm in Kenya. Fawligen® has also been granted an emergency use permit to fight fall armyworm in Australia.
Additional information
Main image: Diamondback moth at rest in a field (Credit: David Cappaert/Bugwood.org).
Relevant papers
A. Sivapragasam and Ahmad Said Sajap (2002). Research and Development on biopesticides in Malaysia. Paper presented at the Regional Symposium on Biopesticides, 16-18 October, 2002, Bangkok, Thailand. Organized by the UNESCO Regional Network.
Day R, Abrahams P, Bateman M, Beale T, Clottey V, Cock M, Colmenarez Y, Corniani N, Early R, Godwin J, Gomez J (2017) Fall armyworm: impacts and implications for Africa. Outlooks on Pest Management 28: 196–201
Sivapragasam, A. and Loke, W.H. (1996). Indian Mustard as a trap crop for insect pests of cabbage. Proc. AVNETII Final Workshop. 1–6 Sept. 1996, Bangkok, Thailand.
Sivapragasam, A., G.S. Lim and M. Ruwaida (1984). Experimental trials of an integrated pest management programme for Plutella xylostella (L.). In: Proceedings of the Seminar on Integrated Pest Management in Malaysia, B.S. Lee et al (eds.). Published by Malaysian Plant Protection Society.
About CABI's regional centre in Malaysia
CABI's regional centre in Malaysia works across the whole of South East Asia. This region is still largely agriculture-dependent, very biodiversity-rich and environmentally-fragile.
This centre's work is wide-ranging. It includes sustainable pest and disease management, invasive species prevention and management, and work around plant health, biosecurity and sanitary and phytosanitary (SPS) issues. Also important is work looking at sustainable production techniques and commodity chains, as well as information management and access to knowledge.
For more information, visit https://www.cabi.org/what-we-do/cabi-centre/malaysia/
About AgBiTech
Since 2002, AgBiTech has been delivering commercially proven products that help make farming more profitable and sustainable. AgBiTech combines field experience with innovative science and proprietary technology, working with farmers, advisors and researchers to develop products that deliver highly effective biological insect management solutions. AgBiTech manufactures all of its products in-house, with a tireless focus on quality and efficiency, allowing it to produce consistent and cost-effective biological products that have established market leading positions.
For further information, visit www.agbitech.com
Related News & Blogs
CABI News
18 September 2023