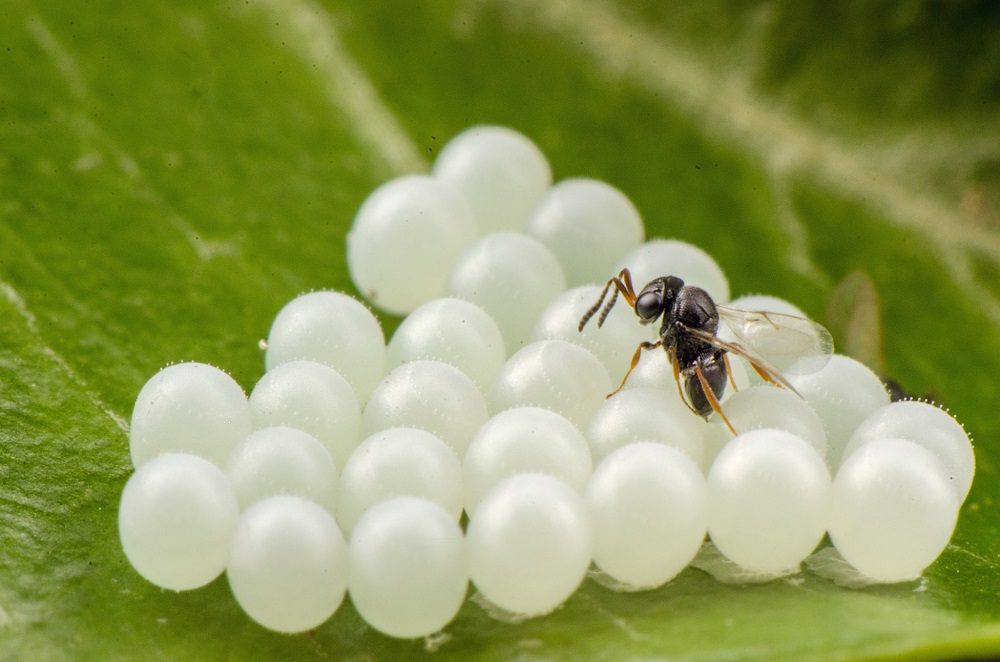 CABI scientists have contributed to a new study paper from the Food and Agriculture Organization of the United Nations (FAO) which explores the use of microbial and invertebrate biological control agents (BCAs) to ensure greater global food security.
Dr Matthew Cock, Dr Yelitza Colmenarez, Dr Steve Edgington, Dr Hariet Hinz and Dr David Smith have joined an international team of researchers who have helped write the document 'Sustainable use and conservation of microbial and invertebrate biological control agents and microbial biostimulants.'
The paper presents an overview of the current status of BCAs and biostimulants and their management, needs and challenge in terms of improving their management and potential opportunities for the Commission on Genetic Resources for Food and Agriculture and its Members to contribute to efforts to address these needs and challenges.
Microbial and invertebrate BCAs provide natural biological control services across a wide range of terrestrial and aquatic environments used for crop and livestock production, forestry, fisheries and aquaculture and in those that are not used directly for these purposes but provide ecosystem services of importance to the food and agriculture sector.
Deliberate use of microbial and invertebrate BCAs specifically against the pests, diseases and weeds directly impacting production is commonest in crop production (including forage crop production) and forestry. However, there are also applications in animal husbandry, including in the control of flies.
The Implementation of biological control has resulted in positive contributions to sustainable food production and biodiversity and economic benefits for smallholder farmers and consumers.
Examples of CABI's work in this field includes investigating a natural enemy for the brown marmorated stink bug which can cause considerable damage to fruit and nut crops in Switzerland as well as other parts of the world.
Dr Tim Haye, for instance, in 2020 worked with fellow scientists Barbara Egger and Jana Collatz of Agroscope (the Swiss Confederation's centre of excellence for agricultural research) to release 3,000 Samurai wasps (Trissolcus japonicus) in a pear orchard in Zurich in a bid to control the stink bug.
Meanwhile, CABI and international biological control producers Éléphant Vert, in 2020, stepped up the fight against crop-destroying locusts and grasshoppers with a safe and environment friendly product called Green Muscle™.
This product is based on a specific isolate of a fungus called Metarhizium acridum which only attacks locusts and grasshoppers, effectively stopping them in their tracks. It stems from research by CABI scientists and is now produced and marketed by Éléphant Vert to help control desert locust swarms across Africa.
As part of the FAO study paper a range of recommendations are put forward. These include ensuring that the conservation of natural enemies for biological control in crops and natural habitats are an explicit objective in international standards on good agricultural practices and stewardship of natural areas, and in national and international policy for integrated pest management.
Another recommendation states that national and international measures should be taken to improve knowledge of the negative effects of pesticides on natural enemies, and that this knowledge should be made openly accessible for farmers.
Another way in which CABI promotes the awareness and uptake of biocontrol and biopesticide products by growers and advisors is through the open access CABI BioProtection Portal tool.
Available online and offline, the CABI BioProtection Portal helps growers and agricultural advisors to identify, source and correctly apply biocontrol and biopesticide products against problematic pests in their crops. The portal is accessible on smart phones, tablets and desktops.
Additional information
Main image: The Samurai wasp (Trissolcus japonicus) sets to work parasitizing the eggs of the brown marmorated stink bug fruit and nut pest. It is just one example of how invertebrate biological control agents can help towards greater food security (Credit: Tim Haye).
Full paper reference
Buitenhuis, R., Cock, M.J.W., Colmenarez, Y.C., De Clercq, P., Edgington, S., Gadaleta, P., Gwynn, R., Heimpel, G., Hill, M., Hinz, H.L., Hoddle, M.S., Jäkel, T., Klapwijk, J.N., Leung, K., Mc Kay, F., Messelink, G.J., Silvestri, L., Smith, D., Sosa, A., Wäckers, F.L., Cabrera Walsh, G., Wyckhuys, K.A.G. & Zaviezo, T. 2023. Sustainable use and conservation of microbial and invertebrate biological control agents and microbial biostimulants. Background Study Paper No. 71. Commission on Genetic Resources for Food and Agriculture. Rome, FAO. DOI: 10.4060/cb3571en
The paper can be read in full here: https://www.fao.org/3/cc3571en/cc3571en.pdf
Related News & Blogs
CABI News
25 September 2023
Related products and services

Open Access Services, Tools and Apps
The CABI BioProtection Portal is the go-to resource for biocontrol and biopesticide products. Find non-toxic, nature-based products for home or commercial use available around the globe. Search for your specific crop or pest problem in your country and find tailored product recommendations.
BioProtection Portal, biopesticides