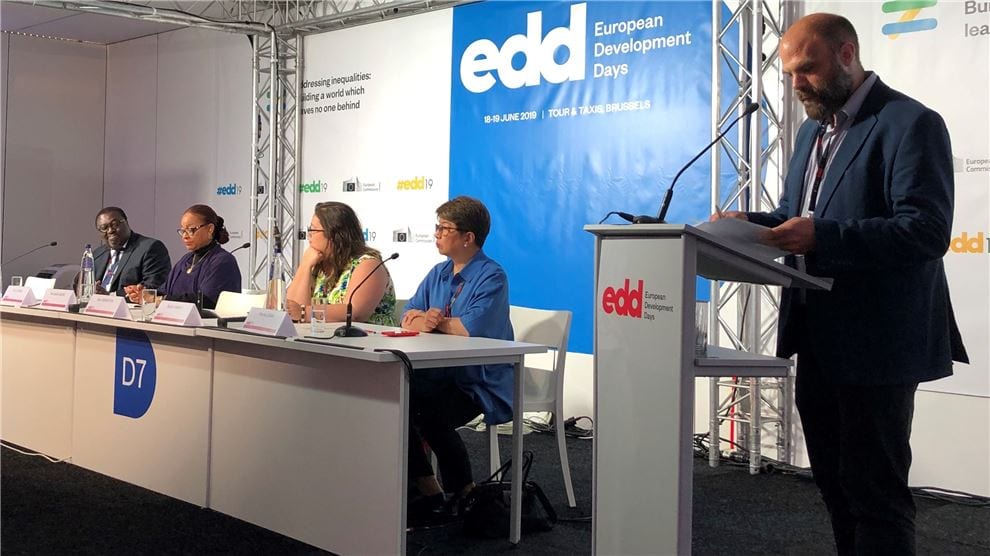 20 June 2019 – CABI has today shared its expertise in agriculture and sustainable development at the European Development Days (EDD) 2019 event in Brussels attended by 4,500 organisations and more than 140 world leaders and nine Nobel Prize laureates.
The EDD, organised by the European Commission, is Europe's leading forum on development and brings the global development community together each year to share ideas and experiences that inspire new partnerships and innovative solutions to some of the world's most pressing challenges including climate change and agriculture.
Dr Dennis Rangi, CABI's Director General, Development, formed part of an expert panel of speakers – including Josefa Sacko, Commissioner for Rural Economy and Agriculture at the African Union Commission – which looked at how environmental, knowledge and economic inequalities may prevent farmers from reaching their full potential.
As part of the discussion, facilitated by CABI, the African Union Commission, the Ministry of Foreign Affairs of the Netherlands and SciDev.Net, Dr Rangi and the panel – that also featured Dr Sarah Cardey from the University of Reading the founder of ECHOstore Pacita Juan – explored the theme of 'inequalities in agriculture' and how they can be a threat to sustainable development.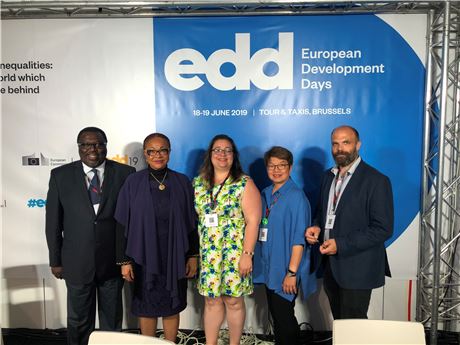 Photo: Dr Dennis Rangi, Josefa Sacko, Dr Sarah Cardey, Pacita Juan and Ben Deighton
The speakers explored ways in which the development community must help the world's smallholder farmers overcome a variety of environmental, educational and economic inequalities if the UN's Sustainable Development Goals are to be achieved. The discussion included to need to tackle invasive species – the hidden threat to sustainable development –  which account for losses of up to 40 percent of six of the world's most economically important crops.
Dr Rangi said, "The world's 500 million smallholder farmers carry a heavy burden of having to provide food for two-thirds of the global population amidst massive social, environmental and economic inequalities which see 2.8 billion people living on less than two dollars a day.
"The challenge of feeding the world – whose population is expected to reach 10 billion by 2050 – is exacerbated by climate change and the spread of crop-devastating pests and diseases which can only be tackled by shared expertise, knowledge and resources."
The panel discussion was moderated by Ben Deighton, Managing Editor at SciDev.Net – the world's leading source of reliable and authoritative news, views and analysis about science and technology for global development.
Additional information
CABI published a policy and media briefing 'Invasive Species: The hidden threat to sustainable development', which outlines of the impact of invasive species and their effect on delivering the Sustainable Development Goals, along with an action plan encompassing CABI's recommendations.