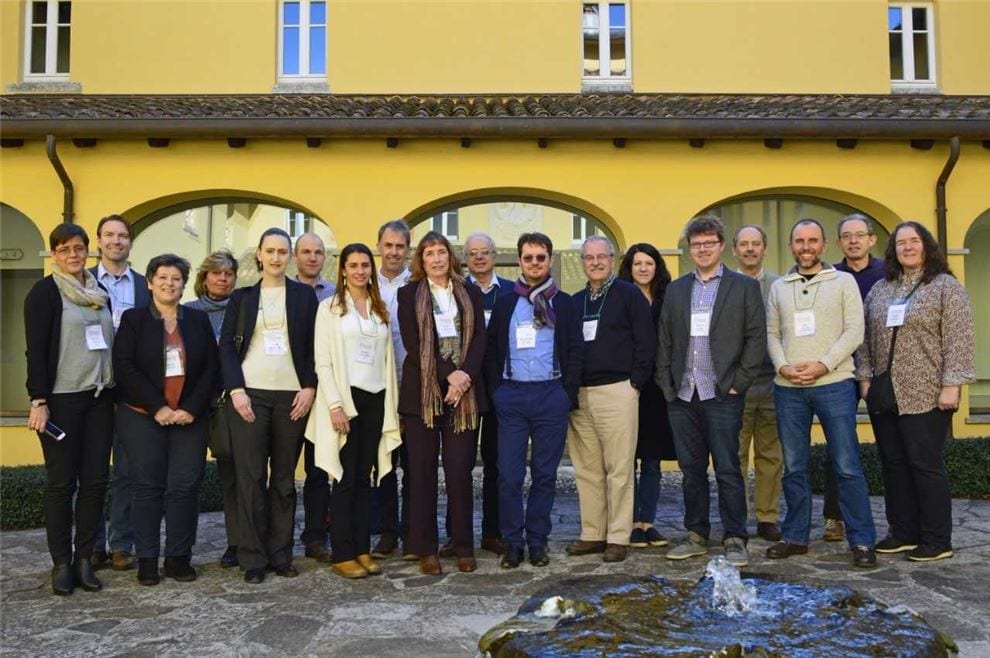 CABI has joined an international team of experts in the field of agricultural science to develop a framework for Global Surveillance System (GSS) for crop diseases that could help ensure greater food security around the world.
Dr Roger Day, Programme Executive for the recently launched UK Aid and DGIS funded Action on Invasives programme led by CABI, was one many scientists representing more than 15 international research and governmental organisations concerned with reducing the global burden of crop diseases by informing, preparing and enabling response plans for a more food-secure future.
Dr Day said the meeting at the Rockefeller Foundation Bellagio Center in Lake Como, Italy, helped lay the foundations for a GSS for crop diseases which 'ties in well with CABI's new Action on Invasives programme.'
Dr Day added, 'Surveillance is a key component for effective prevention, early detection and rapid response to new invasive crop diseases, as well as for control of species already established.  The innovative approaches agreed at this meeting will help strengthen national and regional capacity to respond to the growing threat of invasive species.'
The global cost of the world's invasive species is estimated at $1.4 trillion per year – close to 5 percent of global gross domestic product. In East Africa, five major invasive species alone cause $1 billion in economic losses to smallholder farmers each year.
Historic examples of the effects of crops diseases include the Irish Potato Famine, also known as the Great Famine, in the mid-19th century when around a million people in Ireland died. More recently in 2015, a cassava mosaic disease outbreak was reported in Southeast Asia; this viral disease has been affecting cassava farmers in Africa for almost a century.
The meeting, which included representatives from the International Center for Tropical Agriculture (CIAT), the University of Basel, Switzerland and the US Agency for International Development, proposed a global approach that will respond to existing and emerging crop diseases around the world.
The Global Surveillance System for crop diseases will function through five interconnected networks:
Diagnostics network: This refers to the regional hubs where all the activities associated with the identification diseases and pathogens are performed, by moving from traditional to technologically advanced techniques where routine high-resolution genotype data will be generated for each target pathogen in conjunction with expert labs. Diagnostics regional hubs will coordinate and link with additional expert nodes outside the core system. Regional hubs will link with both national research systems and national plant protection organizations.
Risk assessment network: This refers to regional hubs that will set priorities and focus attention on emerging issues for crop health by acquiring data from GSS, assimilating data in risk assessment models and publishing risk assessment information via the communication network.
Data management network: This refers to the network that collects, filters, analyses, stores and disseminates all the data of both pathogens and their host which will be then used by the risk assessment network and the communication network to guide a timely response. Open source data are highly incentive; data that will be publicly available will be decided on a per country or regional basis.
Communication network: This refers to the effective communication of disease outbreak knowledge, connecting all components of GSS, from end to end internally to the system and externally to the public. The output of this building block will be the transfer of knowledge from actor to actor. Tangible components of the building block include standard operating procedures or guidance documents for the global surveillance system's staff, public-facing documents and context-appropriate media, such as an app, radio or word of mouth. The communication network will transfer knowledge timely, responsibly and securely, providing guidance on how to respond.
Management network: This refers to the group of organizations, networks, institutions and actors participating in the system and its governance for the coordinated, integrated functional surveillance system that promotes global preparedness for crop disease outbreaks, lowering risk to food production systems. Its main activities include operating the networks and partners, administrating budget and executing fundraising for the sustainability of the system, and establishing policies and guidelines.
'Effective measures to control crop diseases already exist at a national and regional level in well-developed countries,' said Monica Carvajal, scientist at the International Center for Tropical Agriculture (CIAT) and organizer of the meeting at the Bellagio Center. 'What we need to do is gather those measures and adapt them to different regions and different crops, and implement new diagnostic technologies, especially in less developed countries with limited surveillance capacity to facilitate a prompt recovery response.'
The experts now plan to approach the Group of 20 countries and seek donor support for the system. They intend to meet again to further refine their strategy.
Jo Tohme, Director of the CIAT Agrobiodiversity Research Area, said, 'The meeting built on multiple national, regional and international initiatives and will have to be followed by wider stakeholder consultations.
'Creating a global surveillance system for crop diseases, though challenging, is urgently needed. It's one of the best ways we can ensure that the world can have sufficient food now and in the future, especially as we face serious challenges, such as climate change.'
The Global Surveillance System for crop diseases calls for building the capacity across regions and of national plant protection organizations as well as creating regional hubs to coordinate the activities under the system. It also seeks to bring together best practices on the different aspects of crop protection.
Additional information
The attendees at the Bellagio Center meeting were:
CABI, Kenya; CIAT, Colombia; Colorado State University, USA; Defense Advanced Research Projects Agency, USA; EPPO/Euphresco, France; Gro Intelligence, USA; Institut de recherche pour le développement, France; International Institute of Tropical Agriculture, Tanzania; John Innes Centre, U.K.; Oklahoma State University, USA; The Sainsbury Laboratory, U.K.; Torino University, Italy; University of Basel, Switzerland; University of Florida, USA; University of Minnesota, USA; University of Twente, Netherlands;  and the U.S. Agency for International Development, USA.
For more information about CIAT please visit www.ciat.cgiar.org