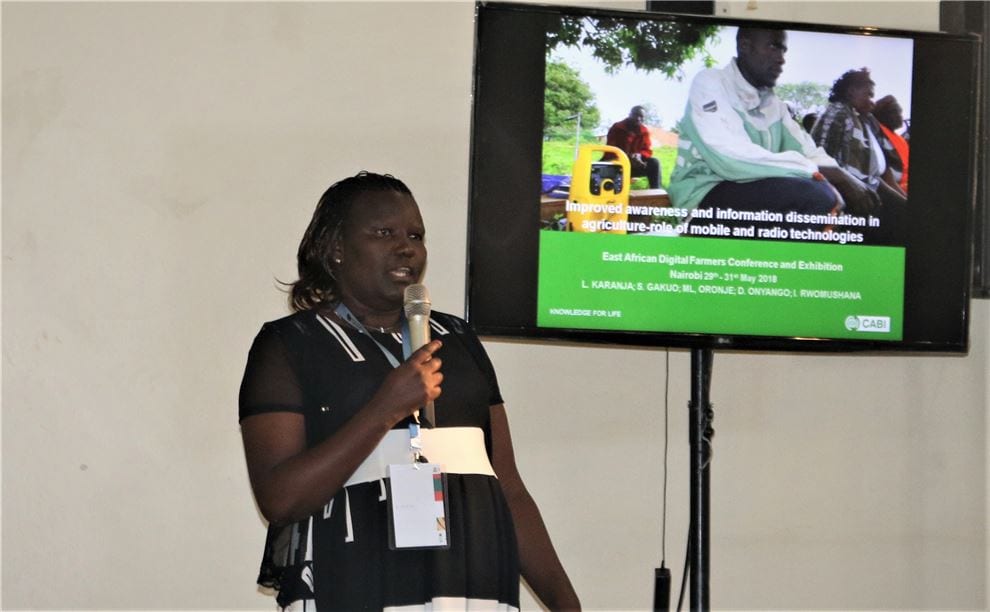 CABI scientists and staff have been highlighting the important role technology can play in helping to secure global food security by sharing their expertise at the First East Africa Digital Farmers Conference & Exhibition in Nairobi, Kenya.
As the world is faced with the challenge of feeding an estimated nine billion people by 2050, the Food and Agriculture Organization of the United Nations (FAO) states that a 70 percent increase in food production will be required to meet this demand.
ICT in agriculture, such as the recent CABI-led mNutrition project which aimed to improve the nutrition outcomes of three million people across 12 countries in Africa and South Asia, is expected to play a major role in agricultural development in the Developing World – helping millions of smallholder farmers lose less of what they grow to pests and diseases.
David Onyango, Plantwise Communications Expert at CABI based at its Nairobi office, said, 'The conference focused on platforms and services, technologies and applications aimed at improving productivity as well as those aimed at boosting climate smart agriculture – but particularly of interest to CABI is disease forecasting for plant disease management.
'Our scientists were delighted to share their knowledge and experience in the field of ICT and in respect of plant pests and diseases our Plantwise plant clinics are already benefiting from improved ICT – with E-Plant Clinics now harnessing the use of tablets and smartphones (for example in Kenya) to help plant doctors to improve the quantity and quality of data generated from plant clinic operations.'
Hosted at the Kenya Agricultural and Livestock Research Organization (KARLO) from 29 to 31 May 2018, Dr Charles Agwanda, joined a panel discussion – which also included Wilfred Oluoch from the FAO in Kenya – that focused on transforming how we farm using data (big data analytics). Henry Mibei and Josphat Mburu from Kenyatta University joined a panel discussion addressing the role youths play in digital agriculture. Agriculture needs to attract more youths and ICTs can play a role in providing access to market information, information on pest and disease control, production techniques, new technologies and financing opportunities.
CABI Content Manager Lucy Karanja gave a keynote presentation about mobile telephony and how it can increase the uptake of agricultural information and innovations in Africa. Ms Karanja's presentation highlighted the benefits the mNutrition project is already having in enhancing access to practical information on production and nutrition as well as CABI's other available ICT tools such as the Fertilizer Optimisation Tool which aims to help empower over 50 million rural households through optimizing fertilizer investment based on profit maximization as well as the Horizon Scanning  and Pest Risk Analysis Tools which identify potential invasive species threats to a country, state or province.
Meanwhile, Ms Karanja's presentation also took account of the influences of mobile technologies in agribusiness including mobile banking and remittances, access to loans, online retailing and notice of product recalls.
Additional information
You can find out more about the First East Africa Digital Farmers Conference & Exhibition 2018 from the dedicated website here.
Find out more about the CABI-led Plantwise programmehere.
Read more about the 'mNutrition: Addressing hidden hunger through mobile messaging' project here.