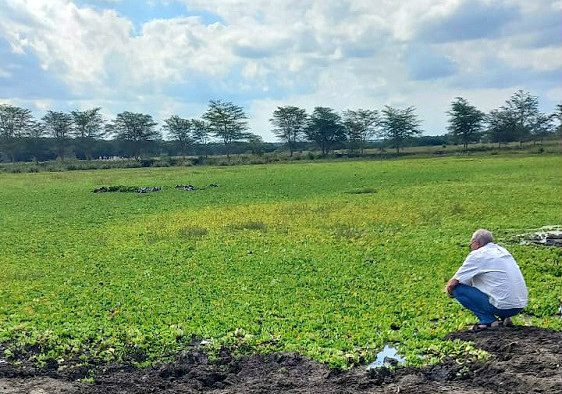 CABI has responded to a call from residents of the Naretoi Conservancy in Kenya's Maasai-Mara ecosystem to help rid it of invasive water lettuce.
The aquatic water lettuce plant (Pistia stratiotes L.), also known locally as 'yungi, can have a range of detrimental effects on biodiversity including the degradation of fish nesting sites and mortality among fish and macro-invertebrates.
Dr Arne Witt, Invasives Coordinator, South, facilitated the introduction and release of 850 beetles (Neohydronomus affinis) – which were provided by Rhodes University in Grahamstown, South Africa – in infested dams to try and sustainably control the mats of water lettuce which can also contribute to increased rates of siltation and reduced water flow.
The work, which sees the host-specific beetle effectively eat the water lettuce and reduce its spread, was conducted in partnership with the Kenya Plant Health Inspectorate Service (KEPHIS) and the Kenya Wildlife Service (KWS).
Water lettuce was originally introduced to many parts of the world, including Kenya, for ornamental reasons. Most experts are of the opinion that it is native to parts of Brazil.
Naretoi is part of a pioneering rewilding project where in 2013, the closest intensive pivot irrigation farm on the Mara upstream of the Maasai-Mara National Reserve, was taken out of farming and put into conservation and eco-tourism.
Where once French beans were grown, picked and sent overnight to Tesco's supermarkets in the UK, are now open fields, dotted with acacia's, natural streams flowing through them and dams enjoyed by over 50 hippos.
Meanwhile, the Maasai-Mara ecosystem is home to 25% of Kenya's wildlife. It hosts more than 95 mammal species besides being a recognised Important Bird Area (IBA) with 550 bird species.
Currently, around 70% of this wildlife is living outside the gazetted conservation area – the Maasai-Mara National Reserve.
Dr Witt said, "Naretoi is an example of how biodiversity can be restored, wildlife habitats can flourish and a range of species can thrive once again.
"However, we need to be alert to real and specific threats from invasive plants – such as water lettuce – which can hinder progress made by conservationists for communities that are actively involved in managing eco-tourism sustainably."
CABI applied to KEPHIS to re-import the beetle around two years ago. After a thorough review of the application, and confirmation that the beetle would not pose a threat to any crops or native plant species the relevant authorities granted permission for importation. The conditional release was then endorsed by KWS. Dr Witt says the impact of the beetles on the water lettuce should be evident in a few months' time.
CABI has now released or re-distributed at least 10 weed Classical Biological Control agents in Africa in the last 15 years or so.
Additional information
Main image: Invasive water lettuce at the Naretoi Conservancy in Kenya's Maasai-Mara ecosystem (Credit: Naretoi Management).
Other relevant story
See also the article published by Landscape News 'Q+A: The backstory on invasive plant species with CABI's Arne Witt.'