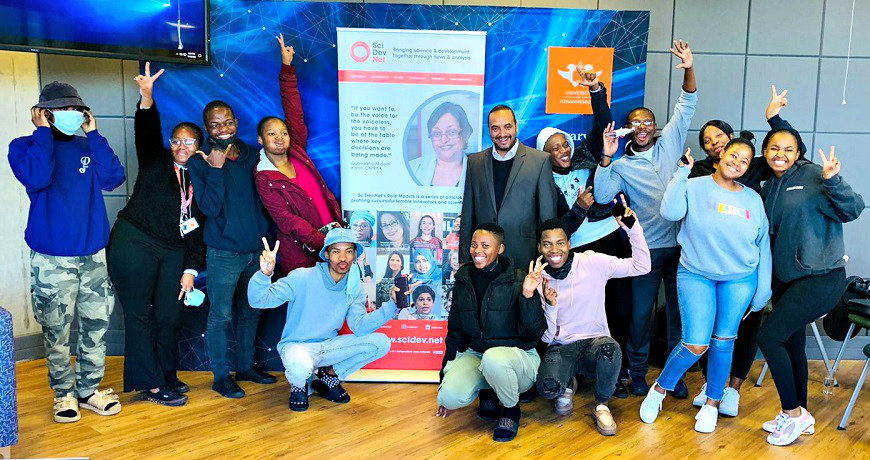 SciDev.Net's Africa Science Focus podcast has joined forces with The University of Johannesburg's campus radio station UJFM.
The station has agreed to broadcast the award-winning weekly episodes – extending the podcast's global reach of more than 500,000 listeners.
The new partnership comes as the Africa Science Focus podcast is now in its third season. UJFM will begin airing season two, which continues SciDev.Net's Role Models series which was first launched as a series of Q&A articles in 2018.
The podcast was launched in August 2020 and won a silver medal from the AAAS Kavli Science Journalism Awards in 2021. The Role Models season was supported by the Carnegie Corporation of New York and was first broadcast in September.
Focus on female role models
Season two of Africa Science Focus features African women who are leading some of the most important science and research in the world today. It gives them a platform to talk about their work and highlight the barriers they have faced in their careers.
Speaking at a launch event for the partnership, Professor Suzy Graham, Vice Dean: Teaching and Learning at The University of Johannesburg, said, "The University recognises the enormous benefits to be gained from engaging internationally not only to increase its profile and research capability, but also to create synergies and engage in partnerships, that highlight topical societal issues.
"Universities have a role to play and must play this role. We believe in this philosophy. Our linkages span cooperation activities in many established North-South partnerships and globally."
Supporting women in STEM
Since 1903, when Marie Curie became the first woman to win a Nobel Prize, only 21 women have followed her example and won a Nobel in physics, chemistry or medicine. However, 599 awards have gone to men. To date, no African woman has won a Nobel Prize in science.
While around a third of African academic researchers are women, few make it to key leadership positions. This means that institutional decision-making often fails to recognise the gendered dimensions in major fields like agriculture and public health, where we know women play pivotal roles.
Dr Tebogo Mashifana, Head of the Department of Chemical Engineering, is a role model for women in STEM at The University of Johannesburg. She said, "At a tertiary level, we need to be intentional about supporting women and mentoring them, so that they do not drop out and leave the STEM careers.
"It will not happen overnight, but if every woman decides to hold another woman's hand, mentor other women, be a role model and be available when they are on the verge of quitting and giving up, we will slowly change the statistics of women in STEM.
"We believe that UJ's partnership with SciDev.Net and the Role Models initiative will help us to achieve this goal."
Widening dialogue and challenging barriers
Fiona Broom, Deputy Editor for Features and Podcasts at SciDev.Net, said the Role Model's series is helping to widen policy dialogue around the barriers that prevent women from achieving senior research positions. She added that it is building a more diverse researcher base by encouraging women and girls to pursue a career in STEM.
Ms Broom said, "We know that at least 20 students from rural Mpumalanga said that they had been inspired to pursue careers as doctors, dentists and scientists, after hearing their former classmate, Thakgalo Thibela, on our show. Dr Thibela last year became South Africa's youngest female doctor at the age of 21. Dr Thibela told our podcast that becoming a doctor in the middle of a pandemic had heart-breaking moments and sleepless nights, but her love for medicine remained strong."
Policy matters
She added that, based on insight into particular challenges that women in STEM face, SciDev.Net was invited to submit a policy brief to the South Africa National Open Science Policy Advisory Board. This followed the release of their Draft Open Science Policy.
"We advised that the Advisory Board should seek out the expertise of South Africa's gender specialists and women in science, to ensure that it establishes a gender-responsive policy that will sustain social, economic and ecological growth for future generations of people of all genders.
"Many thanks to the University of Johannesburg Library for helping us to share these wonderful stories, and thanks again to the Carnegie Corporation of New York for supporting the production of the series," Ms Broom said.
Additional information
Main image: Students celebrate new partnership between SciDev.Net's Africa Science Focus podcast and the University of Johannesburg. The university will broadcast episodes on their campus radio station UJFM (Credit: UJ Library Services).
About Africa Science Focus
Africa Science Focus is SciDev.Net's award-winning weekly podcast. We dive deep into the impacts that science has on everything from health, to technology, agriculture and life.
Find out more details including all the latest episodes here.
About SciDev.Net
SciDev.Net is the world's leading source of reliable and authoritative news, views and analysis about science and technology for global development.
Our Mission is to use independent journalism to help individuals and organisations apply science to decision-making in order to drive equitable, sustainable development and poverty reduction. SciDev.Net is part of CAB International (CABI) – a not-for-profit organisation that improves people's lives worldwide by providing information and applying scientific expertise to solve problems in agriculture and the environment.
SciDev.Net operates editorially independently from CABI with its content overseen by an independent Editorial Advisory Committee whose role is to ensure our editorial independence protocol is adhered to. The protocol is available on request.