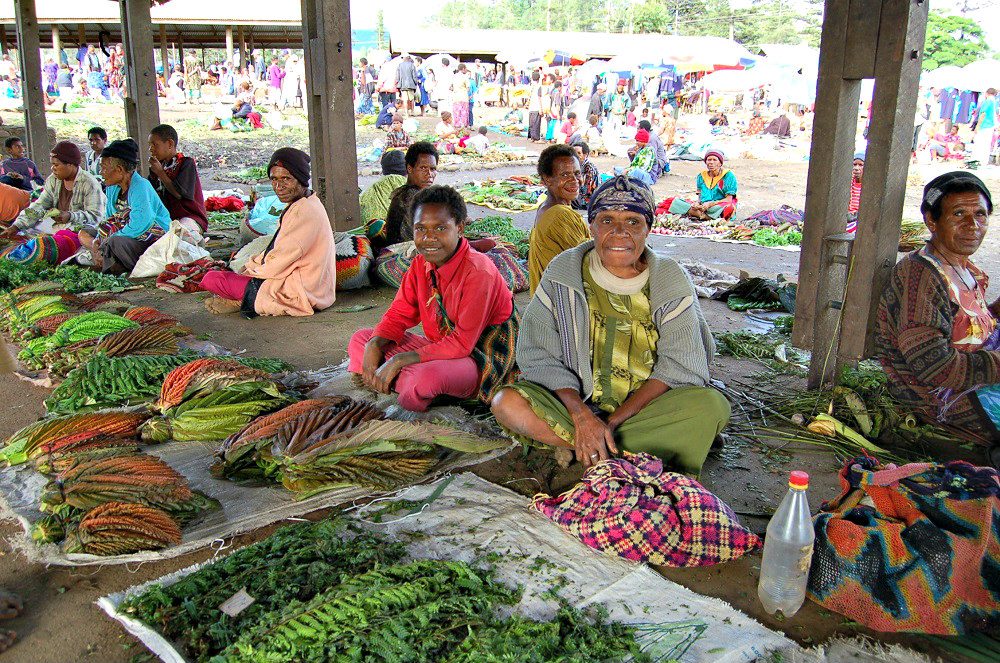 CABI is working with the Papua New Guinea (PNG) Government to help the country further strengthen its food security by moving towards the implementation of the PlantwisePlus programme.
A meeting has been held between CABI, the National Agricultural Research Institute (NARI) and the National Agricultural Quarantine and Inspection Authority (NAQIA) to see how PlantwisePlus can help PNG's smallholder farmers grow more and lose less to crop pests and diseases.
Agriculture is vital to PNG. It provides 22% of its Gross Domestic Product (GDP), accounts for 26% of its exports and supports around 85% of the rural population who rely directly on subsistence farming for their basic needs.
Coffee and cocoa are the main cash crops and employ half of the workforce. However, the cost and availability of modern inputs and technologies, lack of irrigation, poor access to support services and the threat of pests and diseases all contribute to low yields.
The World Bank has, for instance, estimated that coffee yields are reduced by up to 50% with pests such as the coffee berry borer (Hypothenemus hampei) being a factor. Other pests and diseases include the sweet potato weevil (Cylas formicarius), the diamond-back moth (Plutella xylostella) on cabbage and the rhinoceros beetle (Scapanes australis) pest on coconut.
Dr Wade Jenner, Deputy Programme Executive of PlantwisePlus, based at CABI in Switzerland, stated that PlantwisePlus – which builds upon CABI's Plantwise and Action on Invasives programmes, which have already helped millions of farmers in over 30 countries diagnose and treat pest threats – is to be launched in PNG to help strengthen its plant health system.
PlantwisePlus will help reduce crop losses and empower farmers to increase incomes, food security and food safety by producing more and higher quality food.
The programme draws upon a range of existing CABI open access products and projects. These include the CABI BioProtection Portal – a free tool to enhance the awareness and uptake of biocontrol and biopesticide products by growers and advisors – and the Plantwise Knowledge Bank and factsheet app.
Dr Feng Zhang, CABI's Regional Director, East & South-East Asia, said, "Papua New Guinea is a valued and founding member of CABI with many mutually beneficial collaborations over the years on various projects. This includes the boosting of agricultural production through improved pest management.
"The initial meeting to advance plans for the implementation of PlantwisePlus is a significant milestone for the CABI-PNG collaboration and partnership which will further enhance the country's capacity to strengthen its food production across the value chain."
The new programme will seek to create and transform employment to support economic development and contribute to consumer demand for safer, higher quality and locally produced food to drive the uptake of safer production practices. This includes the use of more environmentally friendly biological control agents to fight pests and diseases.
Mr Warea Orapa, Acting Director General, National Agricultural Research Institute (NARI), said, "PNG is keen to collaborate with CABI to address serious threats to agriculture and the environment from some of the invasive species of major concern not only for PNG but also regionally.
"The PlantwisePlus programme will help strengthen the country's plant health system, better prepare for early detection and response to pest outbreaks and invasion events.
"It will increase supply of higher quality and safer food, contribute to trade in agricultural products, and thereby improve socio-economic conditions in PNG. NARI and other organisations/agencies in PNG are looking forward to working with CABI on the implementation of this exciting programme."
In 2018, CABI was involved in a project to help improve management strategies for cocoa in PNG together with lead organisation the University of Sydney in collaboration with the PNG Cocoa and Coconut Institute.
Practices recommended for integrated pest and disease management in PNG cocoa crops include basic block sanitation, pruning, canopy reduction and height control, frequent and complete harvest, regular and systematic monitoring, removal of infested pods, target pod spraying, pod sleeving and the use of cocoa pod borer–tolerant planting materials.
Ms. Frances Williams, Global Monitoring and Evaluation Manager, based at CABI in Kenya, said, "The new programme will start with stakeholder analysis to identify and map the actors involved in different functions, interactions between actors, and strengths and weaknesses in the system.
"Part of the PlantwisePlus programme is the creation of a network of plant clinics where trained plant doctors can help smallholder farmers diagnose their plant health problems before offering advice on how to remedy them. As part of this a gendered approach will be strongly embedded in the new programme."
It is also hoped that CABI's work with NARI and NAQIA will also see improvements to the country's sanitary and phytosanitary (SPS) measures such as the detection, prevention and monitoring of invasive species coming into the country via trade or tourism.
Additional information
Main image: The launch of PlantwisePlus in Papua New Guinea will help enhance the country's plant health system (Credit: CABI).
About PlantwisePlus
PlantwisePlus is a global programme, led by CABI, to increase incomes and grow safer and higher quality food through sustainable approaches to crop production.
Working in close partnership with relevant actors, PlantwisePlus strengthens national plant health systems from within, enabling countries to provide farmers with the knowledge they need to lose less and feed more.
CABI gratefully acknowledges the financial support of the Directorate General for International Cooperation (DGIS, Netherlands), the UK Foreign, Commonwealth & Development Office (FCDO), the Swiss Agency for Development and Cooperation (SDC), for the PlantwisePlus programme.
For more information visit: https://www.plantwise.org
Related products and services

Open Access Services, Tools and Apps
The CABI BioProtection Portal is the go-to resource for biocontrol and biopesticide products. Find non-toxic, nature-based products for home or commercial use available around the globe. Search for your specific crop or pest problem in your country and find tailored product recommendations.
BioProtection Portal, biopesticides