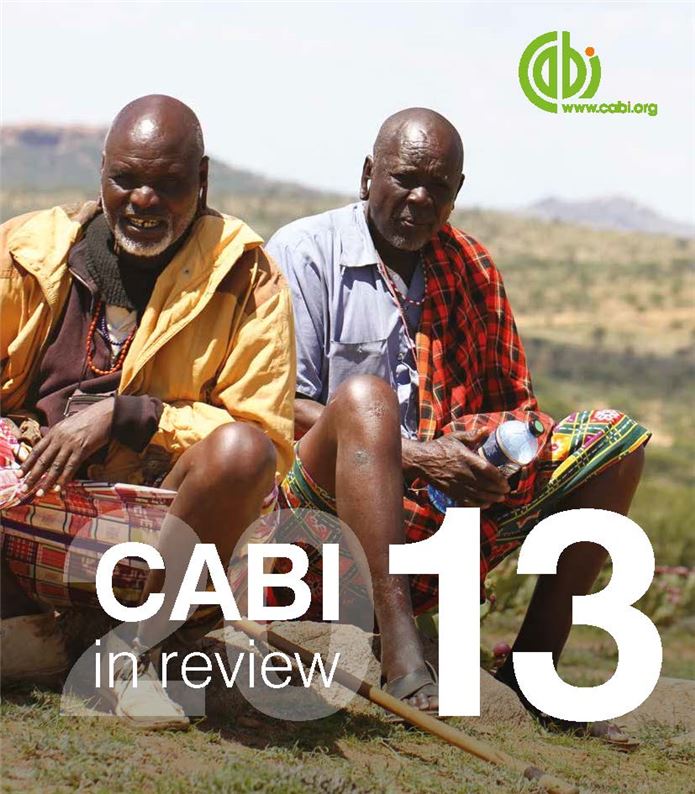 23 May 2014 – We are delighted to bring you CABI in Review 2013. Each year, we publish an annual review to tell the stories of our projects and the impact they have on the farmers, extension workers, scientists, policy makers and professional practitioners we work with.
This year, we pay special attention to the individuals behind our projects. We introduce you to Martin, a Plantwise plant doctor, who, using plant health knowledge, has helped hundreds of smallholder farmers to protect their crops and their livelihoods. We look at how Catherine, once a casual labourer struggling to feed her family, turned her life around by joining a CABI-led seed production project, and is now a thriving businessperson and community leader. We highlight how Felix, a young student in Kenya, has secured a bright future in agriculture with the support of the African Soil Health Consortium, which CABI leads.
"The real measure of our performance as an organization is the extent to which we make a positive difference to the lives of people in our Member Countries, be they policymakers, academics, students, extension workers or farmers," says CABI's CEO, Dr Trevor Nicholls. "In recent annual reports, we have been able to share some powerful individual case studies and this year's report is no different."
CABI in Review 2013 summarises a year of strong progress. We expanded the scope of our award-winning food security programme, Plantwise. We also broadened our activities in soil health and mobile agro-advisory services, and continued projects to combat the spread of invasive species, empower smallholder farmers with the knowledge they need to raise their incomes, and strengthen plant health systems in support of trade and market access.
Our publishing activities remained strong, delivering revenue growth above the market average and increased profit contribution. We had 6,690,000 unique visits to our CABI databases, with mobile usage up more than 100% from 2012. We launched Infotree, our applied forest science internet resource, published 57 new titles and made 136 CABI books available for Kindle.
We also reported another year of strong financial performance in 2013, our fourth in a row. (CABI's latest financial statement is available here).
We hope you enjoy reading this report and, through the stories we include, discover how we are turning our goals into positive, practical action for the benefit of many people around the world.