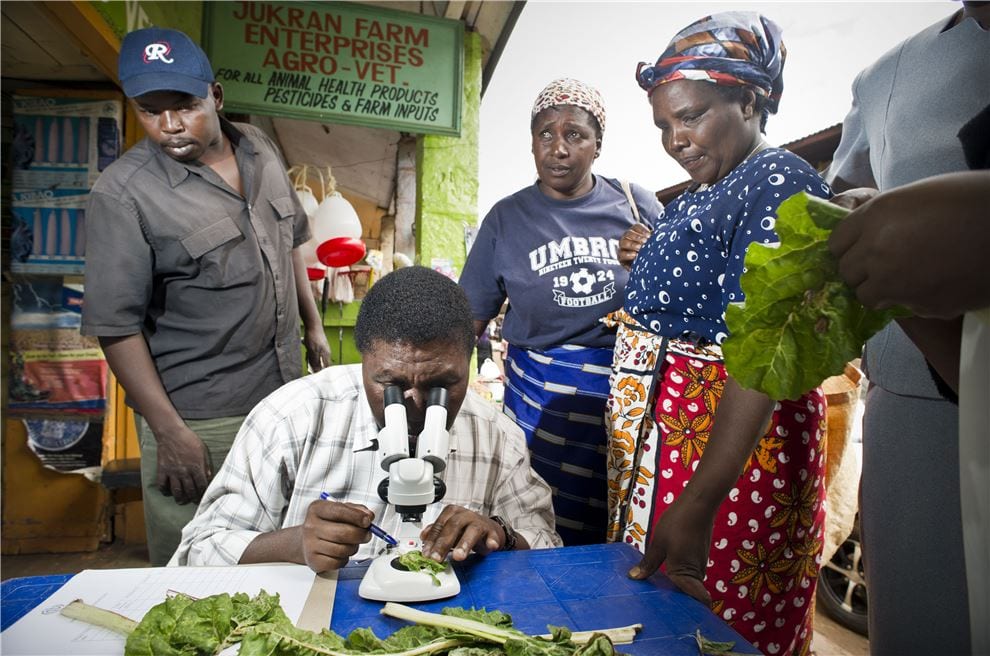 CABI's global Plantwise programme has a major impact helping farmers in Kenya grow more and lose less to crop pests and diseases, according to a new impact report published today.
Research undertaken by the American Institutes for Research (AIR), funded by the UK Department for International Development (DFID) and published today, shows that:
Plantwise contributes to improvements on yields, crop-based household incomes and reductions in pesticide usage for farmers living in plant clinic catchment areas
Plantwise is improving institutional coordination in national plant health systems, improving the likelihood of detecting and responding to pest outbreaks such as the fall armyworm
Plantwise is improving knowledge of extension agents and management of data, providing detailed insights into where response interventions should be targeted
The research also highlights that the monetary benefits of the Plantwise programme in Kenya are estimated to be over GBP1.5 million in 2017 giving a benefit to cost ratio of 2.9:1 and an internal rate of return of 54%. This demonstrates that the benefits delivered far outweigh the donor-funded costs of running the programme.
Plantwise was launched in Kenya in 2010 to increase food security and transform rural livelihoods by reducing crops losses. It works by establishing networks of local plant clinics, where farmers get actionable and science-based agricultural advice from plant doctors.
Plant Health Clinic during market day in the village of Wangigi, in Kikuyu district, 30 kilometers outside the capital Nairobi. Farmers visiting the market can come to see a plant doctor and show them samples of their crops. The professionals sitting behind a table use their knowledge, a microscope and reference material to diagnose the disease, virus, parasite, or other problem the crop is suffering from. With the doctors prescription farmers can get the right pesticides, or treatment for their crops. The Plants Clinics are organized by Cabi Africa, part of an international intergovernmental institute, CABI improves people's lives worldwide by providing information and applying scientific expertise to solve problems in agriculture and the environment."
The study, carried out between 2014 and 2018, included farmer surveys, a knowledge assessment of plant doctors, and interviews with focus group discussions at national and local levels.
It was also revealed that farmers in plant clinic catchment areas are more likely to practice crop rotation, check for plant health problems on a regular basis, remove weeds, and remove infested or damaged material. These farmers are also less likely to use pesticides and more likely to avoid chemical drift if they do use pesticides.
Farmers in plant clinic catchment areas are also more likely to use protective gear – such as gumboots, caps or overcoats – and are more likely to wash themselves and the equipment used after pesticide applications.
Dr Washington Otieno, Plantwise Programme Executive, said, "This latest independent research confirms that the Plantwise framework is an impactful and cost-effective approach to improving a national plant health system. Not only does it make smallholder farmers more food secure with safer practices but is also results in improved crop-based household incomes.
"We couldn't operate the plant clinic network without working in partnership with local agencies so it is also fitting that the study also shows that the manner in which farmers interact with the Ministry of Agriculture at the local level has improved. This improved interaction with farmers through plant clinics is seen as being helpful in addressing farmers' plant health needs and improving their knowledge of pests such as the fall armyworm."
Philip Makheti, Director of Crop Resources, Agribusines and Market Development at the Kenyan  Ministry of Agriculture, Livestock, Fisheries and Irrigation, said, "The significant role the programme has played in filling the gap in the provision of advisory and extension services cannot be underestimated. The use of plant clinics is an innovation that has made the extension staff relevant to farmers in the counties where delivery of extension services has been on the decline.
"The overall impact is that crop losses due to pests and diseases have significantly reduced with the introduction of plant clinics by Plantwise."
Notes to editors
For media enquiries please contact Wayne Coles, Communications Manager, w.coles@cabi.org tel: +44 (0) 1491 829395
Download a summary of the impact report here: https://www.plantwise.org/impact-brief/
Download the full impact evaluation here:
https://www.plantwise.org/air-evaluation/
Download images of the Plantwise programme (crediting CABI) here
About Plantwise
Plantwise is a global programme, led by CABI, to increase food security and improve rural livelihoods by reducing crop losses. Working in close partnership with relevant actors,  Plantwise strengthens national plant health systems from within, enabling countries to provide farmers with the knowledge they need to lose less and feed more.
CABI gratefully acknowledges the financial support of the UK Department for International Development (DFID), the Swiss Agency for Development and Cooperation (SDC), the Directorate General for International Cooperation (DGIS, Netherlands), the European Commission Directorate General for Development and Cooperation (DEVCO), the International Fund for Agricultural Development (IFAD), Irish Aid, the Australian Centre for International Agricultural Research (ACIAR), and the Ministry of Agriculture of the People's Republic of China for the Plantwise programme.
For more information visit: https://www.plantwise.org
Facebook: https://www.facebook.com/Plantwise
Twitter: https://twitter.com/CABI_Plantwise (@CABI_Plantwise)