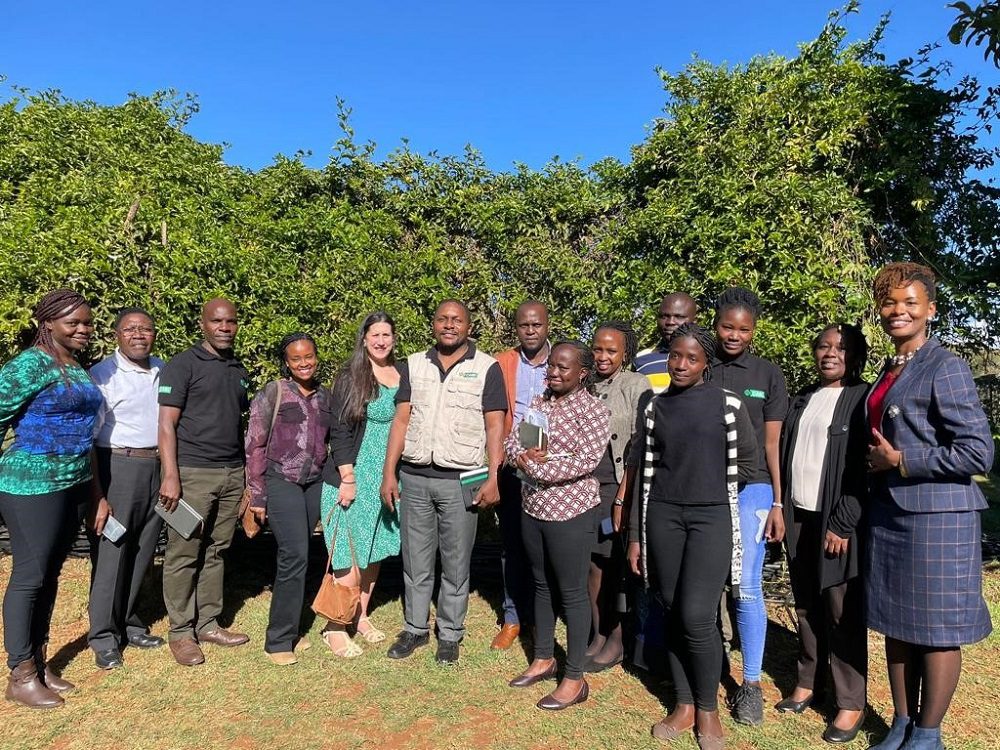 Senior officials from the UK Foreign, Commonwealth and Development Office (FCDO) have been impressed by CABI's steps in partnership to help ensure greater food security in Africa by tackling a range of crop pests and diseases.
Sian Rasdale, Deputy Director, Global Science Department, was among a delegation that paid a visit to the Kenya Agricultural and Livestock Research Organization (KALRO) Plant Quarantine and Biosecurity station in Muguga, Kenya, which hosts CABI's research work.
Other members of the FCDO team that attended included Stella Muthuri, Head of the East Africa Research and Innovation Hub, Emmy Chirchir, Science, Tech and Innovation Advisor, East Africa, Jordan Kyongo, Research Specialist and James Kyama, Programme Officer.
The FCDO has been a core donor of the CABI-led Plantwise and PlantwisePlus programmes since 2011 and has contributed more than £20 million to support activities in more than 30 countries – including Kenya – to fight a range of issues including fall armyworm, papaya mealybug, desert locust and coffee berry borer.
Implementing partners for projects to help smallholder famers manage the aforementioned pests include KALRO, the Kenya Plant Health Inspectorate Service (KEPHIS) and the County Governments of Mombasa, Kwale and Kilifi.
CABI's Dr Morris Akiri, Senior Regional Director, Africa, Phyllis Ombonyo, Head of Strategic Partnerships, Africa, and Dr Ivan Rwomushana, Senior Scientist, Invasive Species Management, joined Dr Felister Makini, Deputy Director at KALRO for the visit.
Stacey Odunga, highlighted how CABI in partnership with KALRO have been undertaking research into the biological control of fall armyworm in Kenya using Baculovirus.
The commercial product being used is called Fawligen, has been registered by the Pest Control and Products Board, and is already showing signs of promise to control the pest at four experimental sites including Kiboko, Mwala, Kathimani and Muguga.
In another presentation, Dr Selpha Miller, CABI's Postdoctoral Research Fellow, Invasive Species Management, spoke about how classical biological control of papaya mealybug using its parasitoid, Acerophagus papayae has been identified as the most ecologically sound and climate-smart approach.
Papaya mealybug invaded Kenya in 2016 – causing a 57% reduction in yield and £2,224/ha household economic losses annually. However, as part of CABI's work through PlantwisePlus, work with KALRO is seeing a biological control strategy using Acerophagus papayae which was imported from Ghana in 2020.
Meanwhile, Violet Ochieng presented on work to control desert locust using drones which can be used for the surveillance of the pest as well as to spray the fields as part of an Integrated Pest Management strategy.
She indicated that one swarm of locusts which can comprise of up to four million insects is estimated to eat food that can be consumed by about 35,000 people in a day.
The drones are being used to spray fields infested with the pest in Samburu County. This followed research conducted at The Veterinary Science Research Institute, under KALRO at Muguga.
Violet's work has been showcased at several forums including an inter-regional workshop for desert locust control organised by the Food and Agriculture Organization of the United Nations (FAO).
Finally, Peter Karanja, CABI's Plantwise Assistant Training Officer, updated on how CABI's partnership with KALRO's Coffee Research Institute is facilitating a biological control strategy project for the management of the coffee berry borer in Kenya.
This project, funded by United States Department of Agriculture (USDA), is using three parasitoids – Prorops nasuta, Cephalonomia stephanoderis and Phymastichus coffea – to control coffee berry borer which is the most serious and widespread pest of coffee worldwide.
Dr Akiri said, "CABI in partnership with KALRO, KEPHIS and County Governments are making significant headway to control a range of crop pests and diseases which not only impact upon the livelihoods of many smallholder farmers but also impinge on local, regional and national food security.
"We look forward to continued advances in the many biological control agents that can be used as part of Integrated Pest Management plans which serve to help protect biodiversity.
"We also recognise the important role that women and youth play in research and development and this aligns well with the FCDO's programme on women in science."
Additional information
Main image: An FCDO delegation paid a visit to the Kenya Agricultural and Livestock Research Organization (KALRO) Plant Quarantine and Biosecurity station in Muguga, Kenya, and were updated on progress made with CABI (Credit: CABI).