10 April 2019 – A group of farmers in Ntcheu district, Central Malawi, have clubbed together to fund the first purpose-built permanent plant clinic to help fight a range of crop-devastating pests and diseases that threaten their livelihoods and food security.
Pengapenga Plant Clinic, which previously operated under a tree in the market place, is now providing a more attractive and fit-for-purpose brick structure which is giving the 1,000 smallholder farmers it serves shelter from the rain.
Those benefiting from the building -the first purpose-built permanent plant clinic among 3,700 operating worldwide as part of the Plantwise programme- include farmers Stix Tchinga and Sydney Kanyenga.
Mr Tchinga has been helped to realise a bumper groundnut crop previously affected by groundnut rosette and Mr Kanyenga has been advised how to control spider mites in his vegetables.
The farmers and local community managed to raise the MWK 322,000 (US $430) needed to build the new facility thanks to increased profits from improved yields. This followed advice on how to manage pests on their crops given by the two plant doctors Madalitso Banda and Oscar Lungu.
Group Village Headwoman, Madam Elisy Pengapenga, also helped by providing the land while the Malawian Government also stepped in to assist with the roof. Those who could not afford to donate money to the cause chipped in with basins of maize.
Madam Pengapenga, said, 'As a woman, a farmer and a leader, I knew, through personal experience and that of others, how the plant clinic had helped my community to tackle various plant diseases and lose less. I was committed to providing all the support I could as a group village head; and apportioned a piece of land for us to build our own plant clinic.'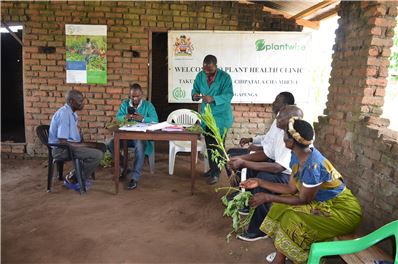 The new plant clinic is not only taking pride of place in the local community but, crucially, is providing shelter from the rain which had started to deter people from attending for advice and the plant doctors from working efficiently.
Farmer Maxson Kavalo said, 'We constantly had to run away from the rain during plant clinics. This prompted us to build a permanent structure which would allow us to meet our plant doctors without worrying about getting wet.'
Mr Tchinga added, 'We were motivated to build a permanent structure for the plant clinic because of two things; firstly, the value we derive from agriculture and secondly the value we derive from attending the plant clinic. These two are a great source of motivation,  even for the community to take from what they have given towards the construction of the clinic.'
Additional information
Pengapenga Plant Clinic is located in Bilira, Ntcheu, Central Africa. The clinic serves about a thousand people from the surrounding area. On average 54 farmers per month receive help and advice on how to manage crop pests and disease. Of these 40 percent are women.
The clinic is manned by two plant doctors and receives queries on the following plant diseases: early and late blight in vegetables and tomato; groundnut rosette; cassava mosaic virus disease; elegant grasshoppers in pumpkins; Fall armyworms in maize; aphids in cotton, tomato and cowpeas; Tuta Absoluta in tomato; bollworms in cotton; white flies in cotton and red spider mites in vegetables.
Find out more about Plantwise plant clinics
Photos: courtesy of Martin Chimaliro