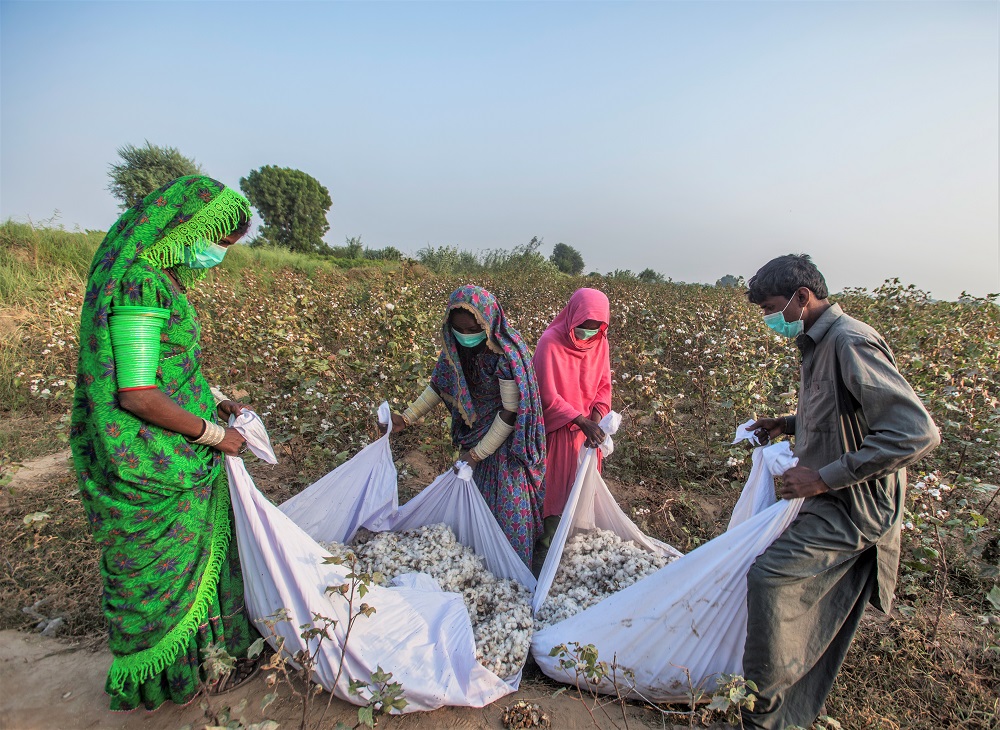 CABI's work to help Pakistan's cotton farmers reduce annual losses of around $350m through poor production, transport and storage practices under the Better Cotton Initiative (BCI) has been extended for another three years.
CABI's centre in Pakistan has won £1.59m in funding from the Better Cotton Growth & Innovation Fund to help Pakistan produce over 451,887 metric tonnes of cotton lint between now and 2025.
To do this, CABI will reach over 52,956 cotton farmers and nearly 105,248 workers with training and knowledge sharing workshops on issues such as proper cotton picking, health and safety, female empowerment and the prevention of child labour.
The project will also plan to establish a central soil testing and analysis laboratory – with the support of farmers and at no cost to them – to help ensure soil is fertile and of the best quality for the good production of cotton lint in the field.
Other plans include helping to tackle cotton pests safely and effectively once the crop is in production as well as raising awareness of the need for the use of personal protective equipment for the application on pesticides.
The project will also look to advise farmers on the use of yellow sticky traps and pheromone traps for the monitoring and control of sucking pests of cotton and pink bollworms. It will also seek to introduce attractant crops to promote biodiversity and Integrated Pest Management (IPM) as well as how to prepare compost effectively.
Other work to improve the empowerment of livelihoods and women is the planned creation of food orchards for greater food security of the smallholder farmers and the development of female entrepreneurship for sustainable income generation through tailoring centres.
Value addition will be also sought to be added for greater income generation for poorer women farm workers through animal farming such as the rearing of chickens for eggs and meat.
Cotton is Pakistan's largest industrial sector and has played an important role in the economic development of the country and remains a key livelihood source for more than one million farmers.
However, the misuse of pesticides and water, the inappropriate use of chemical fertilizers, transportation and storage problems as well as gaps in knowledge and skills have resulted in the industry annually losing around 10-15% of its value.
It is hoped that the extension of CABI's work under the BCI Initiative will not only continue to increase cotton yields for Pakistan's cotton farmers and, therefore, their livelihoods but also empower women who also play a key role in the crop's production as well as the family unit and wider community.
Noor Nabi Bhutto, BCI Project Manager in Sindh Province, said, "In awarding the grant to fund our work on helping to produce better cotton for another three years, the Better Cotton Growth & Innovation Fund was impressed with our strong organisational systems, competency of staff, body of research and our positive gender aspirations.
"We are now looking forward to helping even more cotton farms in Pakistan protect their crops from harmful pests and diseases while also conserving natural habitats and empowering women farm workers who play a very important role in cotton production.
"We will also seek to increase staff working on the project to 232. This will give us even greater capacity to implement all aspects of the main activities we seek to conduct over the lifetime of the project."
Additional information
Main image: cotton is sorted on a farm during harvest in the district Matiari, Sind province, Pakistan (Credit: Asim Hafeez for CABI).
Project page
Find out more about how CABI is helping to produce better cotton in Pakistan as part of the Better Cotton Initiative from the project page here.
Other relevant news story
See also the news story 'CABI reports good progress made in 2021 as part of its work with the Better Cotton Initiative in Pakistan.'
Story of impact
Since 2014, CABI has helped more than 30,000 farmers and 62,600 farm workers to conserve natural resources, protect the environment and themselves, by limiting the use of chemical fertilizers and pesticides as part of the Better Cotton Initiative. As a result of adopting more sustainable alternatives, yields have improved and so have earnings, while costs have decreased.
Find out more from the story of impact: 'Helping cotton farmers, like Pakistan's 'compost champion', to improve productivity.'