4 August 2016 – At its triennial Review Conference of Member Countries in Egham, UK, on 26-27 July, CABI launched a major new initiative to protect vulnerable rural communities in the fight against invasive alien species. Building on its 100-year track record in invasive species management, CABI will deliver a unique global programme to support 50 million vulnerable African and Asian farming families impacted by species that are out of control and threatening their livelihoods. This will link with, and build upon, the highly successful CABI-led Plantwise programme, which has already reached nearly 5 million farmers in 34 countries.
Over the coming months and years, CABI will focus on tackling some of the worst alien invaders in Africa and Asia – weeds, insects and diseases that devastate crops and pastureland, as well as deplete the many natural resources on which rural communities rely. Left unmanaged, these species threaten investments in development, undermine climate change adaptation measures and can even act as havens for disease-carrying insects such as mosquitos, making their management all the more critical.
The Review Conference focused on the theme of 'Knowledge for a sustainable future', which is central to the organization's medium-term strategy. The invasive species programme is one core element of CABI's wider medium-term strategy for 2017-19, which was unanimously endorsed by its member countries. This new strategy has been structured to align CABI's work directly with specific targets of the Sustainable Development Goals (SDGs).
In the coming years, CABI will continue to focus on its key priorities to build stronger plant health systems, promote sustainable and climate resilient farming approaches, and help farmers grow more and to trade more of what they grow. Throughout all of its activities, CABI intends to engage, empower and employ women and youth, in particular through greater integration of mobile technologies in its development projects, while also embedding rigorous monitoring, evaluation and impact analysis to demonstrate the outcomes of its work and their contribution to the SDG's.
In his review address, CABI CEO, Dr Trevor Nicholls, drew attention to the organization's focus on delivering impact, value and reach: "CABI has continued to make good progress strategically, operationally and financially. We're meeting key indicators and our progress is very much on track. Together, we have agreed an ambitious programme of activities over the next 3 years, which have the potential to make a difference to the lives of many smallholder farming families. I look forward to working with CABI's global network of its members, partners and supporters to turn these plans into reality."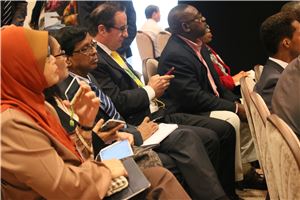 Image: Delegates attending the Review Conference
This two-day conference incorporated a mix of panel debates and presentations. Speakers praised the valuable alliances that underpin CABI's focus on achieving impact and the SDGs. Talking about partnerships and the SDGs, panellist and CABI Board Member, Prof Ruth Oniang'o, said, "It's up to us to make something of the SDGs. We need partnerships. We need scientists, the private sector, literate farmers, the media, and we can actually make it happen. CABI is a great organization. I'm so happy to be part of it."
For more information about the Review Conference, click here.
For all our latest news, click here.
Header image: Larval damage on a tomato. This pest – a moth or tomato leaf miner called Tuta absoluta  was recently introduced to Africa. This invasive species is destroying the livelihoods of smallholder farmers, causing regions like northern Nigeria to declare a state of emergency.© Marja van der Straten, NVWA Plant Protection Service, Bugwood