29 February 2016 – CABI's Chief Information Officer, Andrea Powell, has won Information Age's best in class 'Data 50' award for the public sector and non-profit category. These inaugural awards celebrate the UK's top 50 data leaders and influencers. Ms Powell has led CABI's scientific publishing team for over 11 years. Her work focuses on knowledge and information sharing to solve problems in agriculture and the environment. Information Age announced the winners at a ceremony in London on 25 February.
"I'm honoured to receive this award on behalf of CABI," said Ms Powell. "Our staff has embraced digital transformation and truly innovated with new technology. They should be proud of what they've achieved and the lives they've touched. "
An explosion in data over the past decade has given rise to a wave of transformation in business, government and the not-for-profit sector. Data is now at the centre of the most important technology trends impacting people. In developing countries, the sudden spread of digital technology has been transformational. People living in remote rural communities can access information like never before. This includes millions of small-scale farmers – the people who produce 80% of the world's food.
"Our organisation is harnessing the power of data to solve very practical problems like food security," said Ms Powell. "Our Plantwise programme, for example, has reached almost four million smallholder farmers in 34 countries. We share science-based plant health knowledge with them so they can grow more and lose less of their produce. Technology, including a digital knowledge base of agricultural information, is a critical element of the programme."
CABI last year started working with database specialists, MarkLogic. Paul Preuveneers of MarkLogic, who also attended the Data 50 awards, won best in class in the database category.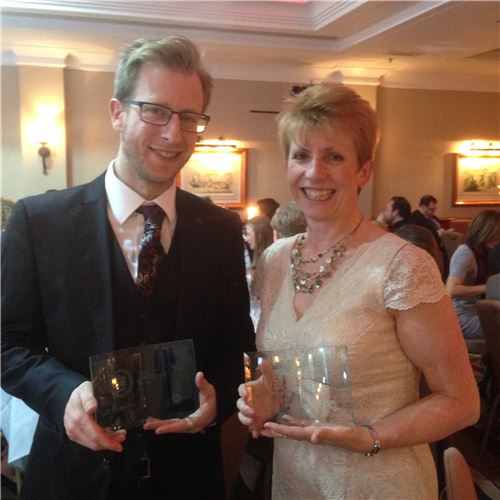 Paul Preuveneers and Andrea Powell receive their awards
The awards considered the new role that data and information chiefs play in organisations. They also looked at the functions driving data innovation in the UK, from vendors and integrators to end-users. Ms Powell talked about seizing new opportunities: "CABI's vision is to be a digitally-powered, knowledge-driven organisation creating impact at scale, and you can't do that without technology. We've gone through a process of investment, re-platforming and rethinking. We've come a long way. I like to think the Data 50 Award reflects the journey we've taken."
For all our latest news, click here.