8 March 2017 – On 13-16 February, CABI CEO, Dr. Trevor Nicholls, visited India to see CABI projects in action. His trip brought opportunities to find solutions to smallholders' major challenges at a Farmer Producer Organisation, and to participate in a live e-plant clinic run by the M.S. Swaminathan Research Foundation in Puducherry, Tamil Nadu state.
At the Farmer Producer Organisation, Dr Nicholls met with smallholders to see, first hand, the challenges they face such as accessing food markets, and how membership of the Organisation benefits them. Farmers explained how this initiative, which includes 3,000 fruit and vegetable growers, helps them access credit, procure inputs and supply produce in bulk, as well as giving a strong group identity and opportunities to connect with and support each other.
Looking at how farmers can better tackle specific crop pest and plant health issues, Dr Nicholls recommended allocating a dedicated Plantwise plant doctor to the Organisation's members, which was warmly welcomed. The CABI-led Plantwise programme tackles food security by delivering plant health knowledge to smallholders to reduce crop losses. Members commented on the benefits a plant clinic could bring, including increasing farmer productivity and incomes.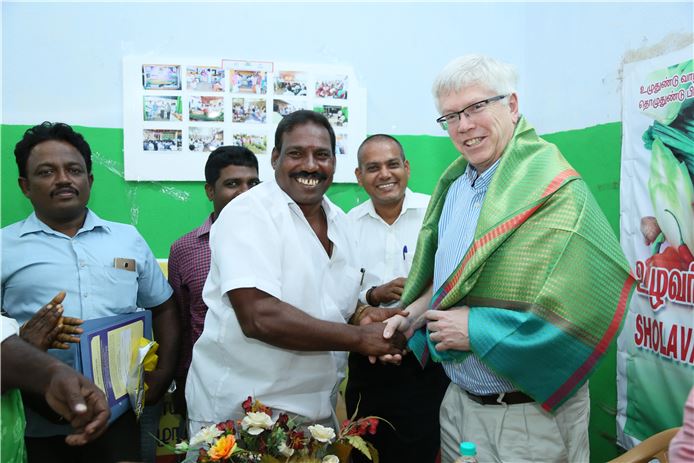 Dr Nicholls participated in a meeting for a pilot value chain project, which CABI plans to launch in India. The project will put in place an end-to-end value chain for the Farmer Producer Organisation focusing on fruit and vegetables. Support will include capacity building, food processing and marketing. The project also aims to attract private sector agribusinesses as corporate buyers. Comprehensive ICT and support from Plantwise will form an important part of the project.
At a Plantwise e-plant clinic run by the M.S. Swaminathan Research Foundation in Puducherry, Dr Nicholls observed operations and spoke with plant doctors and visiting farmers, who explained their crop health problems, symptoms and treatment options. At e-clinics, information and advice on crop health is delivered via text messages to smallholders in remote locations. Farmers expressed how frequent visits to plant clinics are helping them receive advice, which benefits their crop production and livelihoods.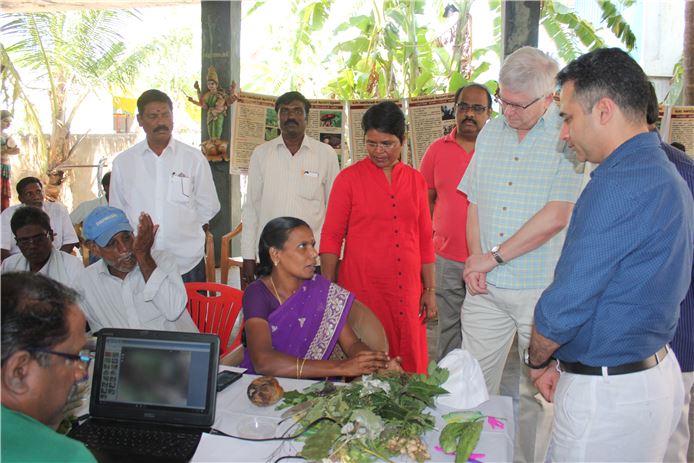 Closing his visit, Dr Nicholls expressed his appreciation for the work being done, and praised the efforts of CABI staff and partners, encouraging them to continue the good work and reach even more smallholder farmers. He said, "My visit was really inspirational in showing the innovative capacity of smallholder farmers and their desire to make a better living from their work, as well as enabling me to see at first hand how CABI is helping them."
For all our latest news, click here.