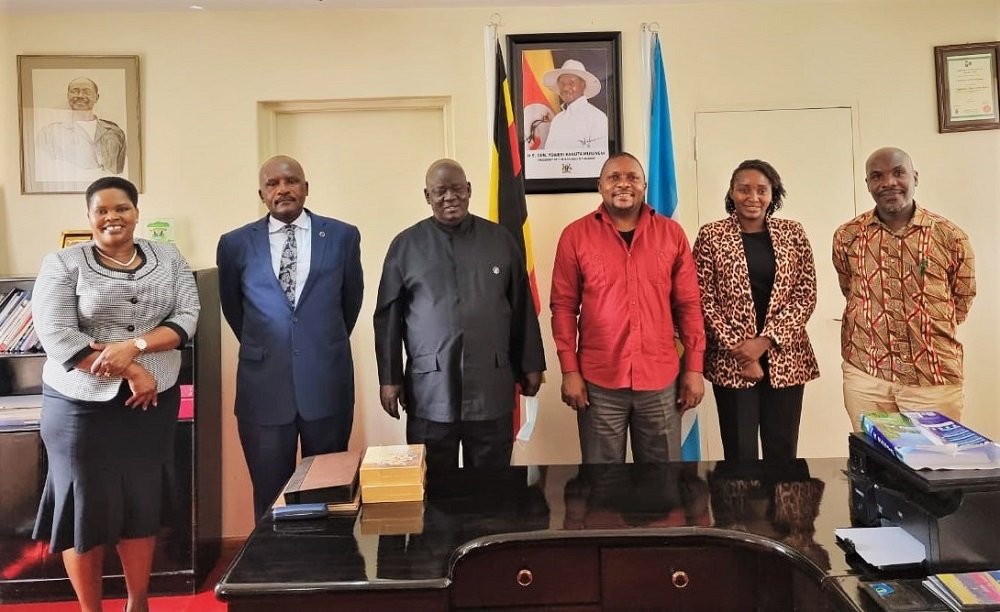 His Excellency Dr Ambassador Hassan Waswa Galiwango – Uganda's High Commissioner to Kenya – recently hosted a CABI delegation at the Country's Nairobi Mission who appraised him on CABI's work in Uganda. For over four decades CABI's collaboration with the government has contributed significantly towards solving problems in agriculture and the environment while addressing global issues of concern such as food and nutrition security, gender equity and climate change.
Various programmes and projects implemented under the Ministry of Agriculture, Animal Industry and Fisheries (MAAIF), through the National Agricultural Research Organisation (NARO) and other partners, have jointly helped farmers improve their yields and produce better quality crops for markets using safe and sustainable means.
During the meeting, the High Commissioner articulated the opportunities and strategic areas of interest for the country in the immediate future particularly in the area of agriculture, climate change, value chains and trade in line with the Country's Parish Development Model. Deliberations were also held on CABI's application for a host country agreement (HCA) with the government, to facilitate the implementation of more impactful in-country initiatives and resource mobilisation. As one of the 49 CABI member countries, Uganda already enjoys a range of benefits including input into CABI's global development agenda and links to an international and regional network of partners.
The CABI delegation expressed gratitude for the continued partnership from the government and outlined several initiatives that will be implemented in 2022 onwards. For example, one major CABI led initiative continues to support the Department of Crop Inspection and Certification under MAAIF to mitigate against crop pests responsible for fresh fruits and vegetable export rejections in the European Union (EU). The initiative is funded by the Standards and Trade Development Facility (STDF) and the Embassy of the Kingdom of the Netherlands.
CABI plans to also enhance the governments capacity to comply with Sanitary and Phyto-sanitary (SPS) requirements for agricultural horticulture exports. This will increase compliance and the quality and quantity of exports by Ugandan companies to Europe.
A recently launched project promoting a 'One Health' approach to crop and livestock services is already increasing knowledge and awareness among farmers on the important relationships between sustainable crop and livestock production and its effects on health and food safety.
In 2022, the High Commissioner intends to visit some of the CABI led projects in Kenya as part of a benchmarking and transfer of novel knowledge for the Ugandan farming community.
Additional information
Main photo (left to right):
H.E Ambassador Dr Hassan Waswa Galiwango, Uganda High Commissioner to Kenya (3rd from left), Dr Morris Akiri, Senior Regional Director, CABI Africa (4th from left) Ms Bernadette M. Ssempa, Foreign Service Office-First Secretary (1st from left) Mr John Ndungutse, Assistant Inspector General of Police (2nd from left), Dr Ivan Rwomushana, Senior Scientist, CABI Africa (6th from left), Ms Lilian Kiarie, Operations Manager, CABI Africa (5th from left).
Relevant Project page
Learn more from the project page 'Joint crop and livestock services for smallholder farmers in Uganda.'
Relevant news stories
'Integrated approach to crop-livestock advisory services in Uganda reaps benefits despite COVID-19 pandemic.'
'CABI adopts 'One Health' approach to integrated crop-livestock advisory services in Uganda.'
Relevant paper
See also the paper 'Reaching for the low hanging fruits: One health benefits of joint crop-livestock services for small-scale farmers,' by Danielsen et al published in the journal One Health, June 2019.