24 January 2019 -CABI is joining the UNESCO International Day of Education celebrations today by highlighting all its efforts to help support the scientists of today and tomorrow in the fight against agricultural pests and diseases.
The United Nations General Assembly proclaimed 24 January as International Day of Education in celebration of the role of education for peace and development. As the world marks the very first International Education Day, UNESCO calls on governments and all partners to make universal quality education a leading priority.
Audrey Azoulay, UNESCO Director General, said, 'This day is the occasion to reaffirm fundamental principles. Firstly, education is a human right, a public good and a public responsibility. Secondly, education is the most powerful force in our hands to ensure significant improvements in health, to stimulate economic growth, to unlock the potential and innovation we need to build more resilient and sustainable societies. Lastly, we urgently need to call for collective action for education at global level.'
CABI has a long history of supporting the scientists of today and tomorrow – particularly in the field of agricultural science where its mission is to help millions of smallholder farmers grow more and lose less to pests and diseases and, ultimately, have more profitable livelihoods for their families and contribute to global food security.
We believe that a crucial way to solve problems in agriculture and the environment is by creating, managing, curating and disseminating information. Through our experience in scientific research, publishing, knowledge management and communications we can put know-how into the hands of the people who need it most. This all helps affirm our commitment to the UN's Sustainable Development Goals – particularly SDG 4: Quality Education  – ensuring inclusive and quality education for all and promoting lifelong learning.
For example, the Masters of Advanced Studies in Integrated Crop Management (MAS in ICM) course – coordinated by CABI and the University of Neuchâtel – provides students with a comprehensive understanding of the principles of good crop management, with an emphasis on productivity, and economic and environmental sustainability. Since its inception in 2015, the MAS in ICM programme has trained 47 agricultural professionals from 17 countries across Africa, Asia and Latin America.
CABI also supervises a range of PhD students including Szabolcs Toth who is stepping up the fight against one of the most destructive pests of maize in North America and Europe  – the western corn rootworm. Supervised by Dr Stefan Toepfer, Szabolcs is conducting his research at the Plant Science Doctoral School of the Szent Istvan University of Gödöllö in Hungary together with CABI Switzerland, aiming to improve integrated control methods for the invasive alien pest.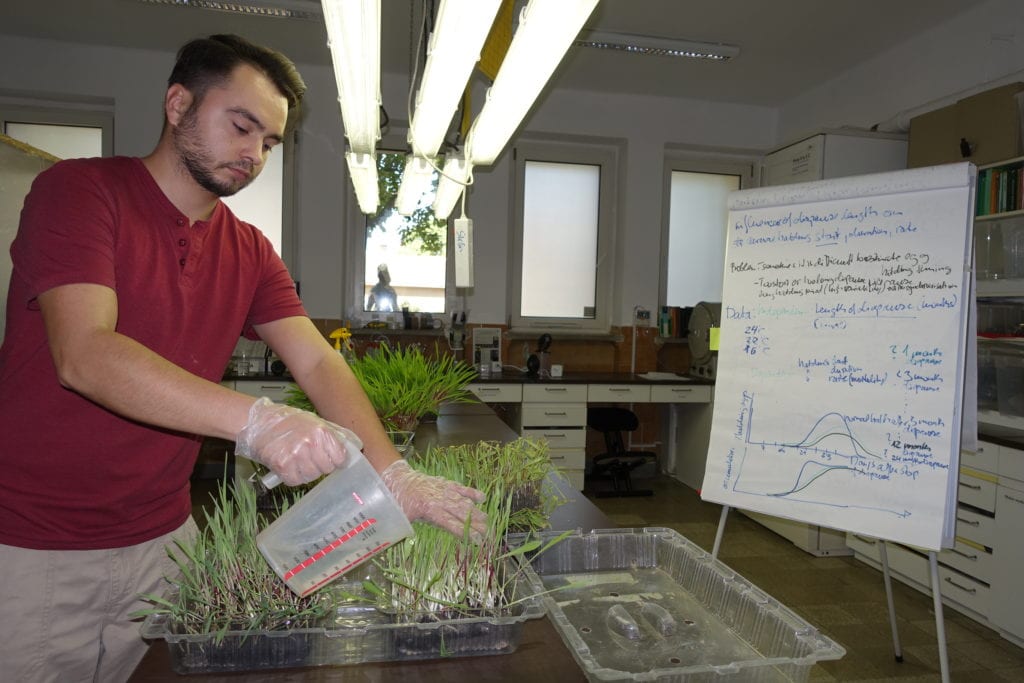 What's it like doing a PhD with CABI?
In this Q&A article we hear from three PhD students who have collectively spent over 11 years studying at the CABI Switzerland centre in Delémont working with scientists there to improve the monitoring and management of invasive species in Europe and Africa.
Find out from Judith Stahl, Benno Augustinus and Theo Linders about what they did, who they worked with and what's in store after CABI.
Meanwhile, CABI's sister organization SciDev.Net – the world's leading source of reliable and authoritative news, views and analysis about science and technology for global development – is, through its Script project  – providing more than 200 students at Makerere University, Uganda, with free training on how to be a better science journalist.
Also, CAB Abstracts  – the leading English-language bibliographic information service providing access to the world's applied life sciences literature gives users, including the The Universidad Científica del Sur in Peru, automatic access to over 410,000 international journal articles, conference papers and reports (80% of which are not available electronically anywhere else).
The Universidad Científica del Sur is one of more than 700 global institutions – including 75% of US land-grant universities, together with many of the premier universities and research centres around the world – that subscribe to CAB Abstracts to help ensure that students receive the very latest in scientific knowledge and research.
Additional information
Main photo shows the 2018 MAS in ICM graduates.
Find out more about CABI's work in Knowledge Management.
Read how CABI is 'connecting the dots: bringing together education, learning, resources and development projects' as part of its commitment to SDG 4: Quality Education.
Related News & Blogs
CABI News
22 October 2020