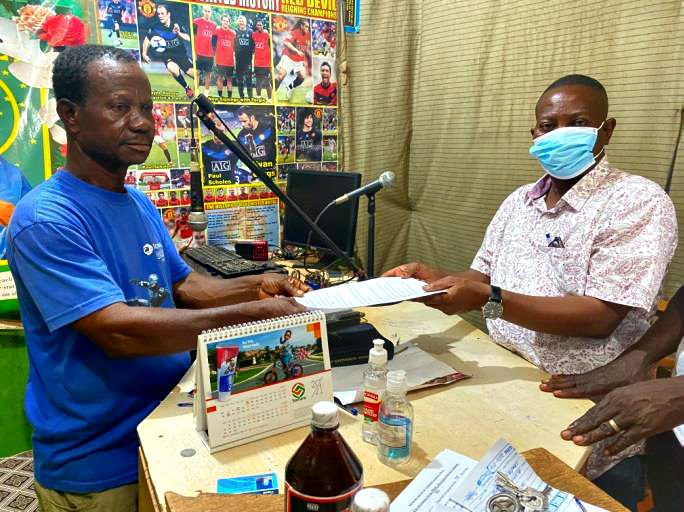 A CABI-led pilot project has helped nearly 61,500 farmers in Ghana tackle fall armyworm and stalk borer by broadcasting advice from a network of Community Information Centres (CICs) with a view to increasing their yields of maize.
One hundred CICs were engaged in the Bono and Bono East Regions of the country in partnership with the Bono Regional Directorate of Agriculture to disseminate 35 key messages on various stages of the maize production cycle.
This included 12 to 16 alerts for the fall armyworm (Spodoptera frugiperda) – a pest that feeds in large numbers on leaves and stems of more than 80 plant species, causing major damage to crops including maize, rice and sorghum – as well as the stalk borer which is also a pest of tomato and potato.
The work was conducted during the 2021 cropping season through the CABI-led Pest Risk Information Service (PRISE) project. The PRISE project sought to help farmers by forecasting the risk of pest outbreaks using a novel combination of earth observation technology, real-time field observations and plant-pest lifecycle.
Across the two regions 61,428 farmers in 10 areas received advice on how to manage their crops for improved yields. These included the municipalities and districts Berekum, Nkoranza South, Sunyani, Wenchi, Sunyani West, Dormaa East, Kintampo South, Nkoranza North, Tain and Techiman North.
The advice included pest alerts on scouting for signs and symptoms of fall armyworm and stalk borer, the feeding behaviour of the two pests and the correct use of agrochemicals. Agronomy information disseminated included how to prepare the land for the minor season, use of certified seeds, weed control and post-harvest management.
During the training of the CICs' staff the Regional Agricultural Extension Officer and consultant for the pilot, Isaac Adjei-Mensah said there are numerous challenges in maize production that include aspects of soil nutrient management, weed control and harvesting.
He also added that minimum tillage should be the goal of every maize farmer and questioned whether traditional land preparation practices such as 'slash and burn' are still viable and whether conservation methods can be adopted more.
On his part, Solomon Duah, CABI's Communications Specialist, said, "The fall armyworm and stalk borer are two pests which in isolation can be devastating to farmers in the main maize producing belt of Ghana and in combination even more so.
"This pilot project was about using innovative ways to communicate to farmers in their locality with important messages about how to use Integrated Pest Management and increase the productivity of their crops and livelihoods.
"We recommend in future that the CICs should have smart phones to help with the dissemination of information as well as pen drives containing all the necessary information for them to carry out their roles."
The end of pilot report also mentioned other challenges in disseminating information including some loss of power in some communities. But positives included the CICs airing more than was budgeted for during the campaign and officers doing well with live interviews on better maize agronomy.
The report also found that most listeners of the messages broadcast by the CICs preferred using the preventative pest approach without relying on the pest alerts because of their past experiences with fall armyworm.  
Additional information
Main image: A Community Information Centre (CIC) prepares to broadcast messages to help farmers in Ghana improve their maize productivity and livelihoods (Credit: CABI).  
Related News & Blogs
CABI News
20 November 2023