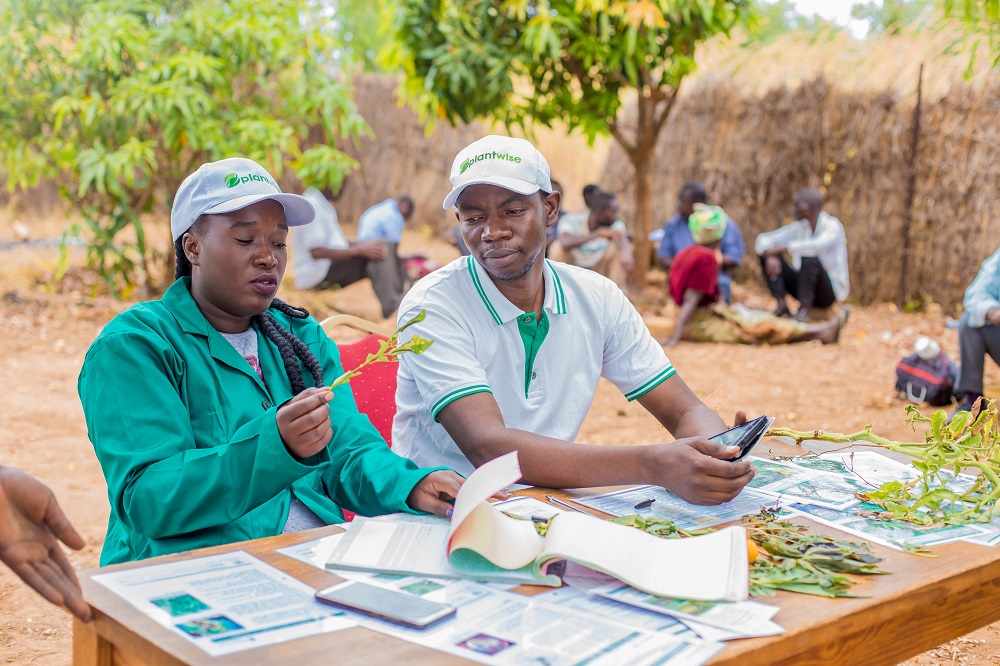 The CABI-led global Plantwise programme and the integration of more environmentally friendly and safer-to-use biological controls for crop pest and disease management have been highlighted at the 10th International IPM Symposium.
In addition, Plantwise scooped the IPM Team category in the associated 2021 International IPM Achievement Awards of Excellence. The winners of the award were announced in December 2020 but COVID-19 restrictions meant the in-person presentation had to wait until the symposium could welcome delegates to a physical event once again as well as the option to speak virtually.
Furthermore, CABI's Dr Janny Vos co-organised a mini-symposium on "Protecting plant health sustainably in a changing world" and was included to speak about the transition of the award-winning Plantwise to CABI's new PlantwisePlus programme. Meanwhile, Dr Wade Jenner contributed a talk about the integration of biological control into Integrated Pest Management practices by smallholder farmers in developing countries. Both participated remotely online.
The International IPM Symposium is the premier global event for presenting and learning about the latest research and strategies for effectively managing pests in agriculture communities, and natural areas. The symposium was organized around the important theme 'Implementing IPM across Borders and Disciplines.'
Judges were impressed with the impact of the Plantwise programme – launched in 2011 – which has supported over 50 million farmers around the world with the knowledge they need to lose less of what they grow to pests and diseases, thereby increasing food security and improving rural livelihoods.
Plantwise operates in over 30 countries across Africa, Asia, South/Central America and the Caribbean. One study demonstrated that, through its network of plant clinics, plant health rallies, mass extension campaigns and farmer-to-farmer sharing of information, Plantwise has helped bring about a 5% reduction in the likelihood of a household falling below the poverty line of USD$1.25 a day.
Dr Jenner, CABI's Centre Director in Switzerland and Deputy Programme Executive for the new PlantwisePlus programme, said, "Winning the Team category of the International IPM Achievement Awards of Excellence is testament to a real partnership approach to Plantwise that includes over 175 local implementing partners around the world as well as the millions of smallholder farmers we have sought to serve."
"The success of Plantwise is to a large extent also down to a cyclical flow of information whereby everyone from researchers and government to the farmers themselves are able to benefit from improved scientific information about how to better mitigate the impacts of crop pests and diseases."
Dr Vos, CABI's Partnerships Development Director, told the symposium Plantwise interventions have helped national plant health services to better respond to current and emerging plant health threats while reducing the reliance on high-risk, pesticide-based plant protection practices.
"PlantwisePlus builds on lessons learned in Plantwise by addressing major areas of weakness that remain. These include improving pest outbreak detection and response, boosting the availability of safer plant protection products, and expanding the supply of safer food to local markets," she said.
Meanwhile, Dr Jenner outlined how multiple barriers impede smallholder farmers' access to, and use of the many biological control technologies that exist.
Despite this, Dr Jenner told delegates that diverse initiatives are underway today to extend the benefits of biological control to those potential users.
Dr Jenner said, "The limited awareness, understanding and uptake of biologically-based plant protection products is being tackled, in part, through new digital tools, such as the CABI BioProtection Portal, that guide advisors and farmers more directly to the products registered and available for their specific problems. Meanwhile, low-tech, local mass production of biological control agents helps to overcome the problem of poor availability of commercial products in rural areas."
Additional information
Main image: Plant doctors at a plant clinic in Kenya (Credit: CABI).
Awards citation
Launched in 2011, the Plantwise program works by establishing networks of local plant clinics, where farmers can get safe and reliable agricultural advice from local/national government extension staff trained as plant doctors. This is reinforced by the Plantwise Knowledge Bank, an open access gateway to actionable plant health information, including diagnostic resources, pest management advice and front-line pest data. The changes in farmers' pesticide use and behavior with regard to pest management practices, is among the greatest successes for the program, particularly given that these practices are deep-rooted in the minds of most farmers. Plantwise countries have reported up to 60% increase in the use of nonchemical practices. Some of these changes are evidenced by reduced pesticide use, decreased use of the most toxic chemicals, use of more efficient products and application methods rather than mixing random pesticides and increase in safer alternatives, and improved use of Personal Protection Equipment.
CABI gratefully acknowledges the financial support of the Directorate General for International Cooperation (DGIS, Netherlands), the European Commission Directorate General for International Partnerships (INTPA, EU), the UK Foreign, Commonwealth & Development Office (FCDO), the Swiss Agency for Development and Cooperation (SDC), for the PlantwisePlus programme.
About PlantwisePlus
Farmers' crops are increasingly at the mercy of climate change, pests and diseases. PlantwisePlus is a new global programme, led by CABI, that contributes to improving incomes and livelihoods for smallholder farmers through sustainable approaches to crop production, leading to safer and higher quality food in domestic markets. PlantwisePlus will work to help countries predict, prepare for and prevent potential threats and reduce crop losses.
For more information on PlantwisePlus visit https://www.plantwise.org/
Related products and services

Open Access Services, Tools and Apps
The CABI BioProtection Portal is the go-to resource for biocontrol and biopesticide products. Find non-toxic, nature-based products for home or commercial use available around the globe. Search for your specific crop or pest problem in your country and find tailored product recommendations.
BioProtection Portal, biopesticides