23 May 2019 – CABI scientist Dr Sabyan Faris Honey has shared his expertise in implementation of biological control program for apple codling moth in Balochistan province, Pakistan as part of the International Entomological Congress (IEC 2019) on Conversing Emerging Entomological Challenges and their Solutions.
Dr Honey, representing CABI's Phytosanitary Risk Management (PRMP) team, delivered a presentation looking at Pakistan perspectives to deal with the exploration and exploitation of biocontrol agents to reduce the population of apple codling moth below economic threshold level ultimately facilitating the conservation of ecosystem and producing safer food with reduced chemical applications.
The event, organized by Department of Entomology, University of Agriculture Faisalabad in Pakistan and attended by over 25 international scientists from Belgium, China, Japan and Turkey, and over 500 academic staff from the different universities of Punjab, Sindh, Balochistan, KPK, Gilgit Baltistan, Azad and Jammu Kashmir, allowed Dr Honey to also share news of successful interventions for mealybug in Skardu and Karachi and apple spider mites in Balochistan province.
Insect pests cause millions of dollars' worth of crop losses throughout the world, and Pakistan is no exception. They can harm crops both before and after harvested in storage, and together, they are causing huge losses affecting local, regional and national food security.
To help solve Pakistan's agricultural pest problem, CABI is working to implement a biological control programme that is focusing on the most destructive insects which, in turn, will reduce Pakistan's food losses. If successful, this programme will mitigate the impact of pre and post-harvest pests of rice and horticultural crops.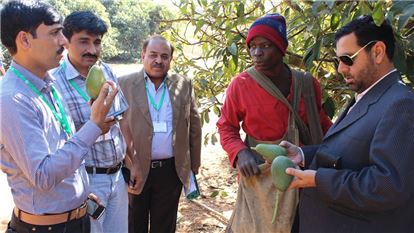 Photo: The PRMP team inspect mangos as part of their post-harvest research
Dr Honey, Project Manager PRMP, said, "These conferences are a good platform for us to highlight and communicate our achievements to stakeholders. The PRMP CABI team is committed to working with government departments to control pests of concerns of horticultural produce through natural enemies using the more environment friendly NEFR technology."
The CABI team is performing regular on-farm releases of biocontrol agents, and are working with farmers to ensure they, and representatives of allied government and private sector agencies, understand the theory of insect biological control. This includes knowing how to establish and maintain NEFRs and Sanitary and Phytosanitary (SPS) compliance in rice and fresh produce supply chains.
So far, six biological control laboratories at Rawalpindi, Islamabad, Karachi, Quetta, Gilgit and Skardu have been established in order to mass rear natural enemies. About 94.96 million biological control agents of pests of concerns have been released at farmer fields. In addition, 14 technologies to tackle the pests of concern including rearing techniques for natural enemies of the papaya and giant mealybugs, apple codling moth, acarid mites and fruit fly have also been developed.
Such interventions have improved papaya production by almost a quarter (21.85%) and have led to a 15% increase in the income of papaya farmers in Sindh. In Balochistan CABI has also achieved a 60-70% parasitism rate for codling moth.
Dr Honey added, "We plan to continue implementing biological control in these regions – building the capacity of farmers and representatives of allied government and private sector agencies in biological control of insect pests, establishing and maintaining NEFRs, and SPS compliance in rice and fresh produce supply chains.
"Going forwards we also want to determine aflatoxins in fresh and processed corn and chilies and provide actionable information."
Additional information
Learn more about CABI's Phytosanitary Risk Management Programme in Pakistan from the project page.