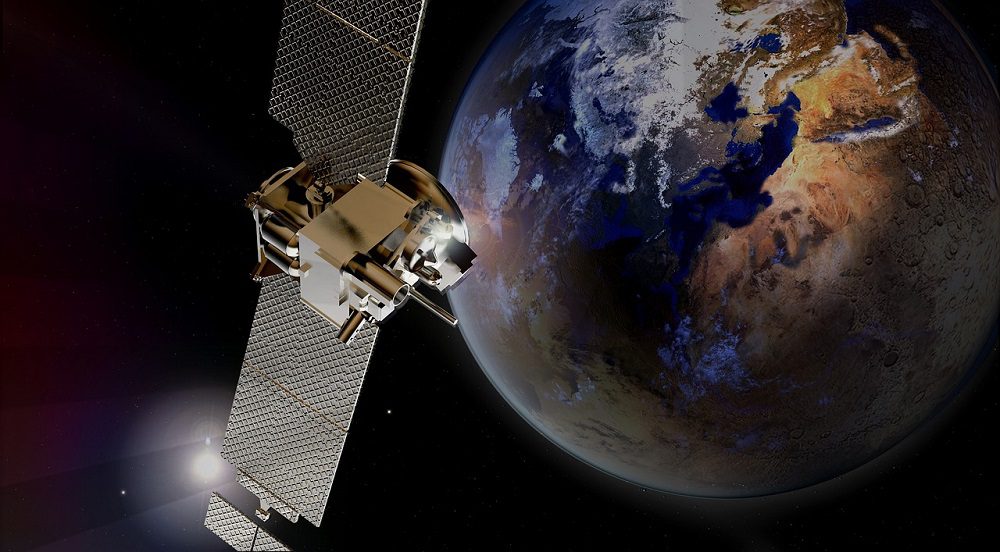 CABI has highlighted the use of digital technology to help assist global food security efforts at the 5th Africa Agri Expo 2022 virtual conference – one of the leading agriculture events that connects Africa to the world's agribusiness industries.
Henry Mibei, CABI's Manager, Digital Development based at its regional centre for Africa in Nairobi, Kenya, gave a presentation on the CABI-led Pest Risk Information Service (PRISE) and the CABI BioProtection Portal – both which ultimately help millions of smallholder farmers grow more and lose less to devastating crop pests.
Mr Mibei spoke about how PRISE – a five-year project funded by the UK Space Agency's International Partnerships Programme and delivered by a consortium of UK and international partners – combines environmental data and climate models on pest life cycles to give farmers optimum time to kill the early stages of a pest.
He also highlighted how the CABI BioProtection Portal is a free online/offline resource that enables users to identify, source, and apply registered biocontrol and biopesticide products against agricultural pests – such as the fall armyworm which is believed to cause the highest annual yield losses in Africa of around USD $9.4 billion.
CABI scientists last year published – in the journal CABI Agriculture and Bioscience – the first comprehensive study on the economic impact of a range of Invasive Alien Species (IAS) on Africa's agricultural sector, which they estimated to be USD $65.58 billion a year.
The research took account of yield losses of major crops including maize, tomato, cassava, mango and banana (USD $82.2 billion), as well as labour costs – through weeding (USD $36.34 billion) – and loss of income derived from livestock (USD $173 million).
PRISE has delivered pest alerts to over 1.8 million farmers in Kenya, Ghana, Zambia and Malawi since 2017 and an end-line survey conducted in Kenya in late 2021 found that PRISE surpassed its intended impact reducing crop losses by 10% and increasing income by an average of 30%.
Meanwhile, the CABI BioProtection Portal was launched in 2020 and is live in 31 countries in English and local languages. Users enter their country, language and crop-pest query and the system generates a list of biocontrol and biopesticide products with their active ingredient, the manufacturer/registrant and the specified crop-pest problem in the selected country.
Mr Mibei said, "Climate change is a major risk to sub-Saharan Africa as it is encouraging the spread of crop insect pests that pose serious food and financial threats to African farmers.
"Digital solutions have now begun to pave the way to allow farmers to manage pests and use safer products to fight crop pests. I was pleased to have the opportunity at the Africa Agri Expo to talk about the move towards digital tools in managing crop pest problems and CABI's role in this field together with a range of partners and member countries."
The conference suggested that the agricultural industry in Africa is witnessing an unprecedented development with the region having over 50% of the world's fertile and untapped land. According to reports, the African agribusiness could be worth $1 trillion by 2030.
However, to tap the agriculture potential of the continent and meet the ever-growing demand for food – Africa needs efficient and effective machines, equipment, technology, inputs and solutions – a vast majority of which need to be imported.
Africa Agri Expo 2022 brought together African and global agriculture professionals to explore the market, introduce their brands, make new connections and create long-term partnerships. It was attended by nearly 2,850 participants.
Additional information
Main image: the creation and application of digital technologies is putting science-based agricultural knowledge to millions of smallholder farmers – helping to increase their yields and livelihoods (Credit: Pixabay).
Pest Risk Information Service (PRISE)
PRISE helps to improve the livelihoods of smallholder farmers by reducing crop losses caused by pests across four sub-Saharan African countries.
Data from a variety of sources – satellite observations, weather data, geographic data, and details about the spread and biology of pests – are combined in a data cube to run algorithms, which ultimately produce pest risk forecasts. These are used to give farmers timely alerts and advice to help manage local pest outbreaks.
Find out more here.
CABI BioProtection Portal
The CABI BioProtection Portal is a free tool that enables users to discover information about registered biocontrol and biopesticide products around the world. Available online and offline, the CABI BioProtection Portal helps growers and agricultural advisors to identify, source and correctly apply biocontrol and biopesticide products against problematic pests in their crops. The portal is accessible on smart phones, tablets and desktops.
Find out more here.
Related News & Blogs
CABI News
18 September 2023
Related products and services

Open Access Services, Tools and Apps
The CABI BioProtection Portal is the go-to resource for biocontrol and biopesticide products. Find non-toxic, nature-based products for home or commercial use available around the globe. Search for your specific crop or pest problem in your country and find tailored product recommendations.
BioProtection Portal, biopesticides