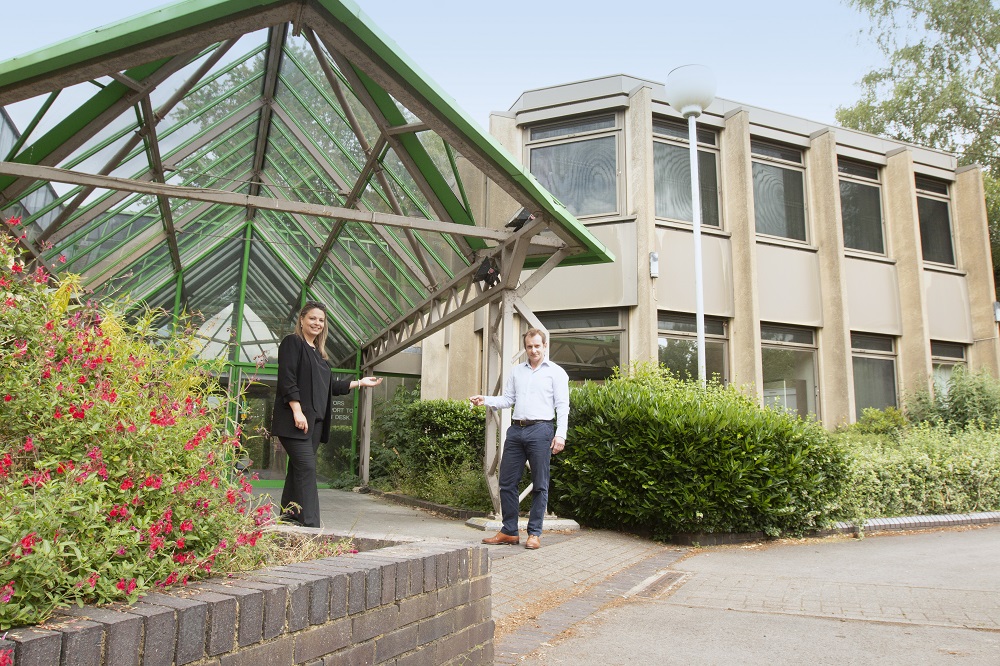 CABI has handed over the keys to its former headquarters to CALA Homes – paving the way for a move into its new state-of-the-art office and the completion of the 91-home Carmel Meadows development in Wallingford.
The move means CABI's outdated building – a former school from the 1960s – will be demolished to allow CALA Homes to complete the building of 54 more homes, in addition to the 37 already constructed, at the site off Nosworthy Way.
The properties include 18 affordable homes to meet local need and, as part of the development, CALA Homes is also contributing £1million towards local infrastructure and facilities.
His Royal Highness the Prince of Wales opened the old CABI headquarters in September 1987 but the building has since become outdated and no longer fit for purpose – particularly in respect of its carbon footprint.
It is hoped that staff will be able to start moving into the new more energy efficient and environmentally sustainable headquarters, made possible through the sale of part of CABI's land to CALA Homes, in August following a delay in construction caused by the COVID-19 pandemic.
The new headquarters features a photo-voltaic solar array system to harvest the sun's energy, an extensive lightweight sedum green roof and a curtain wall system to allow for natural ventilation. Rooflights also provide natural top light to help reduce demand for electric lighting and help lower CO2 emissions.
Dr Trevor Nicholls, CABI CEO, said, "This really is the symbolic end of an 'era' and the start of a new beginning for CABI in a headquarters which is more aligned to its mission of helping to solve problems in agriculture and the environment – particularly in respect of its eco-friendly credentials.
"The development also demonstrates how a not-for-profit organisation, a major employer in Wallingford, can work in partnership with a developer in the housing sector for the wider benefit of the local community and town."
Both CABI and CALA Homes have been mindful of landscaping which is sensitive to the location – an Area of Outstanding Natural Beauty (AONB) – with the planting of cypress trees, native hedgerows, low shrubs, ornamental plantings, perennial flowers and even a meadow to attract a broad range of insects, birds and other wildlife.
Gavin Stewart, Sales and Marketing Director for CALA Homes Chiltern, said, "This is a significant development for Wallingford and South Oxfordshire, both in terms of the provision of much-needed new homes and the retention of a globally-renowned organisation in the UK.
"We're delighted that the handing over of the keys to CABI's former headquarters is allowing for more work to get underway and that the joint vision that both organisations have had for this site is now becoming a reality."
Additional information
Photo: Lexi Aisling Daly, Sales Consultant at CALA Homes, receives the keys from Robert Sloley, Chief Finance Officer at CABI (credit: Sarah Hilliar/CABI).
About CABI
CABI is an international not-for-profit organization that improves people's lives by providing information and applying scientific expertise to solve problems in agriculture and the environment.
Through knowledge sharing and science, CABI helps address issues of global concern such as improving global food security and safeguarding the environment. We do this by helping farmers grow more and lose less of what they produce, combating threats to agriculture and the environment from pests and diseases, protecting biodiversity from invasive species, and improving access to agricultural and environmental scientific knowledge. Our 49 member countries guide and influence our core areas of work, which include development and research projects, scientific publishing and microbial services.
CALA Homes
CALA Homes, part of the CALA Group, is a major UK home builder focused on building well-designed, high quality homes in prime locations throughout the South of England, the Midlands and Scotland.
Key Facts:
• In the 18 months to December 2018, CALA sold over 3000 homes and announced record profit before tax of £122.4m and also record revenues of £1,220.8m.
• CALA employs more than 1,000 people across 10 offices and more than 70 developments
• CALA Homes has received the maximum 5 Star rating in the Home Builders Federation's National New Homes Customer Satisfaction Survey for 2019. On average over the past 10 years, the independent survey has found that more than 93% of our customers would recommend CALA to a friend.
• In 2017, and for the second consecutive year, CALA has collected the Silver award for 'Best Large Housebuilder' at the WhatHouse? Awards. At the 2018 Scottish Home Awards, CALA received the Customer Service Excellence Award for the third year running. In 2019, CALA was named Home Builder of the Year at the Homes for Scotland Awards.
• CALA is proud to be a Gold Patron of the Prince's Trust, our national charity partner since 2015.
• In March 2018, CALA Group was acquired by Legal & General Group, the insurance, savings and investment management company.
• CALA started as the City of Aberdeen Land Association in 1875 and was the first Scottish company listed on the London Stock Market. As CALA is an acronym it is always reproduced in upper case.
For further information visit www.cala.co.uk
Related News & Blogs
CABI News
22 October 2020