Establishing the psyllid: field studies for the biological control of Japanese knotweed
Japanese knotweed is highly damaging. It spreads extremely quickly, preventing native vegetation from growing and has significant impacts on infrastructure. Current control methods rely mainly on chemicals. Research however has identified a tiny psyllid from Japan as a suitable and safe agent to control Japanese knotweed in the UK. The current aim of this project is to achieve establishment and impact of the psyllid on Japanese knotweed in the UK.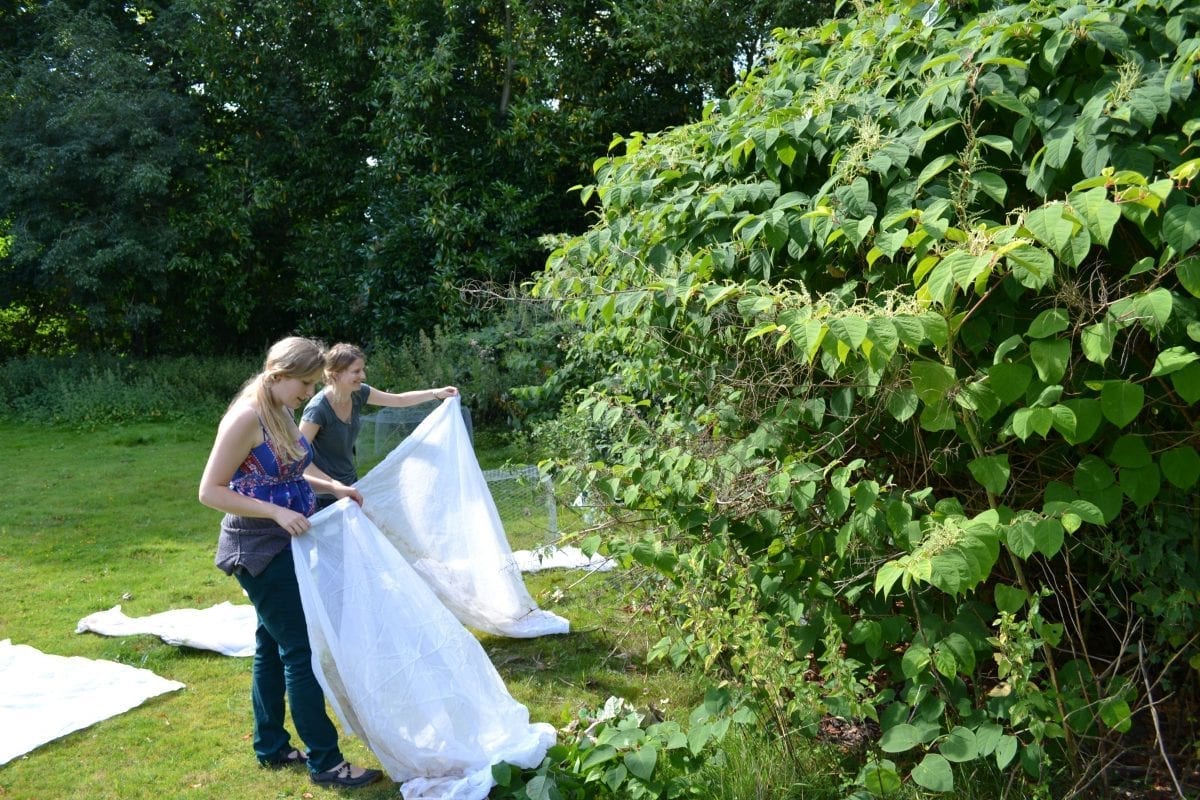 Scientists releasing mass reared psyllids on Japanese knotweed stand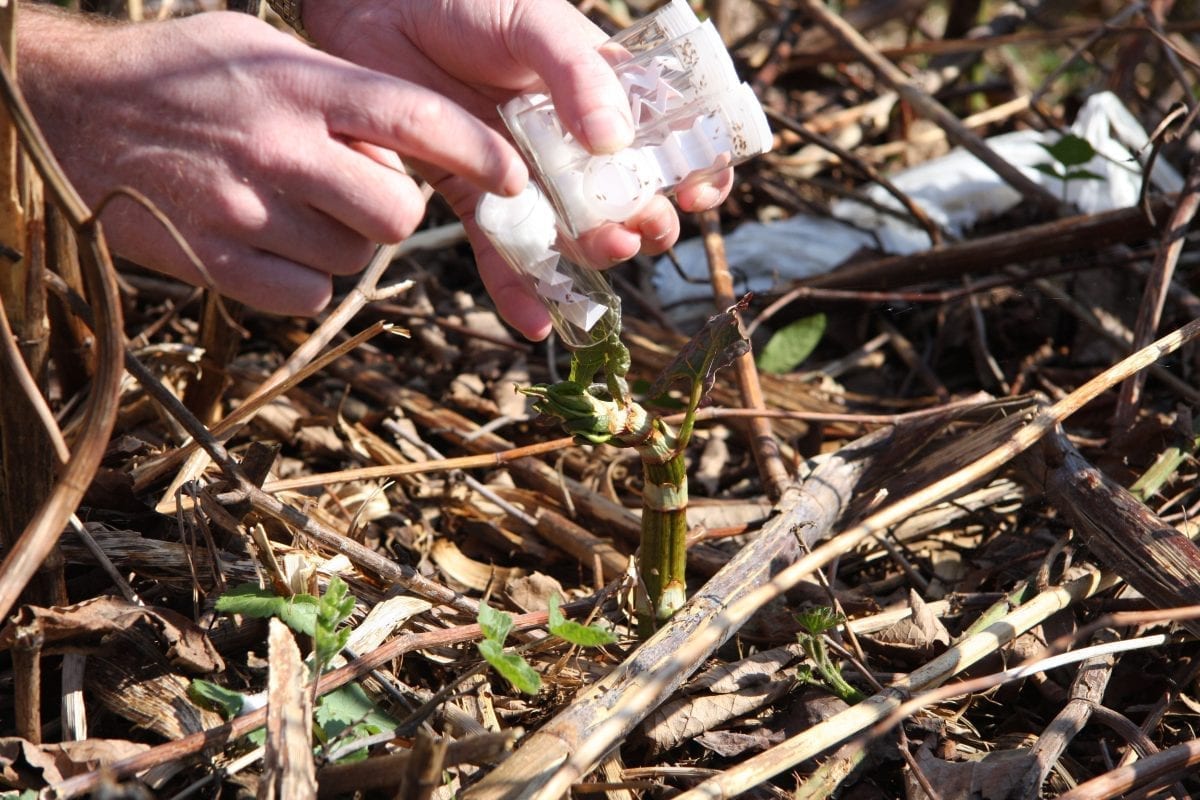 A psyllid release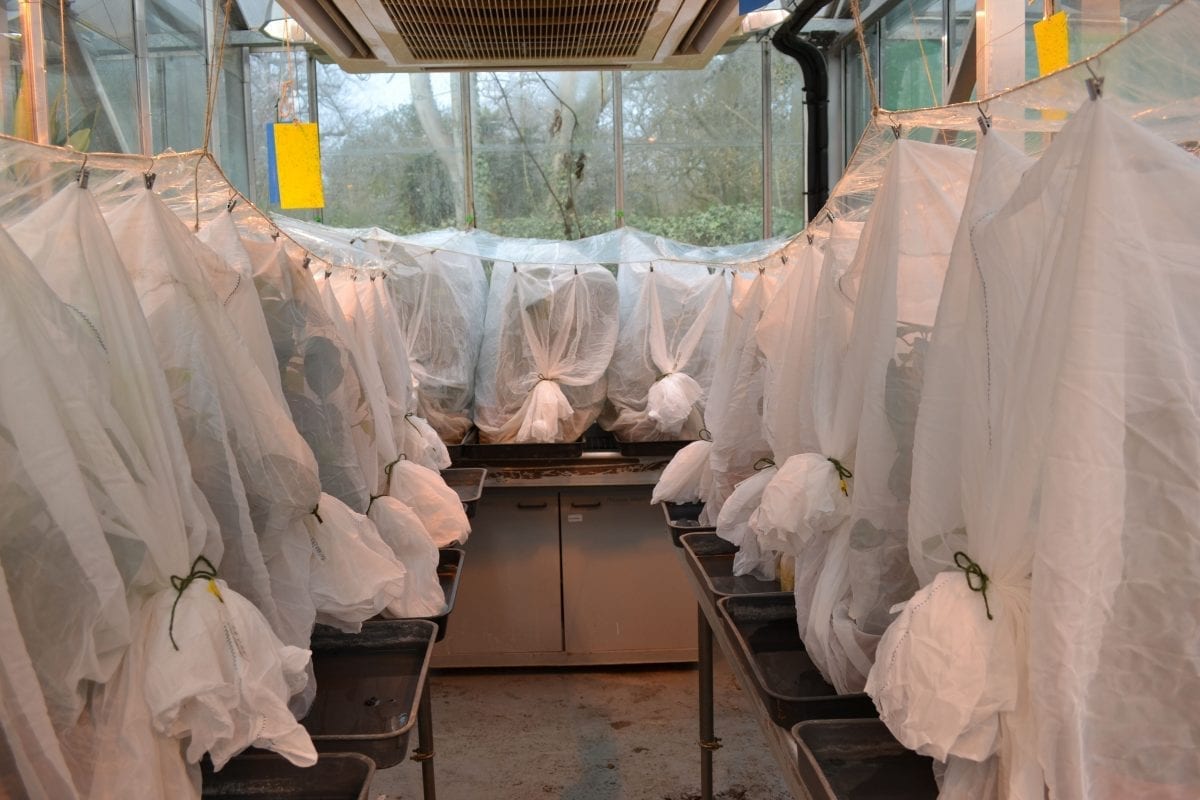 Mass rearing sleeves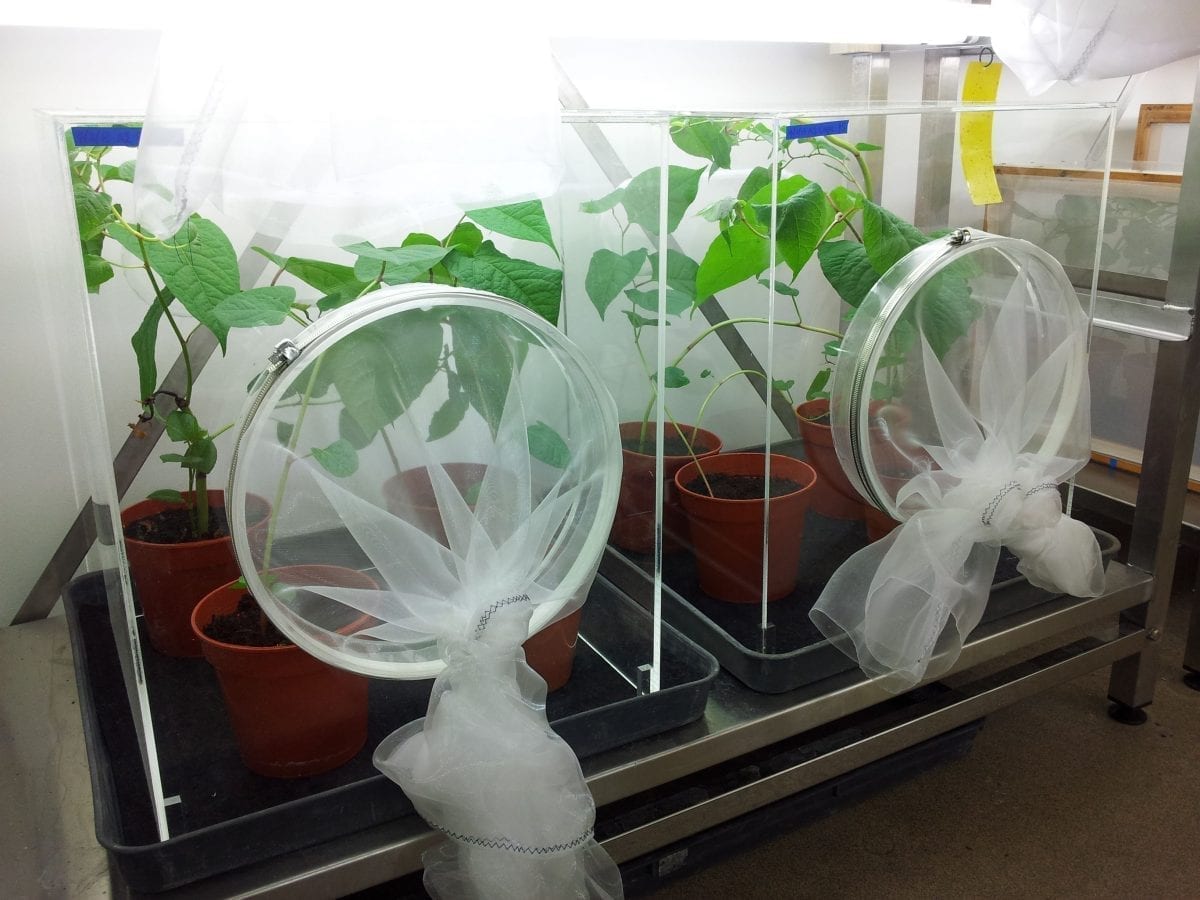 Mass rearing cages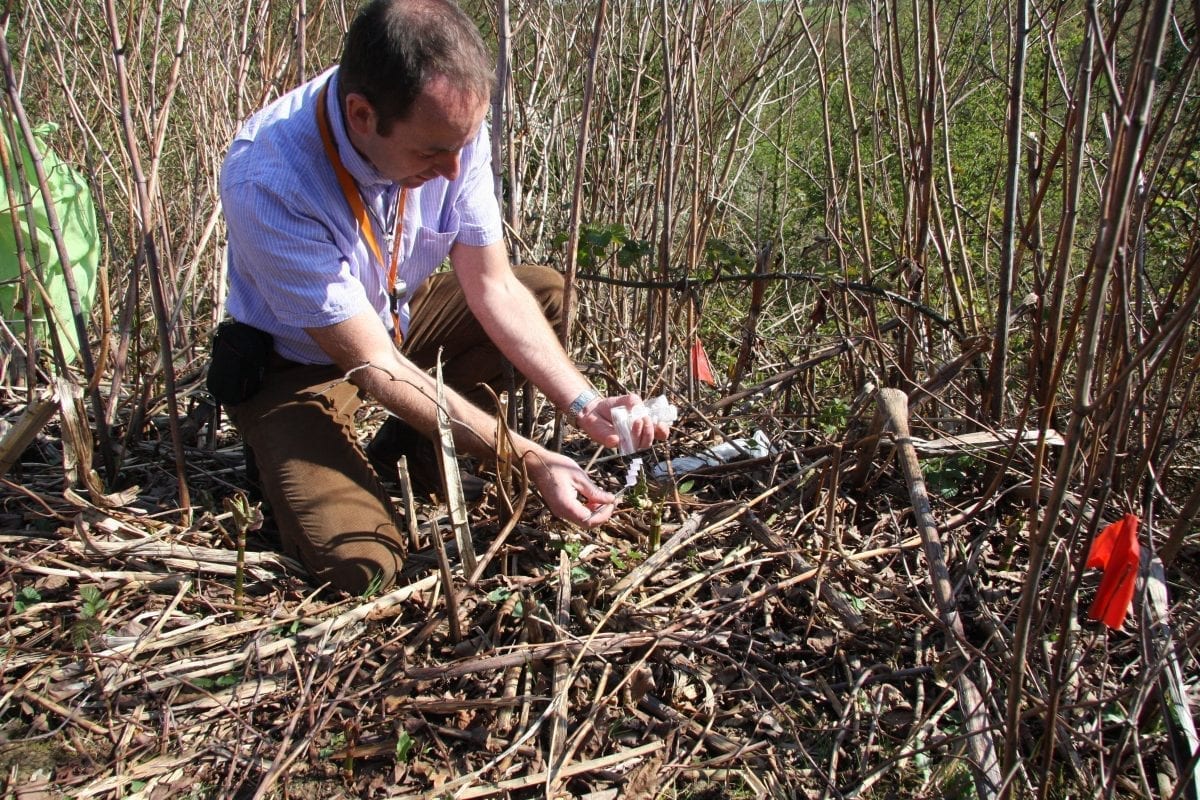 Dick Shaw releasing psyllids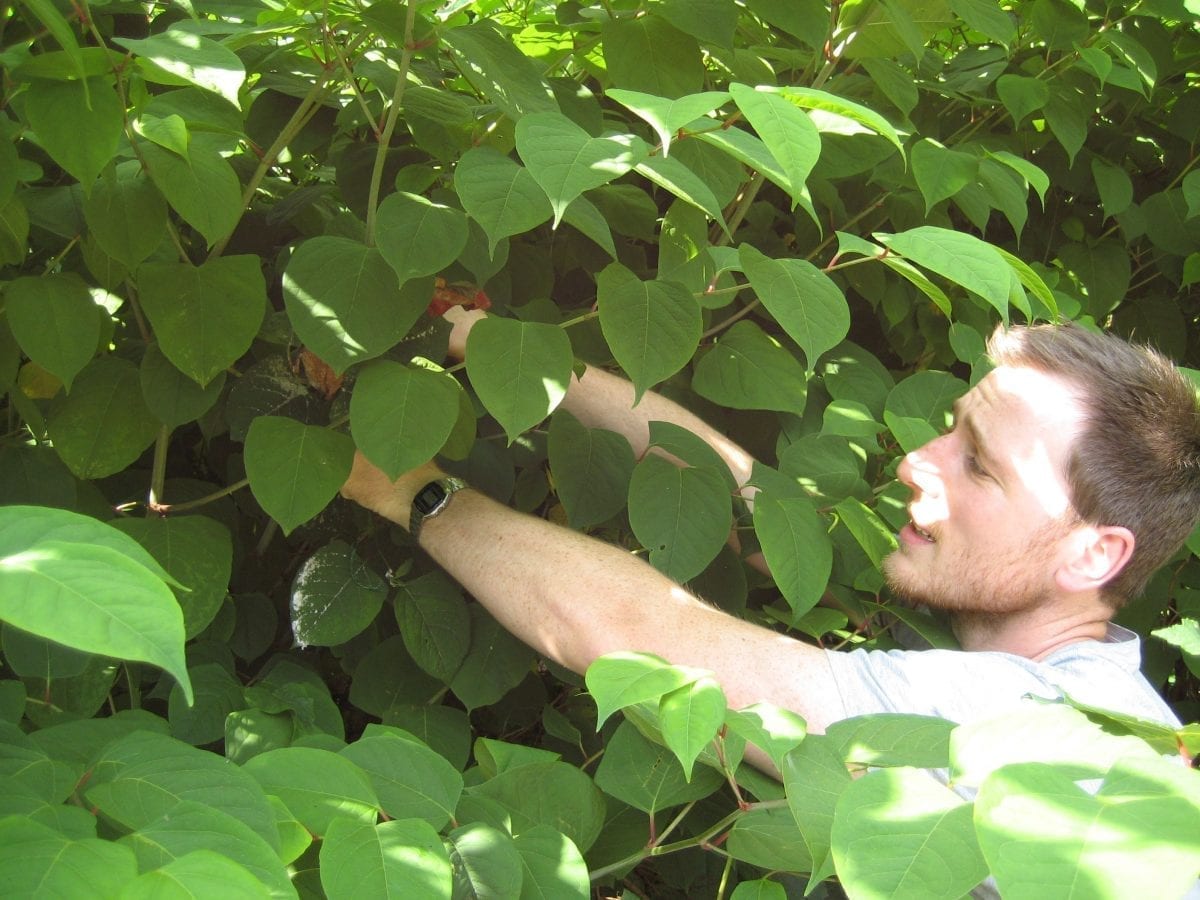 Corin Pratt releasing psyllids on Japanese knotweed stand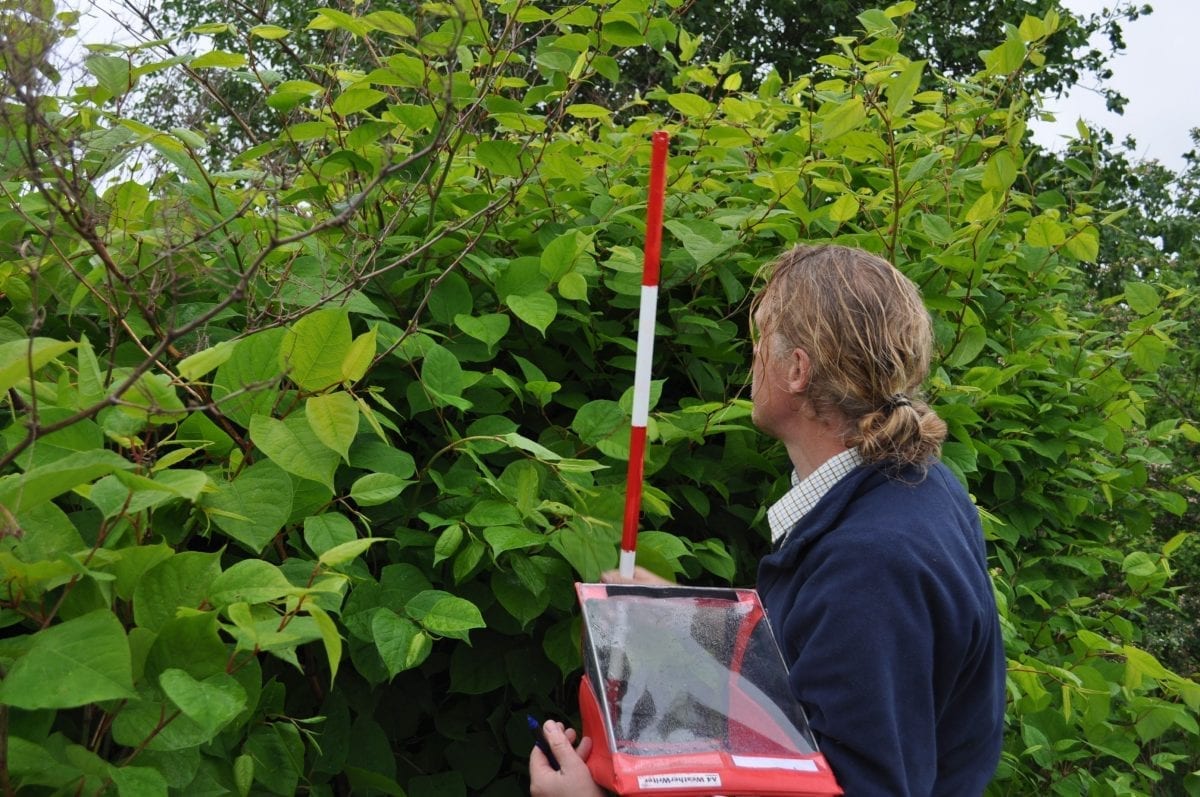 Researcher measures the height of knotweed at a monitoring site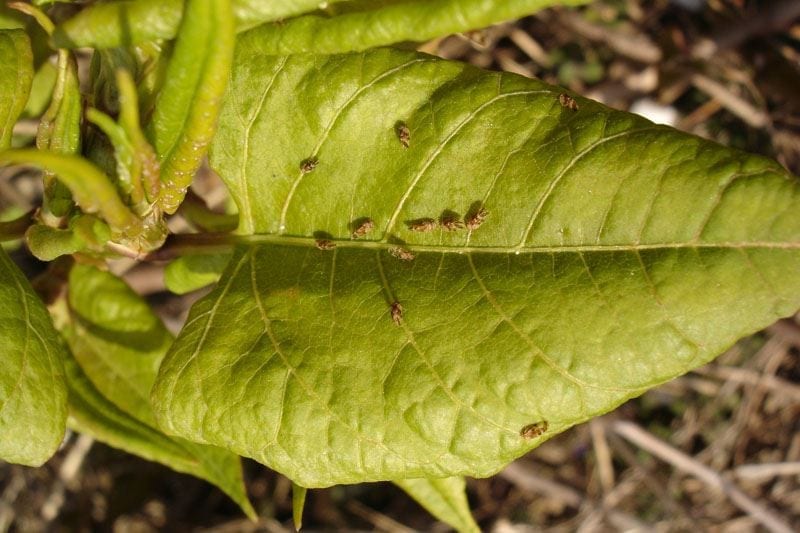 Aphalara itadori on Japanese knotweed leaves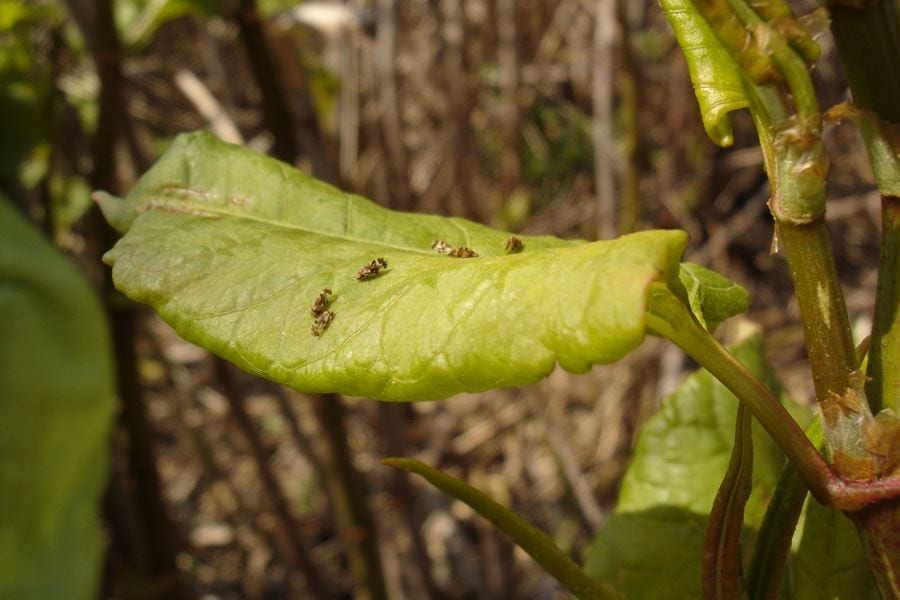 Aphalara itadori on Japanese knotweed leaves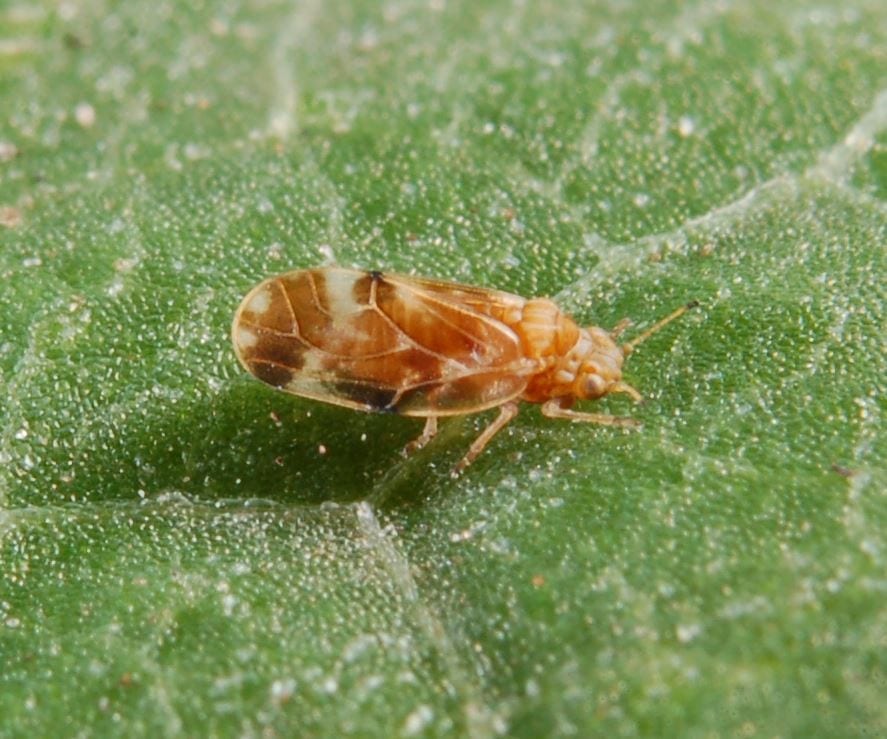 Aphalara itadori adult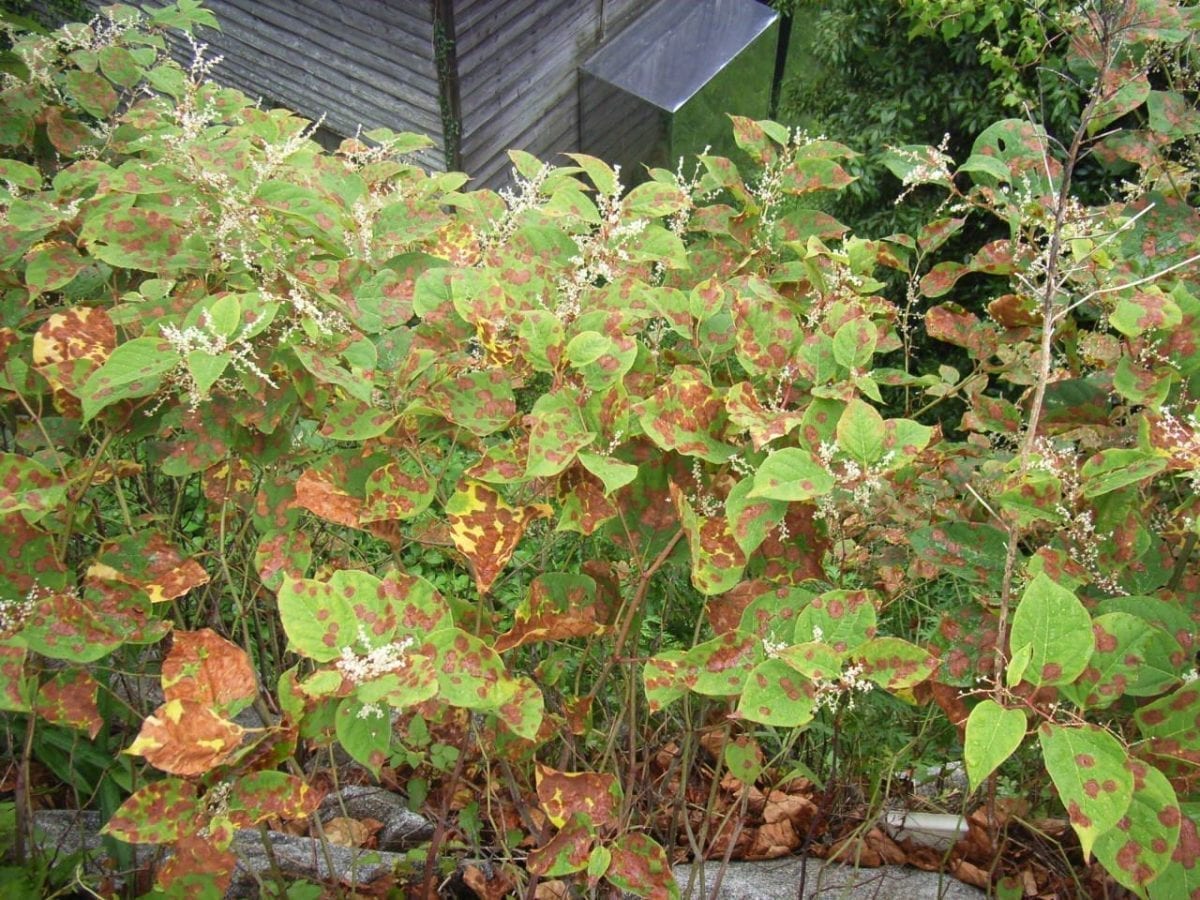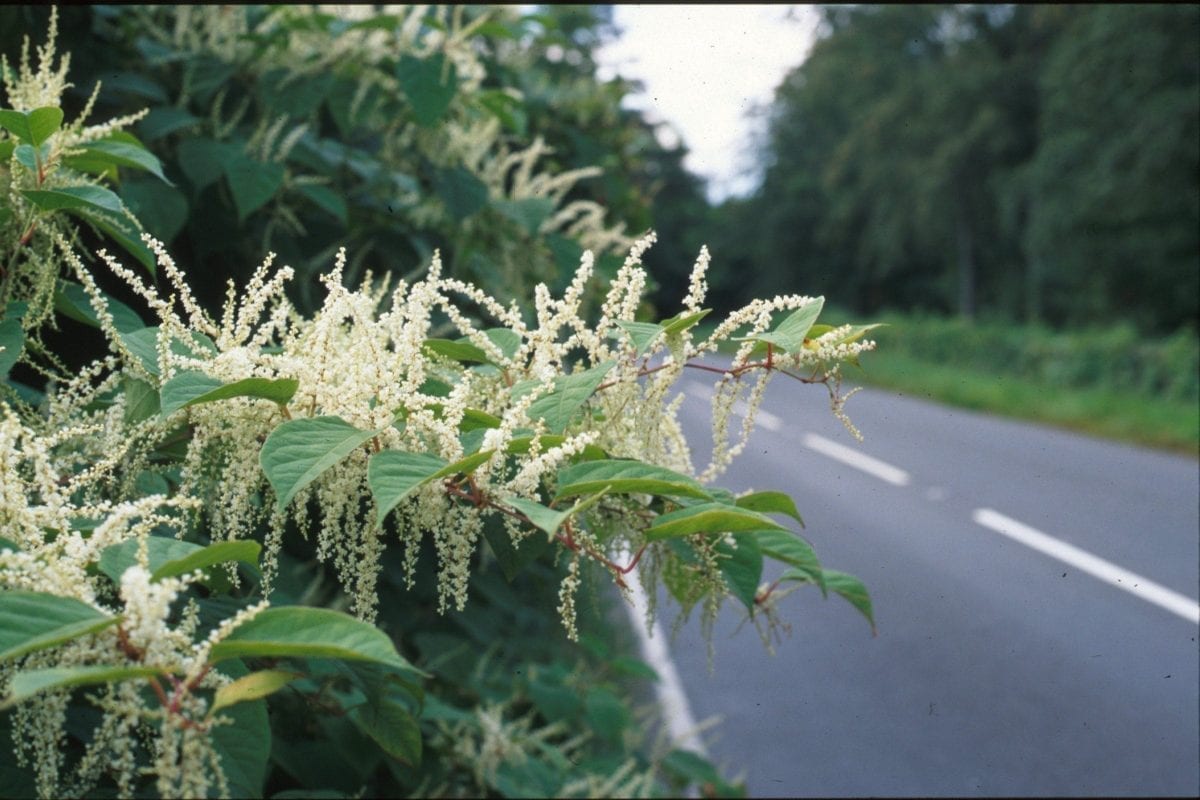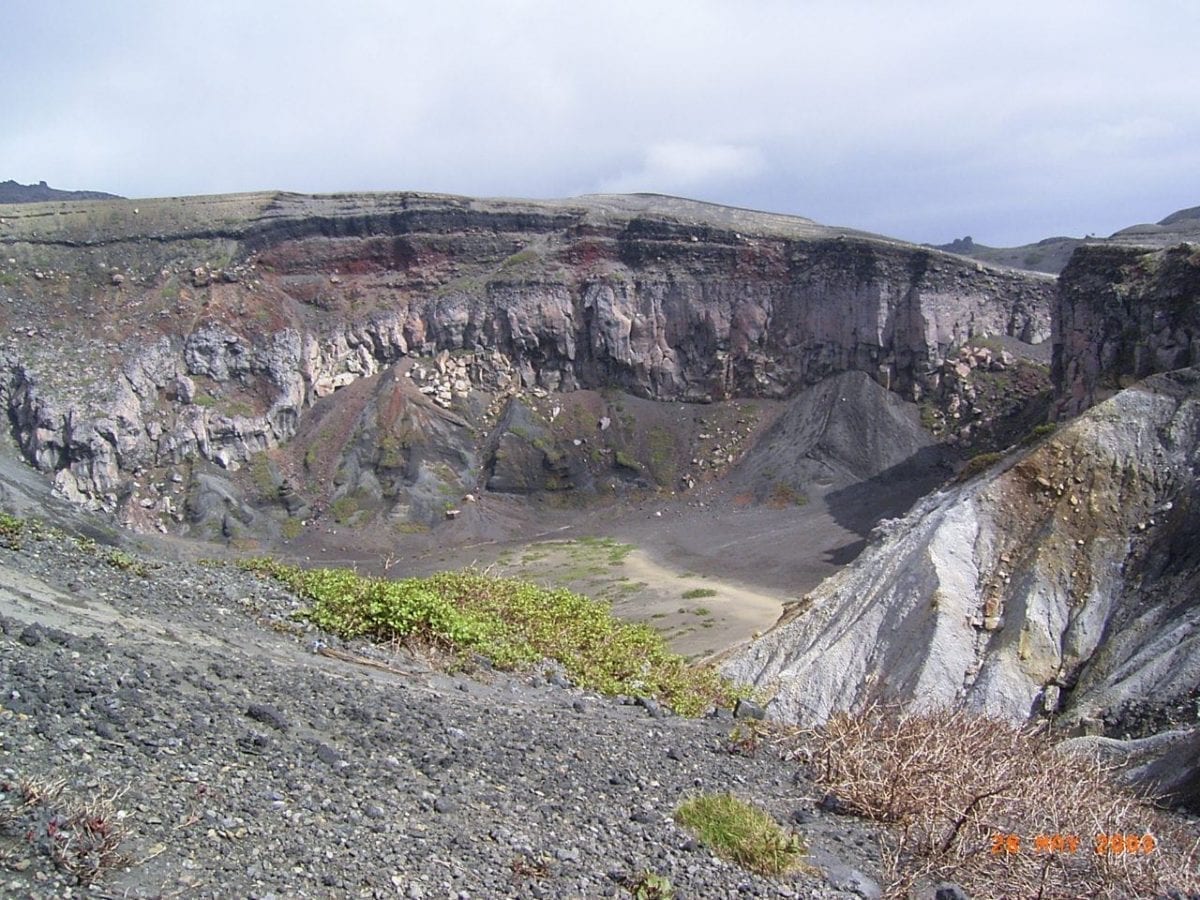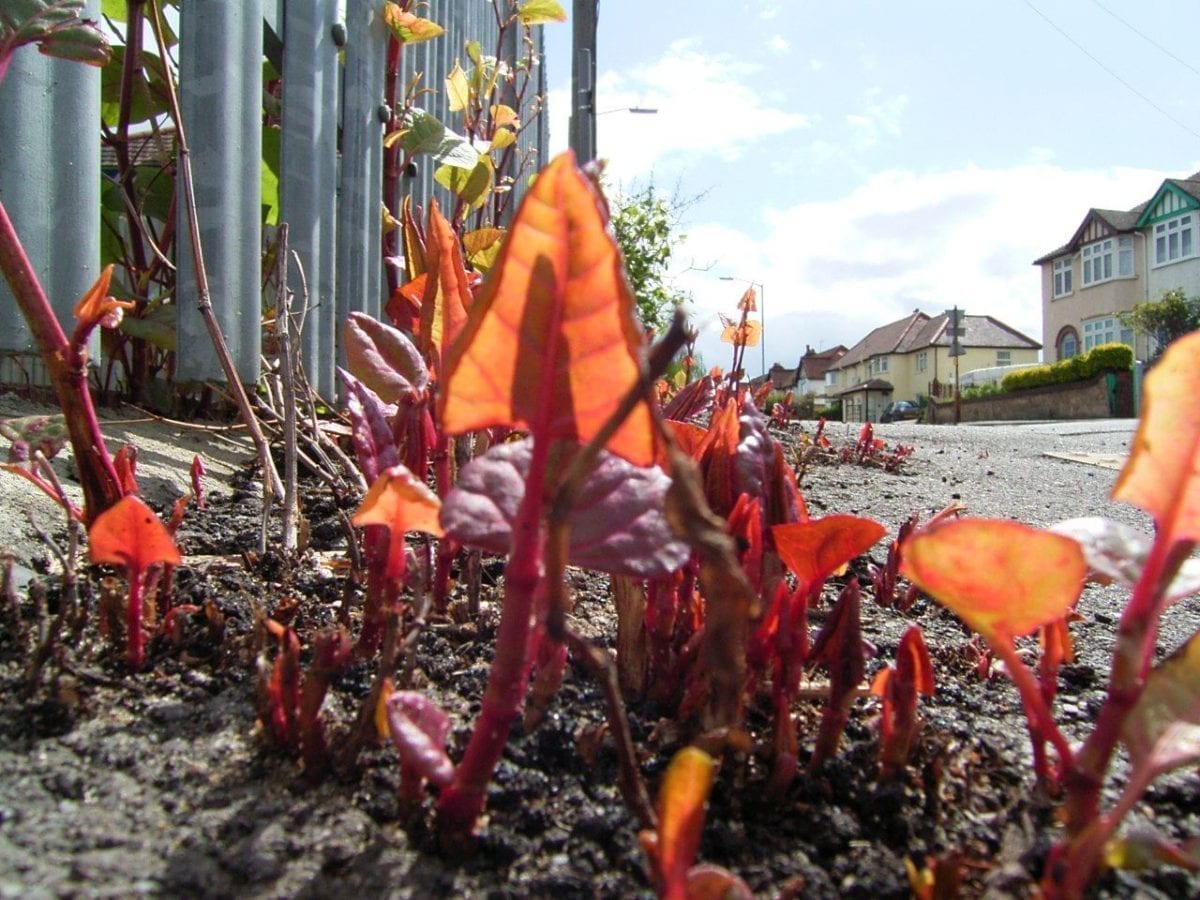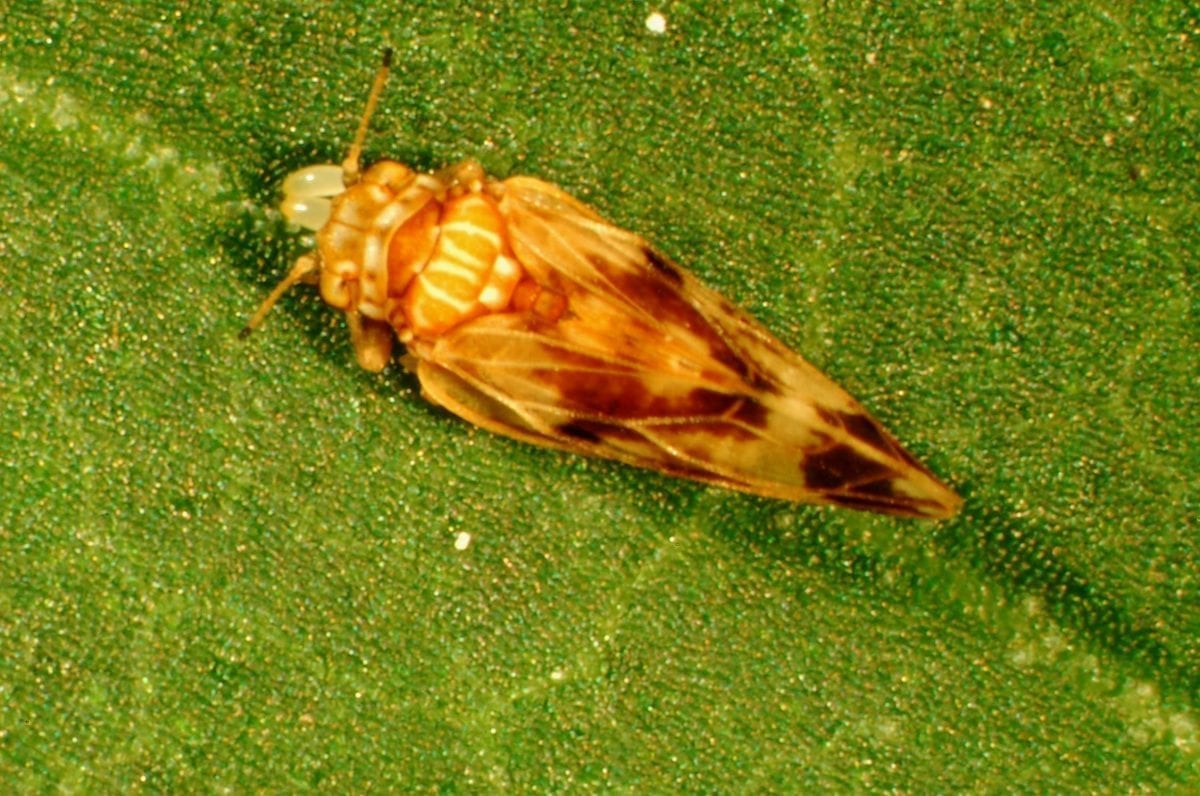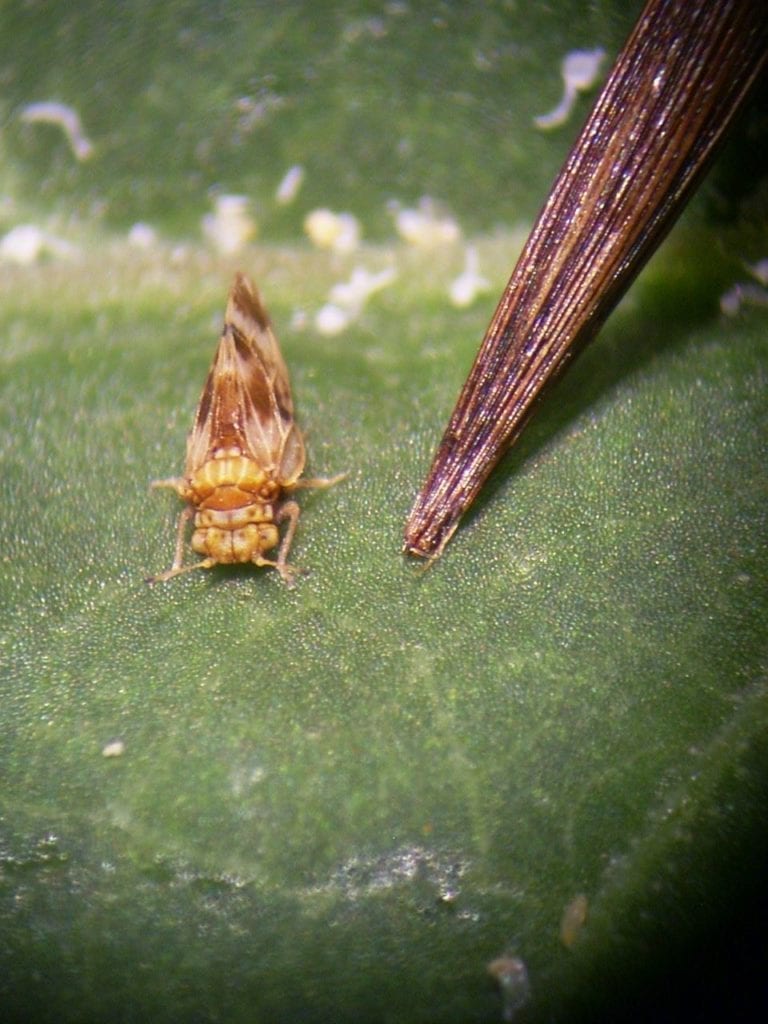 Previous
Next
Project Overview
So, what's the problem
Japanese knotweed (Fallopia japonica) is one of the most damaging invasive weeds in the UK, Europe and North America. Growing up to a metre a month, it is a problem to the construction industry whilst also out-competing native vegetation. Introduced from Asia to Europe in the mid-19th century as a desirable ornamental plant, it soon fell from grace. It is now illegal to cause it to grow in the wild and creates serious problems for homeowners, taking thousands of pounds off the value of infested properties. Its presence on construction sites can hinder development and regeneration schemes and even threatened the 2012 Olympic site.
Currently, the weed is partially controlled using chemicals, which costs the UK economy around £165 million per year. If eradication in the UK were attempted, it is estimated to rise to around £1.6 billion. Due to the current spread of the species, chemical control is deemed unsustainable. In contrast, biological control offers a sustainable, long-term control option.
What is this project doing?
CABI is carrying out the Government approved release of the specialist psyllid Aphalara itadori (Insecta: Hemiptera: Psylloidea) as a control agent for Japanese knotweed in the UK (see www.cabi.org/japaneseknotweedalliance). After seven years of research in Japan and in designated quarantine facilities in the UK, it has been established that this tiny, sap-sucking insect is a knotweed specialist and can only complete its development on Japanese knotweed. The risk of damage to native plant species has been shown to be very low. The releases are taking place in field trials at a number of sites in England and Wales. Part of the release protocol includes a monitoring plan, which aims to record the impact of the psyllid on Japanese knotweed, but also to detect any potential adverse effects on native plants and invertebrates.
---
Results
The initial stages of the project focussed on safety to ensure that the psyllid had no negative impacts on native flora and fauna. Although the limited first mass releases of the psyllid in 2010-2013 failed to establish large populations, there has been no observable negative impact to date. A later replicated caged field trial showed that the agent was safe for native invertebrates even if present in high densities. A new licence was then issued which allowed the psyllids to be released around river ways which are likely to offer better conditions for establishment.
During the summer of 2015 and 2016 we conducted an intensive release and monitoring programme in collaboration with Local Action Groups and Local Authorities at sites across England and Wales. The CABI team found adult psyllids at all sites but in low numbers with lower abundances towards the end of the season. Young psyllids (nymphs) were observed at most sites, with no significant impact on the environment.
Overwintering in 2016 was only confirmed at one southern site. Since then, we have conducted three release campaigns including adults ready to overwinter (winter morph) coupled with a new psyllid strain. Further monitoring will be conducted to confirm successful overwintering and establishment of the agent in the UK.
---
Project Manager
Invasive Species Management Researcher
CABI, Bakeham Ln, Englefield Green, Egham TW20 9TY, UK