Addressing scale insect threats in Kenya
In Kenya, scale insect pests are damaging native trees and crops and consequently, causing yield losses of up-to 91%. Smallholders' awareness of the threats posed by these insects is low because they are small and cryptic, whilst local entomologists cannot easily identify them. Pesticides are therefore misused, killing other beneficial organisms such as natural enemies and pollinators, creating more pest problems. To overcome problems faced, CABI is creating information packages for stakeholders on identification and management of scale insects that will improve practices and increase responses to pest invasions. CABI is also providing technical support that will inform knowledge gaps.
CountriesKenya
Duration
Start: 01/06/2018
End: 31/03/2022
Project Overview
So, what's the problem
A Kenyan working group on invasive species and vulnerable ecosystems has identified a need for increased in-country capacity to identify and monitor threats to biodiversity and livelihoods. The, incomplete, list of scale insects of Kenya shows 66 potential pests (most non-native) out of 227 species (29%). A level which is much higher than in any other group of insects (+1% for all other insects combined).
Outbreaks of alien scale pests are occurring across Kenya's neighbouring countries, whilst in Kenya more scale species have become invasive, impacting a wider range of crops and causing yield losses of up-to 91%. This puts smallholder farmers and foresters at risk of yield and income loss; however, their awareness of this growing risk is low to non-existent.
To control the pests, massive untargeted pesticide application takes place which only exacerbates pest problems by reducing biodiversity through the elimination of natural enemies. It also raises production costs and has negative impacts on human health and the environment.
Biological pest control offers a solution because it facilitates a long-term reduction in pesticide use, and as a result, improves farm income, natural enemy diversity and reduces pest problems. Many scale insects have host-specific parasitoids suitable as biocontrol agents, but the development of biological control requires accurate identification of the pest species. Past attempts at biological control have failed due to mis-identifications resulting in mis-directed pest control efforts, for example, 15 years elapsed between the outbreak and control of the coffee mealybug, and 80% production losses over 10 years were caused by cassava mealybug.
Currently, taxonomic expertise on scale insects and tailor-made identification aids are not available in Kenya. A problem that needs addressing.
What is this project doing?
Increasing the capacity of stakeholders on the identification and management of scale insects, will not only raise awareness of the problems caused by these pests but will also provide a platform for stakeholders to respond to the invasions effectively.
Working alongside partners, CABI will develop 'fit-for-purpose' information packages on best practices for improving the management of scale insect pests, targeted to various audiences (smallholder farmers, foresters, extension workers, policymakers and general public) to ensure:
Target groups have a better understanding of biodiversity issues linked to unsustainable agricultural activities
Best practices are developed on the management of scale insects and disseminated to raise key stakeholder awareness and capacity, and consequently adopted by them
Stakeholders implement environmentally friendly practices and manage scale insect pests with sustainable methods
Extension workers have a better knowledge of scale insects and their impact and show novel understanding in identification and management using environmentally safe and sustainable practices
This project also aims to fill knowledge gaps on current knowledge, attitudes and practices of farmers and foresters on the management of scale insects, of which, CABI will provide technical support in the form of socio-economic surveys.
Partners will, together, deliver objectives associated to the identification and collection of scale insects through taxonomic training, natural enemy inventories, enhanced insect reference collections and identification aids.
---
Results
To-date, 15 taxonomists have been trained in scale insect collection and handling, preservation, slide mounting and identification. A Master student has also been selected and will undertake his research project on scale insects soon.
A socio-economic survey of farmers and foresters in coastal agro-ecologies of Kenya to establish knowledge and practices for managing scale insects was carried out by partners KALRO and KEFRI.
Information packages aimed at engaging various stakeholders to help raise awareness of scale insects and sustainable management practices were also produced which included a photo guide (see project downloads) on pest identification which was produced by CABI for all stakeholders and shared with extension workers and partner institutions, both digitally and in print. Factsheets for Farmers (covering 30 pest scale insects and mealybugs) (see project downloads) have also been produced, while a radio campaign on the management of scale insects was launched with a particular focus on the papaya mealybug was launched. The campaign included talk shows, sponsorship messages and short features. It was estimated that over 45,000 farmers were reached via the radio campaign.
Other future outputs of this project include:
A biological survey to collect and identify scale insects, with associated natural enemies
The development of distribution maps of scale insects across Kenya, comprehensive reference collections, and associated database, aimed at improving relevant research and advisory infrastructure
Engage research and policymakers through an engagement meeting and policy briefing
---
Project Manager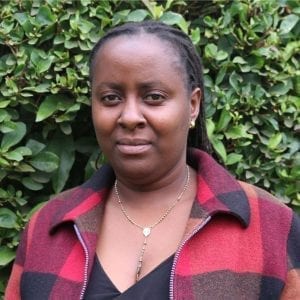 Deputy Director, Development and Outreach, Africa
Canary Bird, 673 Limuru Road, Nairobi, Kenya