Repelling the invader: turning the tide on Ascension's Mexican thorn
Mexican thorn is the most damaging invasive species on Ascension Island. Introduced purposely, this weed has naturalised and spread rapidly, outcompeting native vegetation and negatively impacting wildlife, while encouraging invasive rodents. This project will take a strategic and integrated approach to controlling thorn on Ascension including a rigorous assessment of further biocontrol and improved chemical and mechanical treatment. The project will ensure local capacity is built to deliver those most appropriate and cost-effective for Ascension. The outcome will be a step-change in our ability to control Mexican thorn and result in a long-term contraction of its range and restoration of habitats.
Expertise
CountriesAscension Island
Duration
Start: 01/09/2021
End: 31/03/2024
Project Overview
So, what's the problem
Mexican thorn (Prosopis juliflora) was intentionally introduced to Ascension Island in the late-1960s and now forms impenetrable stands over large parts of the island. Its range continues to expand but current control efforts, mechanical and chemical methods, are labour intensive, costly and limited to protecting the most sensitive sites and important infrastructure. This puts native species and habitats at risk and existing control unsustainable within present capacity.
The species is a significant threat to the nesting beaches of green turtles (Chelonia mydas), breeding seabirds including sooty terns (Oncychoprion fuscatus) and the critically endangered Ascension Island spurge (Euphorbia origanoides). This can be through direct habitat encroachment or the harbouring of non-native pests, particularly introduced rodents who predate the chicks and eggs of seabird colonies.
The rapid spread of Mexican thorn is altering the landscape character of large swathes of the island and is having profound effects on hydrology, soil formation and microclimate, with unknown consequences for the endemic invertebrate fauna. It also threatens to obscure the volcanic nature of the island that was identified by the local community as capturing the 'essence' of Ascension.
Biological control has previously been used and past releases of biocontrol agents have slowed the spread of Mexican thorn, but not reduced cover. New tools, an integrated approach and strong public support are now needed to address this pervasive problem.
What is this project doing?
An important part of this project will be to draw on the techniques used successfully to control Mexican thorn in Australia and South Africa.
This project will apply the biocontrol risk assessment tools created for Overseas Territories through a previous project: Building Ascension Island's Biosecurity Capability which produced the Ascension Biosecurity Strategy and legislation and provided the justification for Mexican thorn control and the framework for licensing biocontrol releases.
The feasibility of introducing a new biocontrol agent, Evippe sp., will be assessed by CABI and The Ascension Island Government Conservation and Fisheries Directorate (AIGCFD) using the recently developed protocols. The assessment will build on existing host-range testing, considering potential impacts on Ascension's native plants, native invertebrates and unintended impacts of thorn defoliation. Host range testing will be conducted at CABI's quarantine facilities in the UK using Evippe collected from South Africa. The Department for Environment Food and Rural Affairs (DEFRA) and the Food and Environment Research Agency (FERA) will provide an independent evaluation of the outcome of the risk assessment.
To secure the support of the public and stakeholders, raising awareness about the potential risks and benefits of control methods, as well as the biodiversity and economic impacts of thorn, will be central to this project. AIGCFD will lead on public engagement activities to explain the project's aims and results, while volunteer opportunities will be increased to actively involve islanders in control activities.
If the risk assessment and public engagement strands indicate Evippe sp. is an appropriate control agent, facilities will be set up on Ascension and training provided to AIGCFD by CABI and St Helena Agriculture and Natural Resources Division to create on-island culture capability.
---
Results
The project started in September 2021 but we hope to achieve a wide range of benefits.
The project will benefit the protected species and habitats on Ascension that are threatened by Mexican thorn. These include the endemic Ascension frigatebird, the endangered green turtle and the critically endangered Ascension spurge.
The Ascension Island Community will benefit as the reduced spread of Mexican thorn helps to safeguard the landscape character of the island. They have the opportunity to be involved in decision-making about the future management of their island through the evidence-based participatory approach adopted by this project.
AIGCFD will be empowered as a result of this project by the development of more efficient and effective means of tackling Mexican thorn. It will provide hope to conservation professionals that non-native species can be managed and reassurance that they are employing global best practice techniques.
Policy makers on Ascension will benefit from the opportunity to work with international experts and evaluate the results of treatment trials to arrive at locally-appropriate solutions. Other organizations controlling Mexican thorn on Ascension will benefit from training and advice so that they use resources more effectively and in a coordinated way to deliver greater impact and better value for money.
---
Project Manager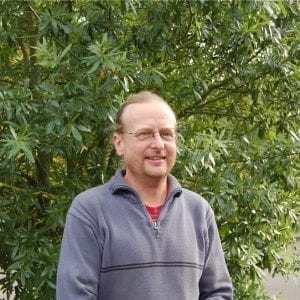 Ecologist/ Entomologist - Higher Scientific Officer
CABI, Bakeham Ln, Englefield Green, Egham TW20 9TY, UK