Plantwise Diagnostic Field Guide
Published: January, 2015
Book
The Plantwise Diagnostic Field Guide is intended for all plant doctors and other plant health advisors around the world. The job of being a plant doctor is not an easy one. Since farmers can bring any crop with any type of problem to a plant clinic, there are many different kinds of plant disorders that a plant doctor will be asked to diagnose and give advice on. It is not possible for a plant doctor, or anyone else for that matter, to be an expert on all crops and all plant health problems. This diagnostic field guide is designed to provide support to agricultural advisory staff as a field tool to assist in diagnosis of plant health problems prior to making management recommendations.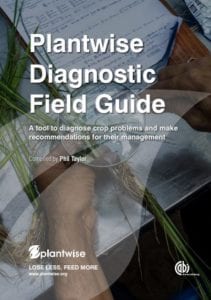 Plantwise Diagnostic Field Guide
Type Book
Published in CABI Publishing, Wallingford
Language English
Year 2015
Related projects
Worldwide, over 500 million smallholder farmers provide food for two-thirds of the earth's growing population. Achieving a zero hunger world by 2030 depends on increasing the productivity of these smallholder farmers – but their crops face a significant threat. Yearly, an estimated 40% of crops grown worldwide are lost to pests. If we could reduce crop losses by just 1%, we could potentially feed millions more people. The lack of access to timely, appropriate and actionable extension advice makes it a fundamental challenge for farmers to get the right information at the right time to reduce crop losses.