Entregando mensajes de clínicas de plantas. La influencia de la comunicación sobre la percepción y el uso de asesoría por los agricultores: Costa Rica
Published: June, 2017
Project report
Un estudio fue realizado en Costa Rica en octubre del 2016 para investigar lo siguiente: ¿Cómo se comunican los doctores de plantas y sus clientes los agricultores? ¿Cómo influye la comunicación en la respuesta del agricultor a las recomendaciones? Los autores asistieron a un evento de extensión (una charla con PowerPoint), visitaron a tres agencias de extensión (Tucurrique, Naranjo, y San Ramón) y entrevistaron a 10 agricultores clientes de los doctores de plantas.
El estudio mostró que la comunicación verbal entre doctores de plantas y agricultores en general funciona bien. Los doctores de plantas explican el diagnóstico y los procedimientos para aplicar la recomendación dada, y normalmente la escriben en la hoja de visita. A menudo explican a los agricultores la información de fondo, o sea, el por qué la tecnología funciona.
No toda la asesoría hablada entra al registro escrito. A veces un agricultor puede olvidar un diagnóstico o una recomendación, pero el olvido no es lo mismo que la mala comunicación, especialmente si el agricultor guarda su hoja de visita, la cual resume las recomendaciones. Los doctores de plantas trataron inicialmente de usar la hoja de consulta de Plantwise, pero la abandonaron porque era doble el esfuerzo, ya que también tienen que llenar una hoja de visita para el Ministerio (MAG).
Los agricultores no siempre traen muestras a sus doctores de plantas, quienes tienen en ocasiones que identificar a la plaga a partir de las descripciones de los agricultores, o hacer una visita a la finca para observar el problema en el campo. A diferencia de algunos países, en Costa Rica los doctores de plantas dedican tiempo y esfuerzo para identificar nuevos problemas fitosanitarios, en consulta con expertos dentro del MAG para hacer un diagnóstico y recomendaciones de manejo.
Los doctores de plantas disponen de algunos materiales escritos, entre ellos un libro de plagas insectiles de cultivos perennes en Centroamérica. Les gustaría tener más materiales, por ejemplo una guía específica para las plagas y enfermedades de los cultivos en Costa Rica, en español. Los doctores de plantas escriben su propio material de extensión, pero no hojas volantes en el formato de Plantwise. Han escrito algunas listas verdes-y-amarillas con Plantwise, pero hasta ahora no han sido impresas, se manejan solamente copias digitales
La charla de extensión (dirigida a agricultores locales de plantas ornamentales) pudo haber sido mejor (i.e. un bosquejo organizado, ayudas visuales más apropiadas y palabras más simples, menos técnicas). Pero la comunicación de uno-a-uno entre los agricultores y los doctores de plantas en general es clara. Todos los doctores de plantas y agricultores visitados hablan el mismo idioma: el español.
De los 10 agricultores visitados, nueve dijeron que habían aplicado todas las recomendaciones y uno dijo que había aplicado una parte. En varios casos tanto los agricultores como los doctores de plantas estimaron que el/la cliente había evitado grandes pérdidas debido a la aplicación de las recomendaciones de MAG.
Los doctores de planta mostraron un pequeño sesgo a favor del control químico, sin embargo son sensibles a las demandas de los agricultores y recomiendan plaguicidas biológicos para los que tratan de trabajar orgánicamente. (Pocos de los agricultores entrevistados son certificados como orgánicos, pero varios de ellos sí tratan de evitar el uso de químicos muy tóxicos). Los doctores de plantas a veces recomiendan varias tecnologías de una vez, pero cuando los agricultores y los doctores de plantas están de acuerdo en el uso de un químico, esa suele ser la única recomendación.
El estudio no reveló ningún caso donde las recomendaciones técnicas hayan sido rechazadas sólo por errores de comunicación. Los agricultores usan las recomendaciones de sus doctores de plantas creativamente, casi siempre encontrando algo que pueden probar en sus propias parcelas. Tienden a adoptar algunas o todas las recomendaciones del doctor de plantas, aunque algunos también buscan otras soluciones a través de lectura de material técnico a su alcance o consultas con terceros.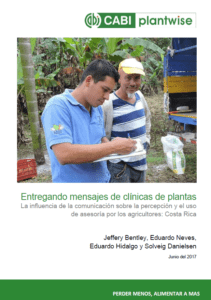 Entregando mensajes de clínicas de plantas. La influencia de la comunicación sobre la percepción y el uso de asesoría por los agricultores: Costa Rica
Type Project report
Language Spanish
Year 2017
Related projects
Worldwide, over 500 million smallholder farmers provide food for two-thirds of the earth's growing population. Achieving a zero hunger world by 2030 depends on increasing the productivity of these smallholder farmers – but their crops face a significant threat. Yearly, an estimated 40% of crops grown worldwide are lost to pests. If we could reduce crop losses by just 1%, we could potentially feed millions more people. The lack of access to timely, appropriate and actionable extension advice makes it a fundamental challenge for farmers to get the right information at the right time to reduce crop losses.