Delivering messages from plant clinics: The influence of communication on farmer's perception and uptake of advice: Costa Rica
Published: June, 2017
Project report
A study was carried out in Costa Rica in October 2016 to investigate the following: How do plant doctors and their client farmers communicate? How does this communication shape the farmers' response to the advice? The study team attended an extension event (a talk illustrated with slides), visited three extension agencies (Tucurrique, Naranjo, and San Ramón) and interviewed 10 farmers who had consulted the plant doctors.
The study showed that the verbal communication between plant doctors and farmers was generally accurate. The plant doctors tell farmers the diagnosis and explain how to apply the advice, and usually write it on the prescription form. They often tell the farmers the background reason, i.e. why the technology works.
Not all of the verbal advice enters the written record. Sometimes a farmer may forget a diagnosis or a recommendation, but forgetting is not exactly mis-communication, especially if the farmer keeps the visit form, with a summary of the advice. The plant doctors initially tried using the Plantwise prescription form, but abandoned it because it was double work. They also have to fill out a "visit form" (hoja de visita) for the Ministry (MAG).
The farmers do not always bring plant samples to their plant doctors, who sometimes have to identify the pest from the farmers' descriptions, or visit the farm to observe the problem in the field. Unlike some other countries, in Costa Rica the plant doctors make a serious effort to identify new plant health problems, conferring with experts within MAG for a diagnosis and management advice.
The plant doctors have some written materials at their disposal, for example a book on insect pests of perennial crops in Central America. They would like to have more reference materials, such as a field guide specific to the pests and diseases of crops in Costa Rica, in Spanish. The plant doctors write their own extension training materials, but not fact sheets in the Plantwise format. They have written some green-and-yellow lists with Plantwise, but they have not yet been printed, they are only available digitally.
The extension talk (intended for local farmers who grow ornamental plants) had room for improvement (i.e. a more organized outline, more appropriate visual aids and more simple, less technical words that everyone knows). But the one-on-one communication between farmers and plant doctors is generally clear. E.g. the plant doctors and the farmers who were visited all speak Spanish.
Of the 10 farmers visited, 9 said that they had used all the advice and one farmer some of the advice. In several cases farmers and plant doctors alike judged that the client had avoided large losses as a result of following the plant health advice from within MAG.
The plant doctors have a slight bias in favour of chemical control, but they are sensitive to farmers' demands and will readily recommend biological pesticides for farmers who are trying to farm organically. (Few of the interviewed farmers are certified organic, but several of them try to avoid highly toxic chemicals). Plant doctors sometimes recommend several technologies at once, although when farmers and plant doctors agree on using chemical control that is often the only recommendation given.
The study revealed no cases where technical advice was rejected only because of failed communication. Farmers engage creatively with the recommendations from their plant doctors, almost always finding something they can try on their own farms. They tend to adopt some or all of the agent's advice, although they may also seek other solutions from their reading or consultations with third parties.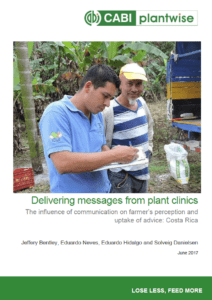 Delivering messages from plant clinics: The influence of communication on farmer's perception and uptake of advice: Costa Rica
Type Project report
Language English
Year 2017
Related projects
Worldwide, over 500 million smallholder farmers provide food for two-thirds of the earth's growing population. Achieving a zero hunger world by 2030 depends on increasing the productivity of these smallholder farmers – but their crops face a significant threat. Yearly, an estimated 40% of crops grown worldwide are lost to pests. If we could reduce crop losses by just 1%, we could potentially feed millions more people. The lack of access to timely, appropriate and actionable extension advice makes it a fundamental challenge for farmers to get the right information at the right time to reduce crop losses.