Assessment of the use of CABI's decision support tools for biosecurity – Pest Risk Analysis Tool and Horizon Scanning Tool
Published: September, 2023
Working paper
CABI's Horizon Scanning Tool (HST) and Pest Risk Analysis (PRA) Tool were launched in 2018 and 2019, respectively, and have since undergone enhancements to improve their design, usability and technical content in response to user needs. An assessment of their use, benefits and outcomes of use show that both tools are valuable resources as pest risk decision support tools for biosecurity.
Although used globally, the tools are a relatively more valuable resource for lower-income countries in the global south, whose National Plant Protection Organizations have been granted gratis subscription. However usage in the global south is limited by the tools' internet dependency. Despite this, we find that the HST has a diverse range of users and the PRA Tool is being used by the target user group, i.e. those mandated to carry out pest risk assessments within National Plant Protection Organizations. Case studies from Ghana and Zambia show that the PRA Tool can become part of the favoured workflow for National Plant Protection Agencies, superceding paper-based questionnaires.
The study finds that the tools have been used to establish more robust pest risk assessment practices and have resulted in important trade and policy outcomes and inter-agency collaboration. Furthermore, there are cases that show that PRA results have helped to highlight weak links in national plant health systems and processes.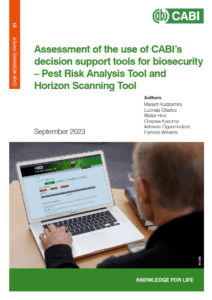 Assessment of the use of CABI's decision support tools for biosecurity – Pest Risk Analysis Tool and Horizon Scanning Tool
DOI https://dx.doi.org/10.1079/CABICOMM-62-8172
Type Working paper
Published in Working Paper 31
Language English
Year 2023
Related projects
Farmers' crops are increasingly at the mercy of climate change, pests and diseases. PlantwisePlus will work to help countries predict, prepare for and prevent potential threats and reduce crop losses. We will provide comprehensive support to countries and farmers so they meet the increasing global demand for quality food in a changing climate.