Agricultural knowledge and information flows within smallholder farming households in Ghana: Intra-household Study
Published: April, 2021
Working paper
Legume technologies are widely promoted among smallholder farmers in sub-Saharan Africa, providing opportunities for sustainable agricultural intensification (SAI), and contributing to the nutritional and economic benefits of households growing them. However, legume cultivation is relatively small in most farming systems and on the decline, attributed to low adoption of improved technologies occasioned primarily by the lack of access to actionable information.
This study aimed to assess farmers' access to agricultural knowledge and information flows within households in Ghana, in order to guide message design and selection of appropriate information dissemination pathways to reach women, men and youth with legume technologies. An intra-household survey method was used and 300 households and 868 respondents were surveyed. Results show that farmers had access to various information sources, though they mainly relied on neighbours and relatives (52%) and their own experience (49%). Information shared through these sources was mainly on timing of field operations, and good agricultural practices, which may reflect farmers' inherent knowledge and adjustment over time to respond to changing environmental conditions. However, for relatively new practices such as use of Rhizobium inoculants and Purdue Improved Crop Storage (PICS) bags, farmers relied on external sources such as extension officers, radio and demonstration plots. Men and young people exhibited more diverse information sources compared with women and elderly people. Some information sources were the prerogative of men, such as radio and demonstration plots, while women mainly relied on their own experience and family/community members. Results have the following implications: (i) there is still a margin for improving learning of more recently introduced practices, thus it is important to link promotion with targeted information sources; (ii) targeting women and elderly people with channels that are farm-based such as extension visits and on-farm demonstrations may enhance their access to information; (iii) there is a need to focus on the complementary role of legumes in the production of key staples in the region, such as cassava, in efforts to promote SAI; and (iv) given the observed dynamics of intra-household information sharing, targeting information to various gender and age categories provides an opportunity to ensure information can effectively reach different household members.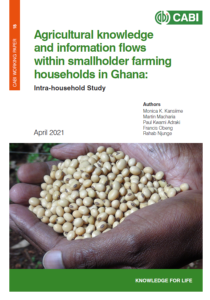 Agricultural knowledge and information flows within smallholder farming households in Ghana: Intra-household Study
DOI https://dx.doi.org/10.1079/CABICOMM-62-8150
Type Working paper
Published in Working Paper 18
Language English
Year 2021
Related projects
Legume crops play a key role in household nutritional security and incomes but production is in decline. To rectify this, the Legume Alliance is trying to get information about growing common beans into as many smallholder farming households in Ghana and Tanzania as possible. This work will also look at information targeting different gender groups. Allowing them to achieve sustainable intensification that will increase incomes and help attain nutritional security in the region.
Start: 01/06/16 -End: 31/12/19